Tag: lethal injection (page 2)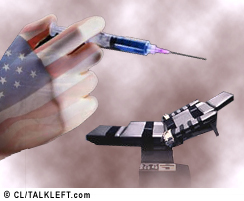 The Supreme Court tonight vacated the stay of execution an Arizona federal judge issued yesterday in the case of Jeffrey Landrigan. Landrigan was scheduled to be executed this morning using sodium thiopental that was manufactured by a company outside the U.S. which was not an FDA approved manufacturer of the drug.
Arizona appealed to the 9th Circuit, did not prevail, and the matter was referred to the full court later today. Justices Kagan, Sotomayor, and Bryer would have denied the state's request and kept the stay in place.
Arizona authorities are preparing the execution chamber now, so they can kill him within the 34 hour period set by the death warrant.
Here's what the order says (received by email, no link): [More...]
(8 comments, 384 words in story) There's More :: Permalink :: Comments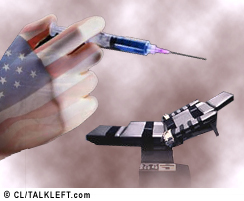 Albert Brown will not be executed Thursday in California. The 9th Circuit Court of Appeals directed Judge Jeremy Fogel to re-examine his decision last week allowing it to go forward.
The stay came a day after California officials announced that the state's supply of sodium thiopental, a barbiturate used in executions, was good only until Friday, a revelation that seemed to shock the appellate panel. "It is incredible to think that the deliberative process might be driven by the expiration date of the execution drug," the panel wrote.
The 9th Circuit said Judge Fogel did not have the authority to allow the inmate to choose his lethal cocktail: [More...]
(1 comment, 686 words in story) There's More :: Permalink :: Comments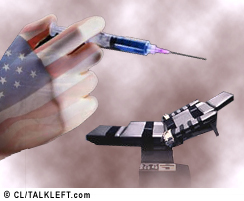 California's executions have been on hold since 2006. A federal judge today cleared the way for them to resume. He said the problem regarding the method of injection is solved by allowing the inmate to choose between a one drug or three drug cocktail.
"Allowing a condemned inmate to make such a choice is consistent with Ninth Circuit authority in cases arising both in California and elsewhere," he wrote.
[More...]
(17 comments, 225 words in story) There's More :: Permalink :: Comments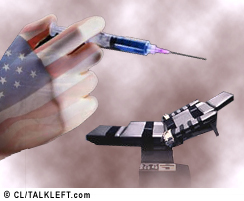 Ohio announced today it will switch from the three drug cocktail for lethal injections to administering a single drug, thiopental sodium.
Thiopental sodium, an anesthetic, is used to euthanize animals. "Ohio will be the first state in the U.S. to use the one-drug procedure," which was recommended by Dr. Mark Dershwitz, a professor of anesthesiology at the U. Mass Medical Center. In 205, Dr. Dershwitz recommended a single dose of pentobarbital. The problem, he said, was that it could take up to a half-hour for the heart to stop. [More...]
(3 comments, 171 words in story) There's More :: Permalink :: Comments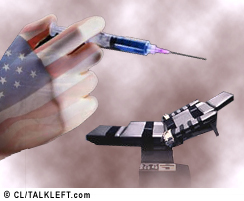 Richard Cooey was executed today in Ohio. He weighed almost 300 pounds. One of his grounds for appeal was that his weight would make it difficult for the the executioners to find his veins.
Most of the news reports I've read contain details of his last meal and last words:
You (expletive) haven't paid any attention to anything I've said in the last 22 years, why would you pay any attention to anything I said now?" Cooey said with his final words
Reporter Eric Mansfield, one of the media witnesses to the execution, reports an additional detail: [More...]
(31 comments, 356 words in story) There's More :: Permalink :: Comments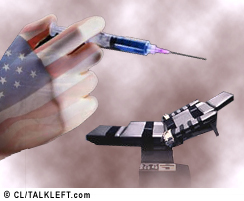 On December 13, 2006, Angel Diaz of Puerto Rico was executed by lethal injection in Florida. It took 34 minutes to kill him.
An autopsy later revealed that the IVs inserted into Diaz were faulty, the drugs were injected into his tissues, not his veins, and they also were released in the wrong order so that Diaz received the last, painful drug before he should have. The autopsy revealed a foot-long chemical blister in his body tissue.
Gov. Jeb Bush ordered an investigation and a moratorium on executions ensued. Fast forward to Tuesday when Florida will resume killing inmates by lethal injection. [More...]
(5 comments, 351 words in story) There's More :: Permalink :: Comments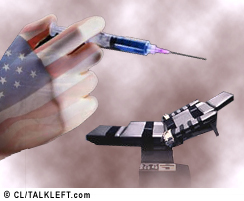 Judge James Burge in Ohio has ruled that Ohio must change its three drug execution cocktail to a single dose of barbiturates if it wants to continue executions.
He based the ruling on Ohio law that mandates the use of "a drug or combination of drugs of sufficient dosage to quickly and painlessly cause death."
The Supreme Court in Baze v. Rees refused to find the three drug cocktail, which veternarians won't use in dogs, unconstitutional. [More...]
(8 comments, 211 words in story) There's More :: Permalink :: Comments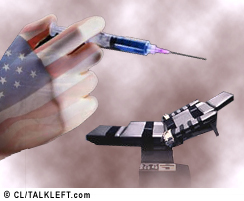 The New York Times reports that states are rescheduling executions now that the Supreme Court has ruled in Baze v. Rees that the three drug cocktail used by states does not violate the 8th Amendment's prohibition against cruel and unusual punishment.
The Fourth Circuit has a new challenge on its hands.In Emmett v. Johnson, Emmett is arguing that the way in which Virginia administers the drugs is unconstitutional because unlike Kentucky and other states, it doesn't allow enough time for the first drug, which anesthetizes and renders the inmate unconscious, to take effect before administering the other two drugs which cause pain. To make it worse, when there seems to be a problem with the first drug, rather than giving more of the drug, Virginia increases the doses of the pain-causing second and third drugs, but not the first.
In its brief (available here pdf) Emmett's lawyers make the argument that there is a painless way to kill someone with just one drug: [More...]
(21 comments, 447 words in story) There's More :: Permalink :: Comments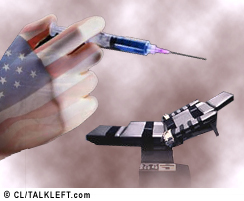 Since 2004, I've been writing about how vets won't put dogs down using the chemicals prisons use to execute inmates.
A new study, Anesthetizing the Public Conscience: Lethal Injection and Animal Euthanasia, is out comparing the two -- and witnesses are testifying in an Ohio death penalty case to exactly that: you wouldn't do a dog this way.
First, the Ohio case:
An anesthesiologist testified Monday that Ohio's lethal injection procedure isn't appropriate for dogs or cats, let alone humans. Dr. Mark Heath's testimony on behalf of two murder defendants came in a Lorain County hearing on the constitutionality of state's method for putting prisoners to death.

Heath, an assistant professor of anesthesiology at Columbia University, says it's possible to perform lethal injection of prisoners in a humane manner, but that Ohio's method falls below the standard for euthanizing household pets.
The problems in a nutshell:[More...]
(43 comments, 911 words in story) There's More :: Permalink :: Comments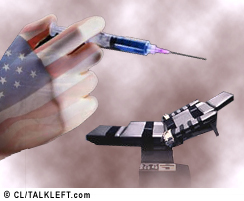 There's an editorial today by three physicians in the New England Journal of Medicine. Shorter version: Regardless of what the Supreme Court decides in Baze v. Rees, physicians should not participate in executions.
This spring the U.S. Supreme Court in Baze v. Rees1 will rule on the constitutionality of the three-drug regimen currently used for lethal injection in most state executions. The Eighth Amendment to the U.S. Constitution prohibits punishment that is "cruel and unusual." The central question before the Court in Baze is whether the use of sodium thiopental, pancuronium bromide, and potassium chloride violates that constitutional prohibition.
More...
(6 comments, 542 words in story) There's More :: Permalink :: Comments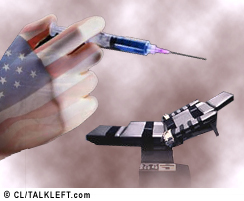 We've written before about the problems in Missouri with executioners -- most notably, the dyslexic doctor who administered the fatal cocktail.
Now, the New York Times recaps last week's St. Louis Post Dispatch article about a nurse on the state's execution team who had a criminal record and was on probation:
Before a Missouri executioner could go to Indiana in 2001 to help federal authorities put mass killer Timothy McVeigh to death, he had to take care of one detail:

He needed permission from his probation officer to leave the state.
The Post-Dispatch named the nurse, even though a state law was passed after the dyslexic doctor was identified prohibiting disclosure. The paper explains why it is naming the nurse: [More...]
(4 comments, 432 words in story) There's More :: Permalink :: Comments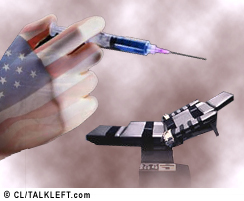 I'm listening to the Supreme Court oral arguments in the Baze lethal injection case (Baze v. Rees (07-5439.) Justice Stevens is questioning the lawyer for the Kentucky Department of Corrections.
Justice Stevens just asked the lawyer for Kentucky about why veternarians won't even use the procedure on dogs. (Background, You Wouldn't Do a Dog This Way.) Justice Roberts jumped in and the KY lawyer said if you drop the first drug, which they've done, it's all fine and good.
Justice Stevens says he's concerned the second drug is also problematic.
Justice Ginsberg asks why they pick non-professional people to administer the drugs. (Doctors and nurses are banned. )
Sentencing Law and Policy has been following the case closely. How Appealing has gathering of news articles.
Here's an article on the lawyers arguing the case. The defense lawyer is a 29 year old public defender. [More...]
(6 comments, 238 words in story) There's More :: Permalink :: Comments