Subsections:
It's time for Congress to "Give Us Something to Believe In". $600.00 is not enough. $2,000.00 will help so many people.
Now that Trump signed the COVID-Relief bill, the House will vote on whether to give each of us $2,000.00 instead of $600.00 per month. Sen. Schumer today said the bill has enough support to pass the House, but the Senate, which balked before, is uncertain.
The House is in recess right now but is expected to resume later today (5-6 pm ET) to take up the increased stimulus payment and then the overide of the veto of the Defense Authorization Act. The 4,518 page Conference Report on the bill is available here. You can watch live and see the results here.<
(35 comments) Permalink :: Comments
There will be new stimulus checks coming. Under the new bill announced today,
Negotiators have decided to provide stimulus checks worth $600 per person. The size of that benefit would be reduced for people who earned more than $75,000 the preceding year, similar to the last round of stimulus checks, according to two people who spoke on the condition of anonymity to share details of private deliberations. The stimulus checks would provide $600 per person, including adults and children, meaning a family of four would receive $2,400 up to a certain income.

Congress would also extend unemployment benefits of up to $300 per week, which could start as early as Dec. 27.
There will also be extensions on the period for states to give out CARES Act money. And a one month extension of the ban on evictions.
(45 comments) Permalink :: Comments
Probably to the surprise of no one, Rudy Giuliani confirmed yesterday he is in the hospital battling COVID-19. Donald Trump first revealed his condition via tweet, and Rudy chirped in the same way.
Mr. Giuliani has been admitted to Georgetown University Medical Center, according to a person who was aware of his condition but not authorized to speak publicly. Mr. Giuliani, at age 76, is in the high-risk category for the virus. Later Sunday, he wrote on Twitter: "Thank you to all my friends and followers for all the prayers and kind wishes. I'm getting great care and feeling good. Recovering quickly and keeping up with everything."
The United States now has 14.8 million cases of COVID-19 with almost 175k new cases a day. More than 282k people have died. And Donald Trump continues to make it sound like a badge of honor. How much more twisted can one get?
(26 comments) Permalink :: Comments
The Lancet has an article about a 25 year old man in Nevada who tested positive for COVID-19 in April and recovered but then at the end of May, he was infected again. He did not have any serious underlying conditions and there were no indications his immune system was compromised. But on May 28, he felt sick and on May 31 he got tested, and his test was positive. hThis time his symptoms were more severe.
We present, to our knowledge, the first North American case of reinfection with SARS-CoV-2. A 25-year-old man, who was a resident of Washoe County in the US state of Nevada, had laboratory-confirmed SARS-CoV-2 infection in April, 2020, followed by secondary infection within a period of around 6 weeks, in June, 2020. The second infection was symptomatically more severe than the first. Genomic analysis showed the two viral agents were genetically distinct. The patient's immune reaction in vitro was not assessed and, thus, conclusions cannot be made about the duration or degree of immunity.
The Lancet reports that at least 4 people have been reinfected. Does this man immunity Herd does not exist or individual immunity is not be a sure thing (unless you are a contestant on Survivor)? [More...]
(51 comments, 363 words in story) There's More :: Permalink :: Comments
The news headlines are astonishing. Wednesday brought the highest number of new cases of coronavirus to date.
Across the United States, 38,115 new infections were reported by state health departments on Wednesday — surpassing the previous single-day record of 34,203 set on April 25. Texas, Florida and California led the way, with all three states reporting more than 5,000 new cases apiece.

Three states — California, Florida and Oklahoma — reported record highs in new single-day coronavirus cases, while hospitalizations hit a new peak in Arizona, where intensive care units have quickly filled.
Yet Mike Pence told a group of Republicans at lunch to "accentuate the positive". [More...]
(23 comments, 327 words in story) There's More :: Permalink :: Comments
A party-goer who attended the shameful display of indifference to the lives of others at the now infamous pool party in the Ozarks on Memorial Day weekend has now tested positive for the coronavirus, possibly infecting as many as 250 people.
If anyone comes down with Covid-19 that can be traced to the party-goer, or worse, the person who he infected dies, can he be charged with a crime under Missouri law? How about federal law?
Missouri now
has its largest COVID numbers
since the pandemic began. Will Missourians hold Republican Gov. Mike Parson accountable for (in my opinion) irresonsibly opening the state up too early?
(43 comments) Permalink :: Comments
The White House and author of this modeling report showing an expected increase in covid-19 cases and deaths by June 1 are doing their best to convice the media this report was not finished and isn't meanat to be relied on.
The daily death toll will reach about 3,000 on June 1, according to an internal document obtained by The New York Times, nearly double the current number of about 1,750.

...The projections, based on government modeling pulled together in chart form by the Federal Emergency Management Agency, forecast about 200,000 new cases each day by the end of the month, up from about 25,000 cases a day currently.
The report is here. [More...]
(44 comments, 263 words in story) There's More :: Permalink :: Comments
Thank you Governor Jared Polis for being such a strong leader and positive example for all Coloradans during this crisis. I have watched most of your press conferences and I wish that public officials in all parts of the country cared as much about their fellow citizens as you do.
The far right, especially those posing as libertarians in cities protesting "stay at home" orders have their head up their as*. Northern and rural Michigan are as far apart politically as you can get from Detroit and the surrounding urban areas where thousands of people are dying. Think Terry Nichols country (since it is the anniversary of the OKC bombing today). [More..]
(105 comments, 929 words in story) There's More :: Permalink :: Comments
The New York Times reports that Chicago's notorious Cook County Jail is now the largest source of the coronavirus in the U.S -- there are more cases at the jail (387) than there were in New Rochelle or on the USS Theodore Roosevelt or in the nursing home in Washington.
As of Tuesday, the Cook County Sheriff's Office, which operates the jail, said 272 inmates and 115 staff members had tested positive. But because the vast majority of the jail's 5,000 inmates have not been tested, corrections officers have said the numbers are likely far higher. In late March, the jail had just two diagnoses.
On the federal side, the Bureau of Prisons publishes numbers every day. Today there are:
241 federal inmates and 73 BOP staff who have tested positive for COVID-19 nationwide. There have been 8 federal inmate deaths and 0 BOP staff member deaths attributed to COVID-19 disease.
The virus has hit 31 BOP facilities (prisons and detention centers for those held without bail but not yet convicted) and 6 half way houses.
BOP says it has released 615 inmates on home confinement pursuant to AG Barr's recent order.
(9 comments) Permalink :: Comments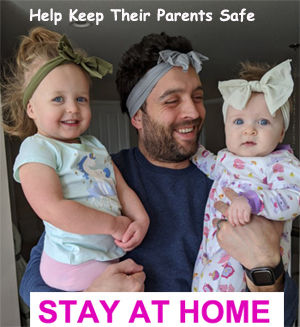 It is not true that the Coronavirus mostly infects old people.
For example, in Colorado, as of March 29, 2020, 47% of the 2,307 people afflicted with the virus are between the ages of 20 and 50.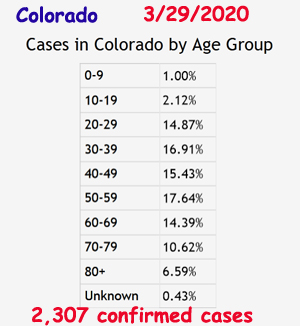 According to the projected U.S. Census tables for Colorado, 36% of Coloradans are between the ages of 20 and 44. In 2017, 80% of women bearing children were between 20 and 44. [More...]
(201 comments, 254 words in story) There's More :: Permalink :: Comments