For those of you following the most excellent adventures of Gamestop and Robinhood, does anyone else think these two look like they were separated at birth?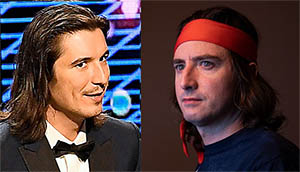 On the left: Vlad Tenev, CEO and Co-founder of Robinhood. On the right: Keith Gill, the self-described "normal guy" who reportedly drove the GameStop stock frenzy by posting on a Reddit forum called WallStreetBets.
Take away the tuxedo and the gypsy headband, making one look rich and the other look like a marginalized protester of something or other, I think these two look like they were separated at birth. The eye shape, the bump on the bridge of the nose, the thin upper lip and fuller bottom lip, the mustache and random spots of growth despite looking recently shaven, the chin, and the bob in the Adam's apple. Gill's eyebrows are a little fuller, but the arch is pretty much the same. Hair color, check. Hair length: check. [More...]
(20 comments, 899 words in story) There's More :: Permalink :: Comments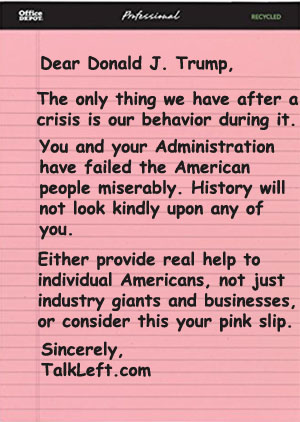 Here's a summary of what is in the Republican's $2 trillion spending bill to reboot the economy. It's a bailout of big industry and business and a pittance for individuals.
It's also money that mostly has to be repaid. With what? Donald Trump's belief that when this is over our economy will "skyrocket" and the companies on the receiving end will be able to repay these humongous loans? [More...]
(11 comments, 1164 words in story) There's More :: Permalink :: Comments
Donald Trump's Coronavirus Task Force is scheduled to speak to the nation in a few minutes. You can watch live online here.
The procedural vote on the Republican's Trillion Dollar [Corporate] Aid bill has been delayed. ET.
It
sounds like the deal has fallen apart
, and Nancy Pelosi said today the Dems will introduce their own bill.
I hope everyone reading this is feeling okay.
Update: Trump was abysmal in his delivery. He read from his speech, not a teleprompter, which it sounded like he hadn't even read before taking the podium. He rambled on about something having to do with rescuing a woman who was "horribly treated" and "terribly abused" somewhere and we needed Honduras' government's approval to "get her out of there". (Maybe that was the reason the presser started an hour late? This must be her.) [More...]
(48 comments, 620 words in story) There's More :: Permalink :: Comments
I think America will recover from the coronavirus much faster than the economic calamity that is befalling the country. I think we passed recession months ago and are now headed into a 1920's style depression. For more technical explanations, see Axios here . I don't know how the economy bounces back after this. This is not like fighting a world war -- it seems like Americans will soon be fighting a domestic economic battle, for food, shelter and other basics of life. [More...]
(135 comments, 687 words in story) There's More :: Permalink :: Comments
Mexico has carried through with its threat to impose tariffs on some items the U.S. exports to Mexico.
With its presidential election 26 days away, Mexico's government imposed a 20 percent tariff on U.S. pork, apples and potatoes and 20 to 25 percent tariffs on cheese and bourbon. Mexico tailored the list of retaliatory duties to hit states governed by senior Republicans, such as the bourbon produced in the home state of Senate Majority Leader Mitch McConnell (Ky.).
Donald Trump: The art of the deal, he is not. Not only is Mexico not paying for his wall, now U.S. manufacturers of these goods will suffer. According to Quartz, Trump's steel tariffs will cost Americans 400,000 jobs.
Here is an NPR article from 2015, How NAFTA changed American (and Mexican) Food Forever, and the U.S. Department of Agriculture's May 31, 2018 quarterly report, Outlook for U.S. Agricultural Trade.
(3 comments) Permalink :: Comments
Weight Watcher's stock soared today. Why? Oprah Winfrey, now a 10% shareholder in the company, released an ad featuring Oprah and Oprah sent out a tweet with the ad. That's apparently all it took.
I have always liked Weight Watchers. It was founded in the early 1960's by Jean Nidetch, then a Brooklyn housewife and compulsive eater. Her partners were her overweight husband and another couple. Within 5 years, there were 5 million members and franchises everywhere. The message was that over-eating is an emotional problem.
Jean died last April at age 91. I spent a week at a health spa with her in the early 80's, which was a few years after she and her partners sold the company to R.J. Heinz (for $71.2 million) and probably around the time she retired from her public relations role.
She was very smart and funny and fun to be around.
(4 comments, 367 words in story) There's More :: Permalink :: Comments
For those who remember all my posts on former Treasury Secretary Tim Geithner on his failed policies on helping homeowners, here are some fancy Chicago economics professors saying the same thing:
Atif Mian and Amir Sufi are convinced that the Great Recession could have been just another ordinary, lowercase recession if the federal government had acted more aggressively to help homeowners by reducing mortgage debts.

The two men — economics professors who are part of a new generation of scholars whose work relies on enormous data sets — argue in a new book, "House of Debt," out this month, that the government misunderstood the deepest recession since the 1930s. They are particularly critical of Timothy Geithner, the former Treasury secretary, and Ben Bernanke, the former Federal Reserve chairman, for focusing on preserving the financial system without addressing what the authors regard as the underlying and more important problem of excessive household debt. They say the recovery remains painfully sluggish as a result.
Geithner really stunk.
(48 comments) Permalink :: Comments
Apparently, we are hours away from a sequester. Obama is meeting with House leaders. No agreement is expected.
If the sequester kicks in, the New York Times says this is what will happen. What I learned from that article: Nothing. It seems nobody knows (which I guess was the point of the article.)
Are cuts coming to law enforcement? Will there be fewer arrests? Will the Bureau of Prisons budget be cut so that more prisoners have to be released? I'd bet not.
What do you think the cuts will mean?
(10 comments) Permalink :: Comments
Update 12:10 am MT : The Senate passed the fiscal cliff bill. Sens. Rand Paul, Carper (D-DE), Tom Harkin, Michael Bennet, Rubio, Grassley, Shelby and Lee voted against it. The vote is 89 to 8. The House will not vote tonight. AP article here.
Interesting that Colorado Senator Mark Udall voted for it while Senator Michael Bennet voted against it -- both are Democrats. Here's why Tom Harkin opposed it.
One additional saving: Congress won't be getting a $900 pay raise scheduled to take effect this spring.
Update: 11:45 pm MT: The Senate is now voting. [More...]
(176 comments, 349 words in story) There's More :: Permalink :: Comments
I know what your thinking - if Americans think the fiscal cliff is a crisis, why are they in favor of what the fiscal cliff does (increases taxes and cut spending?) Cuz the American electorate is not the sharpest pencil in the box and the American Media is well matched to that. Consider from CNN:
"Americans definitely feel that they have something at stake in the upcoming negotiations - 77% believe that their personal financial situation will be affected if the government goes off the fiscal cliff," said CNN Polling Director Keating Holland.

At issue in the negotiations is a disagreement between the two major political parties over how to best raise the federal government's revenues. The president and most congressional Democrats argue for tax rate increases on the wealthiest Americans in order to raise revenue, while most congressional Republicans call for the closing of loopholes and reform in the tax code. Both parties have indicated a willingness to implement spending cuts, although a decision over how much and where has yet to be made.

So what does the public think? Two thirds of those questioned in the poll say that any agreement should include a mix of spending cuts and tax increases, with just under one in three saying a deal should only include spending cuts.
If the 'fiscal cliff' is a crisis, and it is not the right policy right now, imo, it is the TIMING that brings the urgency, not the specific policy mix. This is not the time to be cutting government spending. It is time to increase it in stimulative ways. But the Media either does not understand this, or instead chooses to ignore it. One last point - when did Republican agree to increase tax revenue? CNN is making that up.
(13 comments) Permalink :: Comments