Tag: 2008 elections
If you thought Hillary Clinton doesn't have a sense of humor or takes herself too seriously, think again. Taking the role of flight attendant on "Hil Force One" from Las Vegas to Reno, she told the press corps on board:
"My name is Hillary and I am so pleased to have most of you on board," she said. "FAA regulations prohibit the use of any cell phones, Blackberries or wireless devices that may be used to transmit a negative story about me.

"In a few minutes, I am going to switch off the 'Fasten Your Seat Belt' sign. However, I've learned lately that things can get awfully bumpy when you least expect it — so you might want to keep those seat belts fastened.

"And in the event of an unexpected drop in poll numbers, this plane will be diverted to New Hampshire.
More...
(16 comments, 200 words in story) There's More :: Permalink :: Comments
Cross-posted in Orange
Game on, folks.
While there's been some discussion about his nukes stand in the speech today, what's significant is that Barack Obama directed his fire directly at Hillary Clinton today.
In very stark terms. Drawing contrasts.
And he's not taking just her on. He's taking the entire way of thinking that she represents on.
Details below.
(1787 words in story) There's More :: Permalink :: Comments
Cross-posted in orange
An open letter to Senator Barack Obama from a supporter.
Senator Obama, in your short time in the public eye you have shown great wisdom, judgment, and vision. Your greatest strength is the ability to fuse pragmatism with idealism. This often means eschewing traditional showboating and playing for the cameras in order to build consensus that builds towards progressive goals.
However, no single approach works for every problem, and building consensus is not working on the problem of Iraq. There was a time for Congress to be the steering wheel of our Iraq policy. Now, someone needs to slam on the brakes.
(9 comments, 646 words in story) There's More :: Permalink :: Comments
By it's nature the
Out Of Iraq Bloggers Caucus
is, as our tagline describes, a "coalition of the willing", not a top down organization speaking with one voice, but a gathering place for bloggers united in opposition to the Iraq occupation, each with their own motivations, each with their own ideas on how the occupation can be ended.
I want to talk today about my own views, and also about a short conversation I had yesterday about whether and about how the Iraq occupation could be ended - but first I want to provide some background against which to express my own thoughts. I also hope here to encourage other OOIBC members to post their thoughts. I speak only for myself here. OOIBC is a subset of a much larger "coalition of the willing", a microcosm of the tens of millions of people who, expressing, in the words of Keith Olbermann "the collective will of the nearly 70 percent of Americans who reject this War of Lies", in the 2006 midterm elections repudiated the Republican party and I think George W. Bush's foreign policies, and swept the Democratic Party into a Congressional majority on the strength of one single issue, one overwhelming mandate.
A mandate they have since, in my view, grievously insulted the people who gave them the Congressional power they now hold by ignoring.
Keith Olbermann described that mandate more clearly than anyone else, I think, in his May 23, 2007 "Special Comment" MSNBC broadcast:
(11 comments, 1819 words in story) There's More :: Permalink :: Comments

Ira Chernus, Professor of Religious Studies at the University of Colorado at Boulder, has written probably the most sobering article I've yet seen about the prospects for the Iraq occupation, and what can be expected from Democratic presidential candidates.
(11 comments, 2349 words in story) There's More :: Permalink :: Comments
It seems absurd to debunk a sexist smear, but nonetheless, in today's political world, it must be done. And Greg Sargent, with an assist from Carl Bernstein, does it:
We've just received our copy of Carl Bernstein's new book on Hillary, and something leaps right out at us. Specifically: Bernstein's reporting directly contradicts one of the more important and more damning allegations about Hillary and Bill that is made by former Timesman Jeff Gerth and current Times reporter Don Van Natta in their big forthcoming Hillary book. . . . The charge in question in the Gerth-Van Natta book -- which is called Her Way -- is that just after Bill's election in 1992, he and Hillary were already plotting two terms for her in the White House. . . . But Bernstein's book contains extensive on the record testimony . . . -- that appears to directly contradict this charge.
More
(6 comments, 343 words in story) There's More :: Permalink :: Comments
A new Washington Post - ABC News poll finds Rudy Giuliani's lead shrinking while Hillary maintains her advantage:
Giuliani remained the front-runner in the national poll, but his support has eroded. In a late-February Post-ABC News poll, 44 percent of Republicans and Republican-leaning independents preferred Giuliani for the nomination; that figure is down to 33 percent. Support for McCain held steady at 21 percent.

Giuliani's support dipped in part because of the possible entry of former senator Fred Thompson (Tenn.) into the GOP race. Thompson ran third in this poll, with 9 percent, tying him with former Massachusetts governor Mitt Romney.
As for the Democrats:
More...
(2 comments, 255 words in story) There's More :: Permalink :: Comments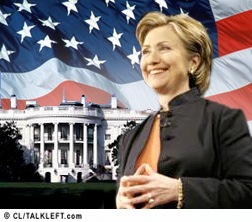 Hillary Clinton raked it in this quarter.
Shattering previous records, Democrat Hillary Rodham Clinton collected $26 million for her presidential campaign during the first three months of the year and transferred an additional $10 million from her Senate fundraising account, aides said Sunday. The New York senator's total included $4.2 million raised through the Internet.

The amount outdistanced past presidential election records and set a high bar by which to measure the fundraising abilities of her chief rivals.
I wonder how Rudy Giuliani did.
Update: John Edwards raised $14 million.
(4 comments) Permalink :: Comments