Tag: 2016 Elections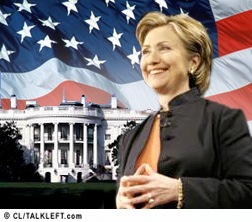 Last Democratic debate tonight before the Iowa caucuses and New Hampshire primary.
Here's a place for your thoughts. Mine are expressed by the photo.
Bump and Update: Since when did "gun control" become "gun safety legislation?". That's what O'Malley called it. [More...]
(200 comments, 1480 words in story) There's More :: Permalink :: Comments
New York Magazine has a 7 page interview with Hillary Clinton. The magazine attempts to decode her ambiguous answers on whether she will run for President.
I'm both pragmatic and realistic. I think I have a pretty good idea of the political and governmental challenges that are facing our leaders, and I'll do whatever I can from whatever position I find myself in to advocate for the values and the policies I think are right for the country," she said. "I will just continue to weigh what the factors are that would influence me making a decision one way or the other," she added.

But many Clinton friends and confidants interviewed for the article agreed that the former first lady would ultimately run.
In the interview, she describes what she and husband Bill do for fun: [More...]
(122 comments, 731 words in story) There's More :: Permalink :: Comments