Tag: AIG
Yesterday John McCain opposed federal intervention to keep AIG alive. Today he supports it. Sen. Obama had a great line today when commenting on McCain's changed position:
"But it sounds like he got a little carried away, because yesterday, John McCain actually said that if he's president, he'll take on the - quote - 'old boys network' in Washington. I am not making this up. This is someone who's been in Congress for 26 years - who put seven of the most powerful Washington lobbyists in charge of his campaign - and now he tells us that he's the one who will take on the old boy network.

"The old boy network? In the McCain campaign, that's called a staff meeting," Obama said.
Good one.
(12 comments) Permalink :: Comments
Another bad day on Wall St. CNN's Money reports:
Dow slumps 250 points as AIG bailout adds to fears about the financial markets. WaMu, Goldman and Morgan Stanley tumble.
(73 comments) Permalink :: Comments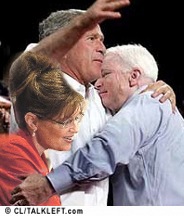 Both Sen. Barack Obama and John McCain are opposing the bailout of AIG. Joe Biden on Good Morning America placed the blame squarely on Bush's failed policies which John McCain wants to continue:
No, I don't think they should be bailed out by the federal government. I'll tell you what we should do. We should try to correct the problems that caused this. And what's caused this? The profligate tax cuts to the very, very wealthy that John wants to continue.
(92 comments, 206 words in story) There's More :: Permalink :: Comments