Tag: Ahmed Khalfan Ghailani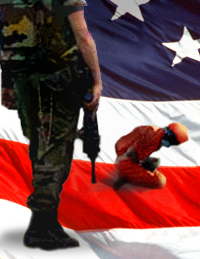 U.S. District Court Judge Lewis Kaplan, presiding over the case of former Guantanamo detainee, Ahmed Khalfan Ghailani, ruled today that Hussein Abebe, a key government witness, may not take the stand because he was identified as a result of statements Ghailani made during secret CIA interrogation using harsh interrogation techniques, alleged to be torture. The Government, to avoid litigating the legality of the CIA's action, previously assured the judge information obtained during the interrogation would not be used at trial. Jury selection has been postoned until next week to give the Government time to regroup or appeal.
"The court has not reached this conclusion lightly," Kaplan wrote. "It is acutely aware of the perilous nature of the world in which we live. But the Constitution is the rock upon which our nation rests. We must follow it not when it is convenient, but when fear and danger beckon in a different direction."
Ghailani is charged in federal court with the 1998 Africa embassy bombings. He was captured in 2004, transferred to a CIA secret prison overseas, where he allegedly was tortured. He was then transferred to Guantanamo, where he stayed for almost three years. In 2009, he was charged in federal court in New York and transferred.
(3 comments, 545 words in story) There's More :: Permalink :: Comments
Monday, a federal judge in New York will hear arguments in the case of Ahmed Khalfan Ghailani, the former Guantanamo detainee charged in the 1998 African Embassy attacks.
Ahmed Khalfan Ghailani, the first Guantanamo Bay prisoner to be prosecuted in a civilian U.S. court, says charges against him should be dismissed because he was not given a speedy trial. He is charged in the August 1998 bombings of two U.S. embassies in Africa. They killed 224 people, including a dozen Americans.

His lawyers say he was arrested in Pakistan on July 24, 2004 and held in secret camps where he was questioned until September 2006, when he was moved to Guantanamo.
The Government insists in this the delay was necessary for national security reasons: "lives were at stake." [More...]
(5 comments, 461 words in story) There's More :: Permalink :: Comments
After 8 years at Guantanamo, Ahmed Khalfan Ghailani, will now face trial in federal criminal court. At his court appearance today, he pleaded not guilty.
What comes next? A fight over who gets to represent him. The Government will be picking up the tab for whoever it is. My suggestion is the court-appointed counsel who represented the WTC1 and other terror trials.
In 1998, the Clinton Administration demonstrated an atypically aggressive response toward terrorism after the assault on two U.S. embassies in Africa. On Aug. 7, 1998, the U.S. embassies in Nairobi, Kenya, and Dar es Salaam, Tanzania, were bombed by terrorists, leaving 258 people dead and more than 5,000 injured.
The result: [More...]
(5 comments, 716 words in story) There's More :: Permalink :: Comments