Tag: Ambien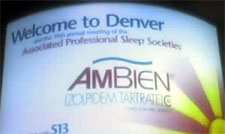 We've had Driving While Ambien'ed, Eating While Ambien'ed (more here) and now, there's Killing While Ambien'ed.
Some stats here. Lots of people take Ambien. Colin Powell once responded to a reporter, "You don't use Ambien? Everybody here uses Ambien."
Drinking and Ambien are known to cause problems. I wonder if anyone has studied whether Toking while Ambien'd also causes problems? Maybe the makers of Ambien could fund one with the $800 million (pdf, p. 85) in sales generated in 2008 from the sleeping aid. Maybe it's the alcohol and not the Ambien that's the problem.
(40 comments) Permalink :: Comments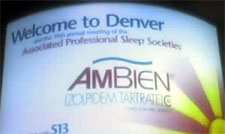 Another driving while Ambien'd story in the news today: An elected District Attorney in Durango, Colorado was sentenced to 10 days of home detention (and loss of his driver's license.)
Craig Westberg, the DA for Archuleta, La Plata and San Juan counties, also must attend alcohol-education classes, perform 60 hours of public service and pay more than $3,000 in court costs and restitution for car damage.

....He was arrested in October 2007 after witnesses reported an erratic driver. Westberg has said he took an Ambien sleeping pill and left home to run an errand when his vision suddenly became blurred.
Patrick Kennedy got a better deal in his DWA (driving while ambien'd) ordeal: Rehab.
Here's a 2006 news article with statistics. [More...]
(37 comments, 430 words in story) There's More :: Permalink :: Comments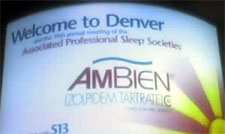 Like Colin Powell, Patrick Kennedy and NBC News anchor Brian Williams, John McCain takes Ambien.
More on Ambien:
Does anyone not take Ambien?
(Comments now closed.)
(93 comments) Permalink :: Comments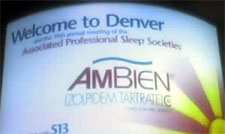 In addition to sleep-driving, sleep-eating emerging as side effects of Ambien, Lunesta and similar hypnotic-sedative sleeping pills, there is also sex while sleeping.
The FDA is asking the makers of Ambien and similar drugs to strengthen the label warnings on the drugs to disclose these and other risks.
More....
(7 comments, 267 words in story) There's More :: Permalink :: Comments