Tag: Democrats 2020
The Democrats will debate tonight. You can watch at CNN. Those who will be on the stage: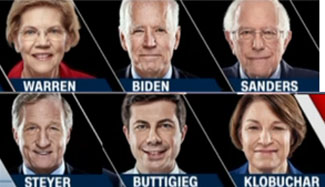 Joseph R. Biden Jr.
Pete Buttigieg
Amy Klobuchar
Bernie Sanders
Elizabeth Warren
Tom Steyer
Who will glow and who will fade?
Will Bernie and Elizabeth make up?
Will Pete aim his fire at Biden?
Why are Amy and Steyer still here?
I'm glad Wolf Blitzer is moderating. [More...]
(24 comments, 247 words in story) There's More :: Permalink :: Comments
Night One of the Democrats' first debate drew in 15.3 million viewers on NBC, MSBNC and Telemundo. Another 9 million watched on the internet.
What will tonight bring? I don't have high expectations, but I'm hoping former Colorado Governor John Hickenlooper makes a positive impression. These are the candidates debating tonight.
I don't think either Joe Biden or Bernie Sanders should be President. They are just too old and Joe Biden has a horrible record on criminal justice. He also talks too much about himself and his family. Too bad there's no live band for the debate. I'd have them play the first few lines of "You're So Vain" every time someone asks Biden or Bernie a question.
Please share your thoughts as you watch or afterwards. I'll update later with my impressions. [More...]
(72 comments, 1211 words in story) There's More :: Permalink :: Comments