Tag: Don Imus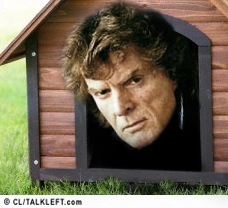 A repentant Don Imus returned to the airwaves this morning.
He's hired two African-American comedians as "sidekicks" and the three will provide ""an ongoing discussion about race relations in this country."
He's vowed to avoid making racially disparaging remarks. He says he deserves this second chance. Among his guests this morning, willing to provide it to him:
Senator John McCain of Arizona, who is seeking the Republican nomination for president, and Senator Christopher Dodd of Connecticut, who is seeking the Democratic nomination; the author Doris Kearns Goodwin, and the political strategists James Carville and Mary Matalin.
Some of his targets remain the same:
"Dick Cheney is still a war criminal," Mr. Imus, 67, told the audience, in an effort to reassure them that he did not intend to completely alter his style, or curb his tongue. "Hillary Clinton is still Satan. And I'm going on the radio."
(2 comments) Permalink :: Comments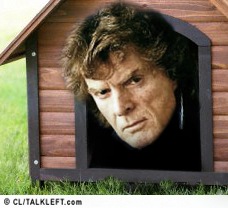 Don Imus isn't slinking off into obscurity as many hoped. Nor does it seem he has a new gig yet.
Instead, he's hired First Amendment Lawyer Martin Garbus to sue for him.
I'd rather watch Garbus on TV defending him than Imus pal Bo Dietl, but my main feeling is Imus is so last week.
Grounds for the suit seem to be contract provisions...although one would think CBS poured over them before taking decisive action.
Prediction: This will never see a trial. There will be a settlement.
(10 comments) Permalink :: Comments
New York clearly has a zero tolerance policy for Don Imus comments:
Two police supervisors are being investigated after officers accused them of referring to them as "hos" or a "nappy-headed ho," the police said. One instance took place in the 70th Precinct in Brooklyn on April 15. The supervisor in that case has been transferred and stripped of supervisory duties, said Chief Michael Collins, a police spokesman. Chief Collins said the supervisor was accused of having addressed a group of officers jokingly as "hos."

The supervisor was identified by Bonita Zelman, a lawyer for the accusers, as Sgt. Carlos Mateo. In the second case, a Queens narcotics detective, Aretha Williams, said yesterday at a news conference that a sergeant recently told her, "Don't give me no lip, or I'll have to call you a nappy-headed ho."
As to zero-tolerance:
Police Commissioner Raymond W. Kelly said in a statement yesterday, "This language is unacceptable under any circumstances and even more egregious when it comes from individuals in a position of authority."
I have to agree. There's no place for such comments in the workplace.
(89 comments) Permalink :: Comments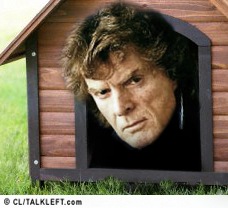 After a meeting of the Rutgers' womens basketball team and Don and Deidre Imus last night (the meeting which Gov. Jon Corzine was en route to when he had his automobile accident) the team has announced it will accept Don Imus' apology.
``These comments are indicative of greater ills in our culture,'' Stringer said. ``It is not just Mr. Imus, and we hope that this will be and serve as a catalyst for change. Let us continue to work hard together to make this world a better place.''
More....
(54 comments, 337 words in story) There's More :: Permalink :: Comments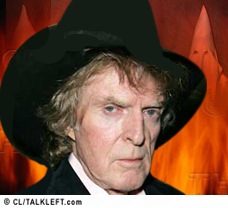 I am seeing this announced on TV. Reporting by AP. More in a moment.
AP:
CBS announced Thursday that it has fired Don Imus from his radio program, following a week of uproar over the radio host's racist comments about the Rutgers women's basketball team. "There has been much discussion of the effect language like this has on our young people, particularly young women of color trying to make their way in this society," CBS President and Chief Executive Officer Leslie Moonves said in announcing the decision. "That consideration has weighed most heavily on our minds as we made our decision."
Quick thoughts. This was a business decision for CBS and NBC's prior move put CBS on the spot. Let's face it, while this last outrage from Imus was especially appalling, his track record was plenty for deciding to get rid of him.
(26 comments) Permalink :: Comments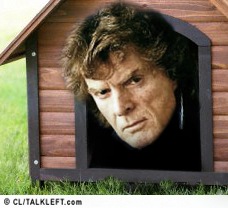 It's over for Don Imus at MSNBC. He's been dropped permanently.
NBC Universal said in a statement: "This decision comes as a result of an ongoing review process, which initially included the announcement of a suspension."
What's behind it? More advertisers dropping out.
The move by the media company comes after a number of major corporations, including General Motors and Sprint Nextel Corp., withdrew their advertising from the Imus show.
How long till CBS follows suit?
Related: Don Imus's wife Deidre has canceled her book tour due to the imbroglio to be with her family.
(12 comments) Permalink :: Comments
Hillary Clinton has come out swinging against Don Imus. Her campaign sent out this alert:
She has started an initiative on her website encouraging people to show their support for the young women of Rutgers (note: people who send messages do not get signed up for the campaign email list unless they opt in).
After praising the women of the Rutgers' team, she writes:
Don Imus's comments about them were nothing more than small-minded bigotry and coarse sexism. They showed a disregard for basic decency and were disrespectful and degrading to African Americans and women everywhere.

Please join me in sending the young women of Rutgers a message of respect and support. Show them that we are proud to stand with them and for them."
Question: Will she refuse to appear on his show? Here's her quote:
Hillary Clinton said, "I've never been asked to go on the show and I've never wanted to go on his show...and I certainly don't ever intend to go on his show."
(12 comments) Permalink :: Comments
Here is WaPo/Fred Hiatt on Imus:
NEW YORK

radio host Don Imus is an equal-opportunity insulter. He called noted African American journalist Gwen Ifill a "cleaning lady." He called a columnist at the New York Times a "quota hire." He's labeled Vice President Cheney a "war criminal." But none of those comments has landed Mr. Imus in as much hot water as the offensive, racist and sexist remarks he made last week about the women's basketball team from Rutgers University.
Called Gwen Ifill "a cleaning lady." Called the great Bill Rhoden a "quota hire." Called Cheney a "war criminal." One of these things is not like the others.
Isn't it amazing that Hiatt would equate what Imus said about Ifill and Rhoden to what Imus said about Cheney? How far up the Neocons' behinds has Hiatt placed his head?
Update [2007-4-11 12:38:20 by Big Tent Democrat]:
Howard Kurtz
thinks it is a civility issue:
It's one thing to make fun of politicians or journalists as liars and weasels; we're in the public arena and fair game. A group of hardworking student athletes isn't. They didn't do anything to warrant being slimed.
Um, racism and sexism directed at ANYBODY is the problem Howie the Shill. See? You are fair game but I do not get to hurl racial or ethnic slurs at you. Understand yet? What is it with WaPo? Are they this dense?
(18 comments) Permalink :: Comments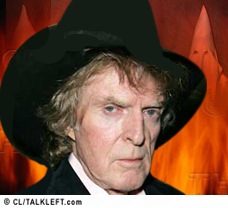 Some adverstisers on Don Imus' radio show are pulling their ads.
Among them: Proctor & Gamble and Staples.
"Based on recent comments that were made on the show, it prompted us to kind of take a look at our decision to advertise and as a result we decided to stop advertising on that program," said Staples spokesman Paul Capelli said.

Cincinnati, Ohio-based P&G also withdrew its sponsorship. "Effective Friday, April 6, we pulled all P&G's brand advertising from the MSNBC daytime rotation," said P&G spokeswoman Jeannie Tharrington. P&G would not advertise again "until we can evaluate the Imus situation fully," she said.
On the fence: Bigelow Tea.
Update: The Washington Post reports Bigelow Tea will also pull its ads.
(30 comments) Permalink :: Comments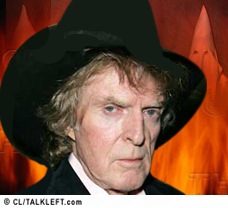 Update [2007-4-10 2:30:36 by Big Tent Democrat]:
See also
Eugene Robinson
.
For all their grit, hard work and courage, the Rutgers girls got branded "nappy-headed ho's" — a shockingly concise sexual and racial insult, tossed out in a volley of male camaraderie by a group of amused, middle-aged white men. The "joke" — as delivered and later recanted — by the radio and television personality Don Imus failed one big test: it was not funny.

[Imus'apologies] seem[] forced and suspect because he's done some version of this several times before. I know, because he apparently did it to me.

. . . It was not until five years later, when . . . I was a Capitol Hill correspondent for the network — that I discovered why people were asking [why she did not appear on Imus' show.] It took Lars-Erik Nelson, a columnist for The New York Daily News, to finally explain what no one else had wanted to repeat.

"Isn't The Times wonderful," Mr. Nelson quoted Mr. Imus as saying on the radio. "It lets the cleaning lady cover the White House."
More:
(30 comments, 366 words in story) There's More :: Permalink :: Comments
MSNBC is suspending the simulcast of Don Imus' radio show for two weeks.
NBC News President Steve Capus released this statement late Monday:

"Beginning Monday, April 16, MSNBC will suspend simulcasting the syndicated 'Imus in the Morning' radio program for two weeks. This comes after careful consideration in the days since his racist, abhorrent comments were made. Don Imus has expressed profound regret and embarrassment and has made a commitment to listen to all of those who have raised legitimate expressions of outrage. In addition, his dedication ' in his words - to change the discourse on his program moving forward, has confirmed for us that this action is appropriate. Our future relationship with Imus is contingent on his ability to live up to his word."
What do you think? Is that enough punishment? What should CBS do?
Update: CBS has also suspended him for two weeks.
(30 comments) Permalink :: Comments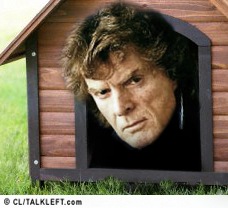 Rev. Al Sharpton was on CNN's Situation Room today, discussing Don Imus's appearance on his radio show.
Interesting that John McCain and James Carville have said they will continue to go on Imus' show. As I suggested here, since corporate dollars are at stake making it unlikely Imus will be fired, the most effective way of silencing him would be for his advertisers and prominent guests to boycott him. And for those who want to help kids with cancer to give to St. Jude's instead of his ranch.
Here's the transcript (received by e-mail from CNN):
BLITZER: Saying sorry is apparently hard to do, especially when you are being grilled for racially insensitive comments. That's what Don Imus faced today over comments he made about a woman's basketball team. The person he faced, the Reverend Al Sharpton. Reverend Sharpton is joining us now from New York. Reverend Sharpton, thanks for coming in.

AL SHARPTON, CIVIL RIGHTS ACTIVIST: Thank you.

BLITZER: All right, so, did he reassure you, or you still want him fired?

SHARPTON: Oh, no, we want him fired.
More...
(16 comments, 1618 words in story) There's More :: Permalink :: Comments