Tag: Extraordinary Rendition
The European Court of Human Rights is holding hearings to determine Poland's complicity in the CIA's extraordinary rendition and torture program. The court is gathering evidence pertaining to the kidnapping, detention and torture of detainees Abu Zubaydah and Abd al-Rahim al-Nashiri. Abu Zubaydah was ultimately determined not to be a member of al Qaida, and al-Nashiri is one of the detainees scheduled to be tried by military commission at Guantanamo.
Here is the Court's fact-sheet on the two cases. In addition to waterboarding, the unauthorized interrogation techniques used by the CIA included the "powerdrill" and "handgun": [More...]
(40 comments, 3827 words in story) There's More :: Permalink :: Comments
The highest court in Italy has reversed a lower court's decision to acquit three CIA agents for their conduct in a 2003 extraordinary rendition case. This brings the number of Americans convicted for participating in the CIA's torture program to 26. The court also increased the sentences of some of those convicted earlier, from 5 to 7 years.
Among those sentenced: Former Rome CIA Station Chief Jeff Castelli who received a sentence of 7 years. The former CIA Station Chief in Milan, Robert Lady, had his sentence increased to 9 years, which makes him eligible for extradition. [More...]
(4 comments, 215 words in story) There's More :: Permalink :: Comments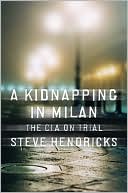 In the mail this week: Steve Hendrick's "A Kidnapping in Milan: The CIA on Trial". It's detective vs. spy. From the inside cover:
A Kidnapping in Milan is at once a detective story, a history of the terrorist menace and an indictment of the belief that man's savagery against man can be stilled with more savagery yet.
The story focuses on the CIA's 2003 kidnapping of Muslim cleric, Abu Omar on the streets of Milan and his extraordinary rendition (via Ghost Air) to Egypt where he was tortured. Italian authorities, led by Magistrate Armando Spaturo, launched an investigation that exposed the embarrassing details of the covert CIA operation and indicted 26 CIA agents on charges of kidnapping. 23 were convicted and sentenced in abstentia.
Scott Horton at Harper's has an interesting interview with Hendricks about the book, which promises to be a great read.
(2 comments) Permalink :: Comments
Sixteen months ago, a three judge panel of the 9th Circuit Court of Appeals reversed a trial court's order dismissing the ACLU's lawsuit in Mohamed et al. v Jeppesen Dataplan, Inc. The ACLU sued the Boeing subsidiary in May, 2007 for its role in the Bush administration's unlawful extraordinary rendition program. Once Bush was gone, Obama stepped in and maintained the Bush position. The three judge panel rejected the Bush and Obama Administrations' "state secrets" claim, holding that the government must invoke the state secrets privilege with respect to specific evidence, not by moving to dismiss the entire suit.
The lawsuit was brought on behalf of five men, Binyam Mohamed, Al-Rawi, Abou Elkassim Britel, Ahmed Agiza and Mohamed Farag Ahmad Bashmilah, who were kidnapped and secretly transferred to U.S.-run prisons or foreign intelligence agencies overseas where they were interrogated and tortured.
Today the 9th Circuit Court of Appeals, en banc, changed course and dismissed the lawsuit, based on the state secrets claim. In other words, the court denied the detainees, victims of the extraordinary rendition program, their day in court. Today's opinion is here. [More...]
(39 comments, 673 words in story) There's More :: Permalink :: Comments