Tag: John Ashcroft
The Supreme Court today announced it will review the case of former detainee and material witness Abdullah al-Kidd against former Attorney General John Ashcroft. Al-Kidd is a U.S.-born American citizen:
Al-Kidd, a one-time University of Idaho football star who converted to Islam, was arrested at Dulles International Airport in 2003 as he was boarding a plane for Saudi Arabia, where he planned to study.

He was held for 15 nights as a material witness in a broader terrorism probe. But he claims that was simply a pretext for a larger plan approved by Ashcroft to sweep up Muslim men it could not prove had any ties to terrorism.
The 9th Circuit rejected personal immunity for Ashcroft. En Banc hearing was denied.
The Obama Administration is representing Ashcroft and asking the Supreme Court to overturn the decision. The ACLU says more than 70 people have similar complaints about their detention as material witnesses. More on the abuse of the material witness statute is here.
(6 comments) Permalink :: Comments
The ACLU scored a big win today in the 9th Circuit Court of Appeals. The case is al-Kidd v. Ashcroft. The upshot is that the court again rejected personal immunity for former Attorney General John Ashcroft over his post 9/11 policy of arresting and detaining people as material witnesses when there was no evidence those arrested were either involved in criminal activity or a flight risk. Today's decision, denying an en banc rehearing of the court's September decision, is here (pdf.)
In September, the 9th Circuit ruled that the federal material witness law cannot be used to detain or investigate suspects where no probable cause exists for criminal charges. The ruling also held that Ashcroft does not have immunity in this case and can be held personally liable for the wrongful detention of al-Kidd. [More...]
(4 comments, 888 words in story) There's More :: Permalink :: Comments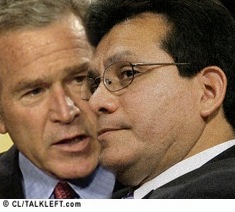 Murray Waas has a new article in the Atlantic on the infamous Ashcroft hospital visit during which the ailing Ashcroft was pressured to sign off on Bush's warrantless electronic surveillance plan. Murray says:
"According to people familiar with statements recently made by Gonzales to federal investigators, Gonzales is now saying that George Bush personally directed him to make that hospital visit. "
More...
(18 comments, 338 words in story) There's More :: Permalink :: Comments
Former Attorney General John Ashcroft's consulting firm is set to make $52 million in fees as a result of being picked by New Jersey U.S. Attorney Christopher Christie to monitor a civil settlement regarding alleged wrongdoing with hip and knee replacement firms. They were investigated for allegedly paying surgeons to use their products.
Former U.S. Attorney General John Ashcroft was one of five private attorneys whom Christie hand-picked to monitor the implant makers. Now Ashcroft's D.C.-based firm is poised to collect more than $52 million in 18 months, among the biggest payouts reported for a federal monitor.

Disclosed in SEC filings, the arrangement calls for Zimmer Holdings of Indiana to pay Ashcroft Group Consulting Services an average monthly fee between $1.5 million and $2.9 million. The figure includes a flat payment of $750,000 to the firm's "senior leadership group," individual legal and consulting services billed at up to $895 an hour, and as much as $250,000 a month for expenses including private airfare, lodging and meals.
Mark Corallo, still doing press relations for Ashcroft defends the fee.
More...
(2 comments, 273 words in story) There's More :: Permalink :: Comments
The Washington Post re-invents former Attorney General John Ashcroft, casting him as a protector of civil liberties in comparison to Alberto Gonzales.
Who are they kidding? John Ashcroft may have had a moment on his hospital sick bed in which he balked at re-authorizing the warrantless NSA surveillance program, and he may have expressed reservations about indefinite detentions at Guantanamo, but he was just as abominable as an Attorney General, and in my opinion, more so than Alberto Gonzales.
From his push on the Patriot Act, to his initiating warrantless monitoring of attorney-client conversations, to his many failed terrorism cases, his connection to Abu Ghraib, his insistence on prosecuting medical marijuana cases even in states that had legalized it, his attempt to keep tabs on federal judges, his belief that the undocumented could be held indefinitely and most spectacularly, his crusade to increase the use of the death penalty in federal cases, over the objections of his own prosectors and a federal judge, he should not be re-evaluated for his one moment of lucidity.
He was the worst Attorney General ever.
A blast from the past: The criticisms of Senators at his confirmation hearings.
More...
(15 comments, 648 words in story) There's More :: Permalink :: Comments