Tag: Labor Day
Happy Labor Day. (Version with Axl Rose here.)
Lets drink to the hard working people
Lets drink to the lowly of birth
Raise your glass to the good and the evil
Lets drink to the salt of the earth
[More...]
(112 comments, 195 words in story) There's More :: Permalink :: Comments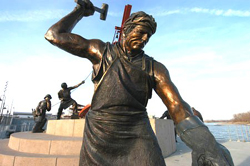 This is a photo I took of the Monument to Labor sculpture in Omaha, Nebraska, by Matthew Placzek. (larger version here.) It's a tribute to the workers in the labor unions that helped build Omaha and is the second largest labor memorial in the country.
Here's a brief primer on Labor Day.
Have a great holiday, this is an open thread, all topics welcome.
(81 comments) Permalink :: Comments
The Rolling Stones and Guns 'N Roses singing "Salt of the Earth."
Here's one of my favorite statue/sculptures, in downtown Omaha, at the Lewis & Clark landing, along Omaha's Missouri River Walkway. If you're ever there, it's well worth a visit. It's the second-largest labor monument in the U.S. Two-hundred-fifty tons of cement and 39,000 pounds of steel were used in its construction. It's by Matthew Placzek.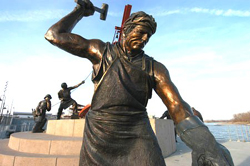 Larger version here. I'm not starting my weekend until after a visit to the gym and then the jail. What are your plans?
(23 comments) Permalink :: Comments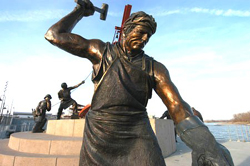 Today is Labor Day. If you aren't familiar with its origin and history, here's a primer.
The observance of Labor Day began over 100 years ago. Conceived by America's labor unions as a testament to their cause, the legislation sanctioning the holiday was shepherded through Congress amid labor unrest and signed by President Grover Cleveland as a reluctant election-year compromise.
On the first Labor Day parade: [More...]
(11 comments, 232 words in story) There's More :: Permalink :: Comments