Tag: Larry Craig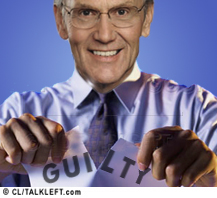 Ex-Senator Larry Craig has decided to give up on his appeals of his conviction for the bathroom stall sex-sting incident.
Craig is now back in Idaho. His tenure as senator expired this week.
(16 comments) Permalink :: Comments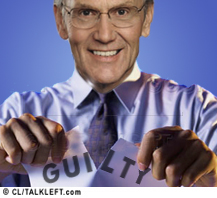 In other news, the Minnesota Court of Appeals has denied Sen. Larry Craig's attempt to reverse his guilty plea in the bathroom solicitation case. On the entrapment issue:
They cited a precedent ruling that said entrapment "exists only where the criminal intent originates in the enforcement officials of the government rather than in the mind of the accused."...."Here, the complaint clearly indicates that the criminal intent originated in the mind of appellant, not in the officer."
More...
(4 comments, 265 words in story) There's More :: Permalink :: Comments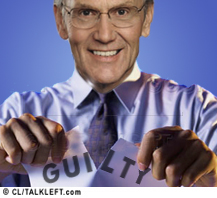 The Minnesota Court of Appeals today heard oral arguments in Sen. Larry Craig's appeal of the denial of his motion to vacate his guilty plea for foot-tapping in an airport bathroom stall to the Minnesota Court of Appeals.
The attorney, Billy Martin, told the three-judge panel that Craig's behavior was "as consistent with innocence as it is with guilt."
More...
(11 comments, 186 words in story) There's More :: Permalink :: Comments
with apologies to the Rolling Stones.
Via Crooks and Liars: Video of Sen. Larry Craig in the Senate saying:
"We won't let [those foreigners] jerk us around by the gas nozzle."
Too funny. This is an open thread.
(195 comments) Permalink :: Comments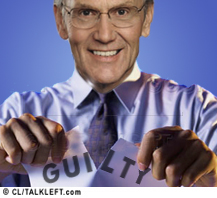 The Senate Ethics Committee today issued a public letter of reprimand to Idaho Sen. Larry Craig.
In a letter signed by all six members of the Senate Select Committee on Ethics, the members affirmed the initial guilty plea that Craig signed after an undercover officer in the Minneapolis-St. Paul International Airport arrested him in a men's room sting.

....In addition, members admonished Craig for trying to use the influence of his office to avoid arrest and failing to notify the committee that he had used his campaign funds to pay his legal fees, a violation of Senate rules.
The full letter is here (pdf.)[More...]
(194 words in story) There's More :: Permalink :: Comments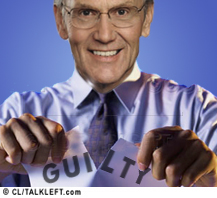 Bump and Update: Larry Craig denies the new allegations.
There are now a total of 8 accusers. (ABC News report here, but see McJoan's comment below.) Where's Larry Craig this week? Heading to Bali.
**** Original Post: 12/2/07
The Idaho Statesman has new allegations against Larry Craig.
(26 comments) Permalink :: Comments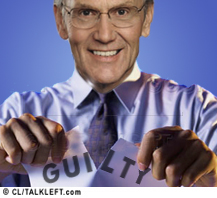 Lawyers for Sen. Larry Craig filed their "Statement of the Case" (pdf) yesterday in the appeal from the court's denial of his motion to withdraw his guilty plea.
They have added a argument that his conduct was constitutionally protected and the statute under which he was charged is overbroad. The ACLU previously included this argument in a friend of court brief on his behalf.
His arguments now:
the disorderly conduct statute is unconstitutional as applied to the facts of Craig's case
the plea was not accurate, voluntary or intelligent
the evidence was insufficient to support the plea
the plea is invalid because the judge never signed anything approving it.
(8 comments) Permalink :: Comments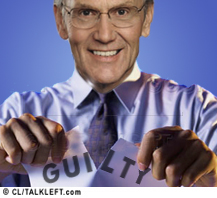 Bump and Update: Craig has filed his appeal. It's four pages but doesn't go into the grounds. And don't expect a ruling anytime soon:
Craig's lawyers must first order and file a transcript of his Sept. 26 hearing. Once that has been filed, his lawyers have 60 days to file a brief outlining his appeal. Then, prosecutors have 45 days to file their response to his appeal. Once those are filed, the court sets a date for oral arguments -- which often occurs about six to eight months later. Ninety days after the oral arguments, the judge issue a decision.
****
Original Post: Larry Craig Slams Romney, Will Appeal Conviction
Sen. Larry Craig is making the tv rounds. Sunday, he vowed to appeal the denial of the motion to withdraw his guilty plea.
More...
(1 comment, 295 words in story) There's More :: Permalink :: Comments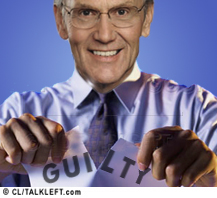 Bad news for Sen. Larry Craig. The court has denied his motion to withdraw his guilty plea.
"Because the defendant's plea was accurate, voluntary and intelligent, and because the conviction is supported by the evidence ... the Defendant's motion to withdraw his guilty plea is denied," Hennepin County Judge Charles Porter wrote.
Here's the Order (pdf).
The question now: Will Craig appeal?
Update: Craig will not resign before the end of his term.
(23 comments) Permalink :: Comments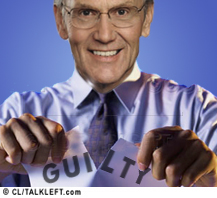 Minnesota prosecutor Christopher Renz has responded to Senator Larry Craig's Motion to Withdraw his Guilty Plea.
Denying Craig's motion "prevents further politicking and game playing on the part of the defendant in relation to his plea," Renz wrote.

Renz wrote that Craig didn't decide to withdraw his plea until after he was hurt by the publicity of the allegations...."The defendant chose to plead guilty and consciously took that risk. The defendant's current pursuit of withdrawal of his guilty plea is reactionary, calculated and political."
Renz also complains that if Craig is allowed to withdraw his plea, there will be a "deluge" of similar requests from other defendants. His support for that belief apparently is a single call received from another defendant.
Renz writes of several calls he had with Craig before the plea. In one, his notes say he advised Craig to seek counsel.
You can read the 41 page memorandum brief here (pdf). His affidavit (with attachments)is here.
Some thoughts:
(23 comments, 412 words in story) There's More :: Permalink :: Comments
Blogger Beldar just got off the phone with the Hennepin, County Court Clerk. He was trying to find out if there was a Form 11 in the file showing Craig had been advised of and waived his right to counsel.
The Clerk said she didn't see one and told Beldar a hearing has been set for September 26th at 1:30 pm on Craig's motion to withdraw the plea.
Good work, Beldar. For anyone who hasn't read the motion yet, here it is (pdf), with exhibits. There's also a lively discussion by several lawyers in the comments here.
(6 comments) Permalink :: Comments