Tag: Michael Cohen
Michael Cohen testified against Donald Trump today in the state AG civil fraud case. The complaint in the case is here.
As expected, Cohen testified Trump purposefully and arbitrarily inflated the worth of his assets. It reminds me of a "paint by numbers" art set, with Trump Org. assets as the painted objects.
"I was tasked by Mr. Trump to increase the total assets based upon a number that he arbitrarily elected," Mr. Cohen testified, saying that it was his responsibility to "increase those assets in order to achieve the number."
[More...]
(6 comments, 1292 words in story) There's More :: Permalink :: Comments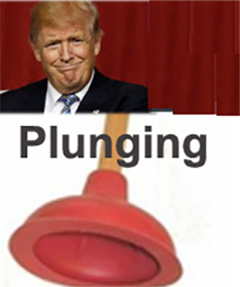 Last week, former Trump lawyer Michael Cohen testified twice before the state grand jury (free link) and Stormy Daniels, the former adult film star, met with state prosecutors in New York. The grand jury is investigating Trump over a payment Cohen allegedly paid Daniels to keep quiet about a one-night sexcapade Daniels claims she had with Trump in 2006. (Trump married Melania in 2005 and Barron Trump was born in 2006).
Today, Donald Trump announced on his social media site that he expects to be arrested on Tuesday. He called on his supporters to protest and "take our nation back." [More...]
(64 comments, 1307 words in story) There's More :: Permalink :: Comments
Donald Trump's former lawyer, Michael Cohen, was blindsided today by the U.S. Marshals and taken into custody, to await return to a federal prison.
Cohen was furloughed by the U.S. Bureau of Prison back in May, due to the coronavirus. A furlough is temporary. BOP decides what happens when it's over. Sometimes you go back to prison. Sometimes you go home to serve the remainder of your sentence on home confinement.
BOP decided Cohen could serve the rest of his sentence on home confinement and not return to prison when the furlough was up.
Home confinement has restrictions. The conditions are spelled out in a agreement between you and BOP. Cohen apparently had not yet begun his home confinement because he and BOP had not agreed on the terms.
According to Cohen's lawyer, Cohen and his lawyer went down to the U.S. Marshal's office today to sign the agreement. [More...]
(17 comments, 612 words in story) There's More :: Permalink :: Comments
Former Trump lawyer Michael Cohen is scheduled to surrender Monday to the federal prison complex at Otisville, NY. Like all Otisville inmates, he will first be evaluated at the medium security prison. When his eval is over, he will walk up the road to satellite prison camp, (a minimum security facility with communal dorm rooms instead of cells that is more like an army barracks than a prison.) According to the Bureau of Prison's Statistical page, today there are 113 inmates at the camp. (Fill in the blanks with "Northeast Region" and "New York" and "Otisville").
Here is an account written by an attorney and friend of mine of his first days at Otisville (published in Chicken Soup for the Soul), and an extremely irreverent but sometimes funny and occasionally insightful blog (if you can get past the deprecating language the Jewish author, a former attorney and Otisville inmate named Lawrence Dressler, uses for his fellow Jews and others which he thinks is funny)about life at Otisville. (He was there for mortgage fraud). Here's his latest post about Michael Cohen.
Mike "the Situation" Sorrentino from the Jersey Shore reality TV show is serving a short sentence at Otisville right now for a tax offense. So is Billy McFarlan of the infamous "Freye Festival". Most but not all of the 113 camp inmates are Jewish and sentenced for white collar or drug offenses. Sorrentino and McFarlan are exceptions.
I highly doubt Cohen will have a problem with other inmates because he cooperated with Mueller. He'll have lots of company on that front. Also, he didn't get a cooperation reduction in the NY case for which he's going top jail. The government wrote in its sentencing brief: [More...]
(19 comments, 738 words in story) There's More :: Permalink :: Comments
The Government asked for four years. The Judge sentenced Cohen to three years. Michael Cohen said he accepted full blame because "time and time again I felt it was my duty to cover up his [Trump's]dirty deeds."
This sentence covers not only his campaign finance violations, but his tax evasion, lying to Congress and bank fraud. (The sentence for lying to Congress (about the Trump Org. Moscow project which never came to fruition) was two months, but it was ordered to run concurrently (at the same time) as the financial/fraud crimes.)
He also has to forfeit $500,000. and pay $1.39 million in restitution and a $50,000. fine.
He has until March to surrender to the designated federal facility. The Judge agreed to recommend the camp at Otisville, which is the place most white collar Jewish defendants want to go.
Lanny Davis will now change roles to become Cohen's media spokesman. In that role today, he said Cohen will cooperate with Congressional inquiries about Trump.
It seems obvious to me that what Cohen refuses to talk about is matters involving his family, particularly his in-laws. [More...]
(7 comments, 1457 words in story) There's More :: Permalink :: Comments
The US Attorney's office for the SDNY berates Michael Cohen for his "selective cooperation" in its latest sentencing memo. It then repeatedly asks for a "substantial sentence"
Except, don't miss the part where it says it concurs with the Probation Department that his guideline range is 51 to 63 months. It also says probation is recommending a downward variance to 42 months. It then agrees he should receive some sort of downward variance for his cooperation:
And while the Office agrees that Cohen should receive credit for his assistance in the SCO investigation, that credit should not approximate the credit a traditional cooperating witness would receive, given, among other reasons, Cohen's affirmative decision not to become one. For these reasons, the Office respectfully requests that this Court impose a substantial term of imprisonment, one that reflects a modest downward variance from the applicable Guidelines range (my emphasis).
[More...]
(17 comments, 273 words in story) There's More :: Permalink :: Comments
According to Vanity Fair, Michael Cohen is expecting to be arrested within days. Neither Cohen nor Trump filed objections to the Special Masters' Report as to which documents it agreed were protected by the attorney client privilege and should not be turned over to prosecutors. (No link due to autoplay video ad):
Trump allies view the legal cloud hanging over Trump's former attorney and fixer, Michael Cohen, as at least as ominous as the obstruction investigation. According to a source close to Cohen, Cohen has told friends that he expects to be arrested any day now. (Reached for comment, Cohen wrote in a text message, "Your alleged source is wrong!") The specter of Cohen flipping has Trump advisers on edge. "Trump should be super worried about Michael Cohen," a former White House official said. "If anyone can blow up Trump, it's him."
Cohen responded that VF's source was wrong.
CNBC has this summary with additional sources and a copy of the Special Master's Report.
(30 comments) Permalink :: Comments