Tag: Michael Hayden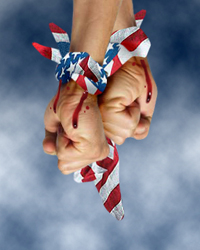 The Bush Administration legacy of torture grows, and its claims to Congress were false, according to a new report by Human Rights Watch.
The United States government during the Bush administration tortured opponents of Muammar Gaddafi, then transferred them to mistreatment in Libya, according to accounts by former detainees and recently uncovered CIA and UK Secret Service documents, Human Rights Watch said in a report released today. One former detainee alleged he was waterboarded and another described a similar form of water torture, contradicting claims by Bush administration officials that only three men in US custody had been waterboarded.
[More...]
(13 comments, 1078 words in story) There's More :: Permalink :: Comments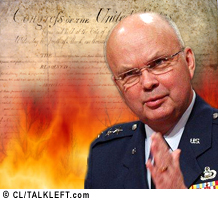 U.S. News and World Reports writes that President-Elect Barack Obama may keep Michael Hayden as head of the CIA.
I don't see Obama keeping Hayden. I hope the US News Report is just a rumor being floated for reaction.
Keeping Hayden would be unfortunate. It would represent the wrong kind of change for Obama who voted against Hayden's confirmation. Here's Obama's 2006 speech on why he opposed Hayden for CIA director. [More...]
(14 comments, 555 words in story) There's More :: Permalink :: Comments