Tag: Military Commissions Act
Update: AP article here. They made their decision based on Obama's election to the Presidency. My translation: They don't want to be moved to federal court where they would be more likely to get life in a Supermax prison than the death penalty, and if they got the death penalty, face years in prison before it was carried out.
***
Khalid Sheikh Mohammed and four other detainees facing the death penalty in military commission trials decided today to plead guilty. Human Rights Watch responds:
"What should have been a major victory in holding the 9/11 defendants accountable for terrible crimes has been tainted by torture and an unfair military commissions process," said Jennifer Daskal, senior counterterrorism counsel at Human Rights Watch. "These five men are known to have been mistreated and tortured during their years in CIA custody, including the acknowledged waterboarding of Khalid Sheikh Mohammed."
More....
(13 comments, 221 words in story) There's More :: Permalink :: Comments
Bump and Update:
Ali Hamza al Bahlul
has been found guilty
at his Guantanamo Military Commissions trial.The ACLU says (statement to be available
here
shortly):
"The conviction of Al Bahlul is yet another example of a military commission system set up to produce convictions, not to deliver real justice. Unfortunately, because the system is fundamentally flawed and lacks any semblance of due process, a cloud of illegitimacy hangs over this verdict. The world deserves better than that from America. The next president should close Guantánamo and future prosecutions should occur in criminal or military courts where the Constitution still means something and where verdicts, no matter what they are, can be trusted." ...The ACLU calls on the next president to close Guantánamo, ban torture and end extraordinary rendition.
Original Post:
McCain vs. Obama on Gitmo Trials
[More...]
(3 comments, 922 words in story) There's More :: Permalink :: Comments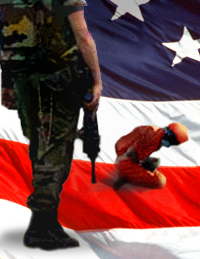 The Washington Post reports that the Bush Administration says it is unlikely that trials of any of the Guantanamo detainees will take place before Bush leaves office.
Nearly seven years later, however, not one of the approximately 775 terrorism suspects who have been held on this island has faced a jury trial inside the new complex, and U.S. officials think it is highly unlikely that any of the Sept. 11 suspects will before the Bush administration ends.

Though men such as Khalid Sheik Mohammed, the alleged Sept. 11 mastermind, are expected to be arraigned in coming months -- appearing publicly for the first time after years of secret detention and harsh interrogations -- officials say it could be a year or longer before worldwide audiences will see even the first piece of evidence or testimony against them.
All three presidential candidates, Hillary, Obama and McCain have promised to close Guantanamo. [More...]
(10 comments, 234 words in story) There's More :: Permalink :: Comments
A must-read today: Russ Tuttle reports on the planned Guantanamo military commission trials in The Nation:
Now, as the murky, quasi-legal staging of the Bush Administration's military commissions unfolds, a key official has told The Nation that the trials are rigged from the start. According to Col. Morris Davis, former chief prosecutor for Guantánamo's military commissions, the process has been manipulated by Administration appointees in an attempt to foreclose the possibility of acquittal.
This is mind-boggling: Pentagon Chief Counsel William Haynes told Davis there can be no acquittals: [More...]
(22 comments, 805 words in story) There's More :: Permalink :: Comments