Tag: New Year's Eve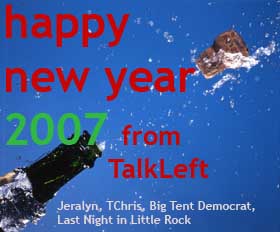 Happy New Year to all.
How are you celebrating the new year? Predictions? Personal resolutions? Hopes? How about a good riddance list?
(44 comments) Permalink :: Comments
A record one million people are expected in Times Square tonight to celebrate the new year. Mayor Bloomberg says people will be safer there than any other place Here are the logistics:
Police will control access to Times Square, closing streets to vehicles beginning at 3:30 p.m.
Anyone wishing to enter the "core area" will be required to pass through metal detectors first, and then be corralled into viewing sections.

Once one section has filled, new arrivals will be directed to the next viewing section. Backpacks, large bags and alcohol will be prohibited. There are also no public bathrooms in the "core area."
As for security,
Regular police units will be supplemented by emergency service squads, drug- and bomb-sniffing canine units, counter-terrorism personnel and the FBI. Representatives of New York's Office of Emergency Management and Fire Department will be in the square, and police in helicopters will monitor the skies and rooftops.
I don't doubt it will be safe, but I'd still rather watch it on tv than be there.
(6 comments) Permalink :: Comments