Tag: Ohio '08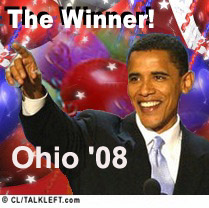 NBC calls Ohio for Obama. CNN calls it too at 9:34 pm.
(38 comments) Permalink :: Comments
In addition to the national polls cited here by Big Tent Democrat, there's a Suffolk Ohio and Missouri poll out today.
Barack Obama leads John McCain by 9 in Ohio and McCain's ahead by 1 in Missouri.
I think Ohio is critical. If McCain loses there, I think he loses the election.
"If Ohio goes for Obama, it may be lights out for McCain," said David Paleologos, director of the Political Research Center at Suffolk University in Boston. "At least today, the probability of an Ohio win is supported by the high-single-digit lead in the statewide poll coupled with the Perry County bellwether, which showed Obama leading by 4 percent."
Joe the Plumber didn't help McCain in Ohio, his home state.
(17 comments) Permalink :: Comments
The University of Wisconsin Advertising project has released an interesting report (pdf)on ad spending in Ohio by the candidates and interest groups supporting them:
Obama outspent Hillary 2 to 1 on ads.
In the high-profile Ohio presidential primary campaign, the campaigns of the two Democratic candidates for president aired over 16,000 spots, spending approximately $6.8 million. Obama outspent Clinton by a margin of nearly two-to-one, with the Illinois Senator spending over $4.4 million to air just over 10,000 spots. Clinton spent $2.3 million and aired just over six thousand spots. Republicans were largely absent in Ohio; neither John McCain nor Mike Huckabee aired a single ad leading up to the Ohio primary.
The SEIU and United Food and Commerical Workers Int'l Union spent $1 million in Ohio on ads for Obama. The 527 group supporting Hillary took spent $80,000. [More...]
(59 comments, 307 words in story) There's More :: Permalink :: Comments
There are new articles today in the Dallas News and the Cleveland Plain Dealer on the Republican cross-over vote (Dems for a Day)and whether it had any effect on the outcome. Some Obama supporters would have you believe that it was of such significance as to result in Obama's loss in those states.
In Ohio, the article says there were 16,000 cross-over votes in Cuyahoga County (Cleveland.) The article talks about Rush Limbaugh urging Republicans to vote for Hillary, but of those interviewed in the article, one Republican voted for Hillary and one for Obama. They had different opinions on who would be better able to beat McCain. Obama won by 23,000 votes in Cuyahoga. Effect of the cross-over vote on the election: none shown and it's not even determinable which candidate they voted for.
In an opinion piece, the co-author of the Dallas News article, Wayne Slater, shows how the effect was negligible on Hillary's Texas win. [More...]
(45 comments, 296 words in story) There's More :: Permalink :: Comments
I wrote so many posts last week like this one about Ohio and the rural vote, both from a historical perspective and for this year. I feel vindicated -- here's a new AP article today that explains how well Hillary did in the Ohio rural vote, how it was her intentional strategy, how John Kerry failed to go after it or win it, and more.
Bottom line: The Dems can take Ohio in November. But not without that rural vote, which went astonishingly for Hillary.
Decades have passed since Ohio last saw a competitive Democratic primary, and the interest showed in a record turnout of 48 percent of registered voters.

Clinton still garnered more interest than Kerry in his primary four years ago. Where she won 81 percent of the vote in Scioto County, Kerry got 55 percent in his 2004 primary. Where she got 80 percent of the vote in Jackson County, Kerry got 64 percent. Where Clinton got 78 percent of the vote in Lawrence County, Kerry got 59 percent.
This is what Hillary did in her New York Senate races. Howard Wolfson says it's been her strategy in all the primary races. [More...]
(153 comments, 318 words in story) There's More :: Permalink :: Comments
CNN projects Ohio for Hillary!
Hillary's on her way to speak to supporters, the networks will cover it.
Update: Live blogging her victory speech: Hillary is jubilant. She looks fabulous in red. The song playing: Bruce Springsteen's "The Rising." She's smiling from ear to ear. "As Ohio goes, so does the nation."
"This nations coming back and so is this campaign."
"No one has won the White House in recent memory without winning the Ohio primary."
She lists all the states she has won. "Americans don't deserve more speeches, they deserve solutions and they deserve them now."
"We're ready for health care for every American." She does a recap of the 3 am call... "There's no time for speeches or on the job training." She looks forward to debating John McCain. [More...]
(225 comments, 316 words in story) There's More :: Permalink :: Comments
Update (TL)
:
Hillary now leads
in Texas by 1,800 votes. All the commenters agree, whatever happens in Texas tonight, Hillary will stay in until Pennsylvania. She has the momentum now. Most of those deciding who to vote for in the last three days
picked her
. She's got 2/3 of the Latino vote, which makes up 1/3 of all Texas voters.
By Big Tent Democrat
Clinton 640,000 (57%)(WIN)
Obama 459,000 (41%)

51% reporting
Clinton 885,000 (50%)
Obama 867,000 (49%)

44% reporting
Update: (TL)Comments now closed here.
(220 comments) Permalink :: Comments
We're not quite at half-time, but who do you think will win Ohio and Texas now?
And what about the lawsuits? Barack Obama sued to reopen some polls in Cleveland, and Hillary reportedly held a media call about suing over voter intimidation in Texas.
(64 comments) Permalink :: Comments
Ohio's polls close in 30 minutes. Big Tent Democrat and I will be live-blogging the results and other election news coverage. We'll start when the polls close.
You can comment same as always in the comment section below. You also can send us live messages through the software. Only comments you post below will appear on the site.
I'll be putting up some polls up. Big Tent's posts will say BTD and mine will be TL.
The live blog stays below the fold so that it can be a bit wider than the front page allows. Just click on the "There's More" button or bookmark the permalink to go directly to it.
If comments hit 200, we'll start a new one.
(227 comments, 189 words in story) There's More :: Permalink :: Comments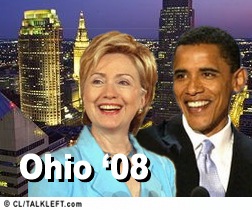 CNN's Ohio exit polls:
Hillary is getting voters without college degrees. College educated voters are going to Obama. That's all they reported so far.
CNN's Ohio results page is here.
MSNBC's Ohio results page is here.
(68 comments) Permalink :: Comments
I'm going to take a break here for a spell.
We're a few hours from exit polls and results.
How are you feeling about the candidates' chances? Have you changed your predictions since this morning?
What's making you most nervous?
I'll also put up a Media Horse's A*s thread around 7pm ET for you to rant about your least favorite anchors and pundits.
See you soon and yes, we'll be covering the results through the evening. I hope you'll join us. Those threads will open with all election-related comments welcome.
(41 comments) Permalink :: Comments
Bump and Update: The Texas Democratic Party sent out this directive (pdf)to both campaigns this afternoon cautioning against what I reported below. So they obviously heard it too, although the letter went to both campaigns, not just Obama's.
Campaign workers, volunteers and/or supporters have obtained copies of blank sign-in sheets for precinct conventions and are having them filed in now with the desire of turning them in once the convention gets underway. These sign-in sheets are invalid and will not be considered in determining the allocation of delegates. See Tex. Dem. Pty. Rule. IV(B)(6).
Update: The Austin Statesman is now reporting on the alleged violations, without specifying which campaign is complaining or allegedly violating the rules.
***
I'm receiving reports that contrary to Texas Democratic party caucus rules that preclude registration forms from being submitted before either 7:15 pm or the last vote at a precinct has been cast, Obama volunteers are handing out the forms at precincts today and asking people to fill them in and then collecting them. For Obama to submit the forms on the voters' behalf without the voter physically being present at the caucus would violate the rules.
The rules state:
More...
(142 comments, 923 words in story) There's More :: Permalink :: Comments