Tag: Sarah Palin
The cold open from last night's Saturday Night Live. Tina Fey, as usual, nails Sarah Palin. She mostly uses Palin's own words.
[More...]
(13 comments, 234 words in story) There's More :: Permalink :: Comments
Rudy Giuliani today said Joe Biden is "too unbalanced" to be step into the role of President should that become necessary.
"I don't think he's nuts. I'm just saying I wonder if he's got the kind of balance - probably what I should have said is the balance to be president of the United States," Giuliani said. "This guy is like one gaffe after another, and he's a joke on late-night television."
Earlier this week he said Biden isn't too bright. He was referring to Biden's comment on Tuesday, when speaking to a predominantly African American group, that "Mitt Romney's regulatory policies would "put y'all back in chains."
In 2008, when Sarah Palin used the words "blood libel" in responding to media reports that she may have contributed to the Arizona shootings, which many regarded as anti-Semitic, he defended her. [More...]
(40 comments, 776 words in story) There's More :: Permalink :: Comments
Dick Cheney has some advice for Mitt Romney: Don't pick a Sarah Palin. Cheney says he likes Palin but McCain shouldn't have picked her for his running mate because she wasn't qualified. He says the test has to be whether the person is qualified to assume the Presidency and she was not.
The interview will air tomorrow and highlights, including the part about Palin, are already available. I couldn't stand to watch for than 10 seconds of Dick Cheney, so I didn't see the actual remarks.
(38 comments) Permalink :: Comments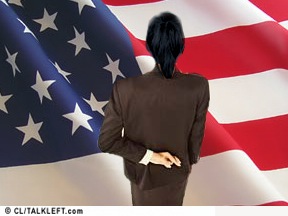 Don't believe the accounts of HBO's movie Game Change that say the film humanizes Sarah Palin. The story line is exactly the opposite. Sarah Palin, as we all knew, was a desperate Hail Mary Pass by John McCain, completely unvetted and incompetent for the job of Vice President. The film confirms this. It also portrays her as ignorant beyond our wildest imagination and verging on mental illness, veering between bouts of catatonia, manic behavior and paranoia, coupled with having mini-meltdowns.
By all means watch it. Even though it confirms much of what we already knew, it still produces chills. Had McCain, then 72 years old, won the election, this woman would have been next in line to be President. My review is below [More...]
(84 comments, 2597 words in story) There's More :: Permalink :: Comments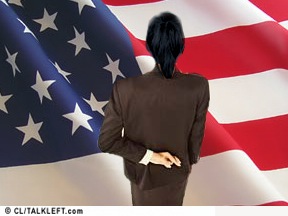 Sarah Palin says she's not running for President in 2012.
Let's just hope she means it.
(25 comments) Permalink :: Comments
A reporter from The Atlantic visiting his parents in Orange County, CA, home to one of 10 theaters across the country playing a new documentary about Sarah Palin, decided to go check it out and maybe interview some of those in attendance. Only no one showed up.
He watched it alone (except when two tourists walked in, not knowing the movie was about Palin, and they left after 20 minutes.):
"We looked online for the latest movie playing," Jessie added. "But all the Harry Potters were sold out, and then we saw 'The Undeafeated.' We don't even actually know what we're seeing."
Probably wasn't the action flick they were expecting. At the end, a couple came in to sit in the back row and make out, but they left too. So the reporter had no one to interview. [More...]
(28 comments, 587 words in story) There's More :: Permalink :: Comments
Sarah Palin released a videostatement on her Facebook page on the Arizona shootings. In it she used the words "blood libel" and quoted Ronald Reagan (out of context.) Her blood libel reference:
Acts of monstrous criminality stand on their own. They begin and end with the criminals who commit them"... "Especially within hours of a tragedy unfolding, journalists and pundits should not manufacture a blood libel that serves only to incite the very hatred and violence they purport to condemn. That is reprehensible."
A sample of reactions is here.
I don't really care what Sarah Palin thinks. It's time for the media to stop reporting and analyzing every attempt she makes to insert herself into the national news.
On a brighter note, every time Sarah Palin speaks, she manages to make herself more polarizing and further decreases her chances of getting a sufficient majority of Republican voters to support any future political bid for national office. She is no more electable today than she was in 2008. She will not get her party's nomination for 2012. Why keep feeding her lust for attention?
(118 comments) Permalink :: Comments
Was Sarah Palin being booed on Dancing With the Stars last night, or was the crowd booing the Judges for Jennifer Grey's "low score" of three 8's? In context, and watching in sequence, it had to be they were booing Palin. No way would the crowd have been booing Jennifer Grey's scores because they were too low... she got three 8's. For the second dance of the season, that's high, and it was the top score of the evening. [More...]
(4 comments, 572 words in story) There's More :: Permalink :: Comments
In the October issue of Vanity Fair, a new expose on Sarah Palin.
The Guardian has the highlights in case you don't want to wade through it:
She managed to spend $3,000 (of campaign funds) on underwear (including Spandex girdles). More on the shopping spree here.
She calls on angels to protect her from demonic attacks
She's a bad tipper
Her Facebook and Twitter feeds may be ghost-written
The McCain Campaign gave her books to increase her learning curve on issues
She doesn't hunt
Sarah's response, according to the Guardian: [More...]
(25 comments, 192 words in story) There's More :: Permalink :: Comments
Sarah Palin was in Denver last night, speaking to her usual fringe following. Political scientist Larry Sabato seems to be drinking the kool-aid:
"She's avant-garde. She's a feminist. She cuts a dashing figure...Whether you love her or you hate her, you don't go to sleep when Sarah Palin comes on."
No, those of us with brains change the channel or turn off the TV. And just how is a reactionary like Palin considered "avant-garde?" And a Feminist? No, how about just crassly opportunistic.
Now back to regular programming.
(35 comments) Permalink :: Comments
The trial of 22 year old David Kernell, charged with hacking into Sarah Palin's e-mail account, is underway. Palin will be a witness. Her husband and daughter Bristol may also be witnesses.
Tennessee is heavily Republican and the defense fears Palin will unduly influence the jury. The judge refused to allow the defense to voir dire the jury on wehther they have strong feelings about Palin.
The defense says Kernell had no criminal intent and it was all a prank. He's facing a maximum of 50 years on 4 felony charges. [More...]
(14 comments, 148 words in story) There's More :: Permalink :: Comments
Update: The California Attorney General is
launchng an investigation
.
The attorney general's office pledged to get to the bottom of the situation, saying its expanded inquiry will seek to determine whether the university foundation, which has assets of more than $20 million, is spending its money to benefit the campus, as it promises donors, the university and the public. "We are taking this action to make sure that the money raised goes toward the intended educational purposes and not a dollar is wasted or misspent," Brown said. "Prudent financial stewardship is crucial at a time in which universities face vastly decreased funding and increased student fees."
ABC News has a copy of an addendum toSarah Palin's speaking contract with the Washington Speaker's Bureau for a speech she contracted to give at a California University. Huffington Post has a pictoral break-down.
The details of Palin's contract with the California State University, Stanislaus Foundation were contained in five pages of the document retrieved from a campus trash bin by students who heard administrators might be shredding documents related to the speech.
It begins by saying the extra provisions are necessary because of her "high profile" and "professional endeavors." It requires first class airfare for two, non-restricted coach for two more people (or a private jet), SUV's on the ground a Luxury hotels. [More...]
(47 comments, 295 words in story) There's More :: Permalink :: Comments