Tag: Scott Peterson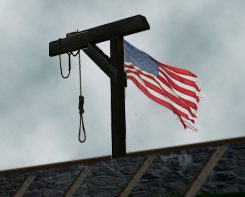 Here's one the reasons Mark Geragos argued to the jury in the Scott Peterson death penalty trial that it should return a verdict of life without parole instead of death. The full transcript is here.

Prison is an awful, awful place. Scott Peterson, if you vote to spare his life, will be placed into a cell that is roughly the size of a king size bed. Roughly encompasses you four jurors right here. That's the size of his cell. And he would be in that cell roughly the size of a king size bed for the rest of his life. He will die in that cell.
Scott Peterson in that cell will have a bed to lay on, and he will have a cold metal toilet, and he will share that cell with a friend. That friend will be his cellmate. That may change.

[More...]
(53 comments, 2570 words in story) There's More :: Permalink :: Comments
Scott Peterson was convicted 8 years ago of murdering his pregnant wife Laci. He was sentenced to death and has been incarcerated since then at Death Row on San Quentin.
Today his attorney filed his first appeal with the California Supreme Court. His brief is 423 pages.
TalkLeft has covered his case since 2003. If you want a refresher, all of our 130 posts are accessible here.
Some of the jurors held a press conference after the verdict, discussing among other things, why they ousted their jury foreman. The San Francisco Chronicle had this feature on life on death row at San Quentin in 2004. People Magazine a few weeks ago, in a feature on how several high-profile defendants over the past decades are doing in prison, reported Scott spends a lot of time doing Yoga and working on his appeal.
In 2004, the LA Times did a feature on the cost of the death penalty versus life imprisonment. One estimate was that it costs California taxpayers $90 million more a year to incarcerate death row inmates than those serving life without parole. There were 641 death row inmates in California at the time. There are now 725.[More...]
(47 comments, 490 words in story) There's More :: Permalink :: Comments