Tag: Singapore
Al Jazeera has an article today about the "debate" over Singapore's change two weeks ago in its mandatory death penalty law for drugs and murder. The South China Post reports on Asia's shift against the death penalty.
First, Singapore's change in drug cases is de minimus. It applies only to couriers who agree to become snitches and those who with mental abnormalities.
Couriers who rat out bigger fish can apply for a "certificate of cooperation" from the prosecution. Since most couriers don't know anything about the larger organization, this is just a license to make things up. If the authorities suspect person X of being a big trafficker, and ask a courier to confirm their suspicion, what courier is going to admit "I don't know" when that answer means the gallows.
The mental exemption applies only to those "suffering from such an abnormality of mind that it substantially impaired his mental responsibility for committing the offence".
Second, it's not just life in prison if they avoid the death penalty, but life plus caning -- up to 15 lashes. According to Deputy Prime Minister and Home Affairs Minister Teo Chee Hean: [More..]
(4 comments, 778 words in story) There's More :: Permalink :: Comments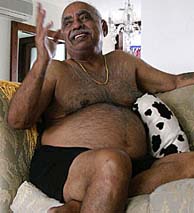 photo by Alan Shadrake
British author Alan Shadrake, whose book Once a Jolly Hangman: Singapore Justice on the Dock, was recently released, has been detained in Singapore on charges including criminal defamation and contempt of court.
His book contained an interview with Darshan Singh, pictured above, the now retired head executioner at Singapore's Changi Prison.
The book also features interviews with local human rights activists, lawyers and former police officers on various cases involving capital punishment in the city-state, which carries out the death penalty by hanging.
[More..]
(15 comments, 667 words in story) There's More :: Permalink :: Comments