Tag: Tim Kaine
DNC Chair and VA. Gov. Tim Kaine may lose some support with his signing today of legislation approving "Choose Life" license plates in Virginia.
[H]is decision could echo among women's activists who are among the most powerful financial supporters of the party.

"It is surprising that Governor Kaine would do this, but it's all the more surprising that he would do it as chair of the DNC," said Paulette McElwain, the president of the Virginia League for Planned Parenthood.
Gov. Kaine also made this promise today: [More...]
(33 comments, 228 words in story) There's More :: Permalink :: Comments
ABC says Biden backtracked a little on his denial that he is Obama's Veep pick. My response: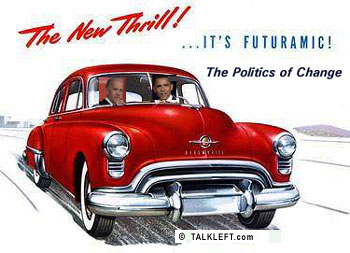 And a shout-out to Jerome at MyDD.
It's also looking less likely Hillary or Kathleen Sebelius will be the choice. ABC News says Obama's been using the "he" pronoun today rather than his customary "he or she."
I still say it's more likely Kaine than Biden.
(112 comments) Permalink :: Comments
I think politico-types are reading too much into the veep-stakes' tea leaves. On the most basic level, consider the obvious:
Kaine is the only one of the final choices without a convention speaking slot
Obama and Kaine are speaking together tomorrow in Virginia.
On another level, consider that Barack Obama and the Democratic party have made it clear the emphasis this year is on faith. It's going to be a faith-based convention. Obama has always been hope and change, and people tend to focus too much on the change. Hope, which equates with faith, is an equal part of his message.
Here's Tim Kaine on why he went into politics: [More...]
(111 comments, 708 words in story) There's More :: Permalink :: Comments
I just spent two hours writing up a theory that came to me at midnight. The gist is that Sen. Barack Obama, by leaking to the mainstream media that Hillary is not on his shortlist while not discouraging talk about Virgina Gov. Tim Kaine, is manipulating a planned succession of leaks.
Obama has hit his truth in advertising wall: He's got to show he's the progressive candidate for real change because that is how he sold himself to American voters. He's committed to expending untold sums of money to go after unregistered voters in the swing states -- the young, minorities and others who firmly believe he represents change. If his VP choice doesn't also embody change from politics as usual in Washington, he becomes reduced to spouting just words about change, which in turn gives him an electability problem. [More...]
(198 comments, 328 words in story) There's More :: Permalink :: Comments