Tag: Tsunami Tuesday
The New York Times has posted California's distribution of delegates from the Super Tuesday primary.
NBC's Keith Olbermann and Dan Abrams tonight said Obama has a total of 861 delegates while Hillary has 855.
The New York Times says Hillary is ahead with 904 to Obama's 724.
That's a big discrepancy between NBC and the Times. Several of the states Obama won haven't yet awarded delegates according to the Times which may account for Obama's low total number. But, Hillary still has more from the Times than from NBC. Anyone know why?
As to how the Times counts delegates:
Many news organizations include delegate projections in their counts that are based on nonbinding votes for candidate preference, such as the Iowa caucuses. The New York Times counts only delegates that have been officially selected and are bound by their preferences.
To make things even more confusing, here's the San Jose Mercury News saying Hillary has 1000 to Obama's 902.
(69 comments) Permalink :: Comments
The New York Times analyzes Super Tuesday and concludes the "movement" and fervor that has become the hallmark of the Barack Obama presidential campaign fell short. Not that it petered out, just that as in New Hampshire, it failed to meet expectations.
One telling sign: Last minute voters tended to go for Hillary.
Throughout a week when Mr. Obama was campaigning with members of the Kennedy family, when there was a sense that he was creating a movement that cut across racial and generational lines, there was a steady movement of Democrats toward Mr. Obama, the survey suggested. But those who reported making their decision on the last day bucked the trend, tending to vote for Mrs. Clinton, of New York.
What it may mean: The fervor for Obama may not translate into votes. [More...]
(139 comments, 659 words in story) There's More :: Permalink :: Comments
Election results are so close in New Mexico that tomorrow morning, officials will begin hand-counting 17,000 provisional ballots.
Provisional ballots are given to voters who show up to the wrong site, whose names are not on registered voter lists provided by the state or who requested an absentee ballot but signed an affidavit saying they did not return it.
As of tonight, with one precinct left, Hillary Clinton is leading Barack Obama by 1,000 votes.
With 183 of 184 of precincts reporting, Hillary Rodham Clinton held a lead of 1,092 votes — 67,921 votes compared to 66,829 for Barack Obama, according to preliminary results posted on the state Democratic Party's Web site.
Officials from both campaigns will be present for the count, but the news media is excluded.
At stake for Hillary and Obama: dividing up New Mexico's 26 committed delegates. There are also 12 superdelegates who can vote how they want once they get to the convention in Denver.
With the race this close, it looks like a split of 26 delegates, whoever wins. I guess the rest is about bragging rights.
(9 comments) Permalink :: Comments
The AP reports:
At a rally in Chicago, Obama delivered a swipe at Clinton, telling supporters the race was between him and a candidate who accepts money from "special interests in Washington."

During her speech tonight to supporters in New York, Clinton struck a different tone, congratulating Obama on his victories.

"I look forward to our campaigns and our debates about how to leave this country better for the next generation," she told supporters who cheered her.
More...
(38 comments, 157 words in story) There's More :: Permalink :: Comments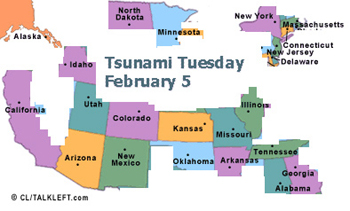 Update: Obama wins Alaska. MSNBC calls Missouri for Obama. Hillary's leading in New Mexico.
Update: Missouri at 97% in is 4,000 votes ahead to Obama. I just checked the counties with some precincts out and they are strong Obama counties so I won't be surprised if he wins there. But they will split the delegates so the effect won't be much.
Obama wins Colorado. He's speaking now. It's the unity and change theme, no red or blue states, just the United States.
Update: Hillary wins Arizona, Obama wins Utah and Idaho. Obama advisor David Axelrod: "We feel good about the ten states we won, they feel good about the seven states they won." What he leaves out is the size of the states Hillary won -- New York and Mass. are not equivalent to Utah and North Dakota.
Update: Projections give Illinois and Georgia to Obama. Arkansas, Oklahoma and Tennessee projected for Hillary.
Update: Hillary wins New York, New Jersey, Massachussetts. Obama wins CT, Delaware, Kansas, MN, Alabama, North Dakota. 9:00 MT: polls now closing in California.
More....
(179 comments, 577 words in story) There's More :: Permalink :: Comments
6:20 pm: I'm at Morey Middle School in Denver. I got here early, around 5:50 pm. There were Obama signs everywhere and lots of Obama volunteers and I didn't see any for Hillary. At least 10 caucuses are meeting here.
I got in line. Within 10 minutes, there was a huge line behind me. Almost everyone is an Obama supporter.
We're all directed to go to the auditorium for a pre-caucus meeting where they will explain the rules. Then people will go to where their caucus is meeting. I get to stay in the auditorium as mine is meeting in here. They say there are several hundred people waiting to get in. A tv camera crew just arrived. [More....]
(10 comments, 706 words in story) There's More :: Permalink :: Comments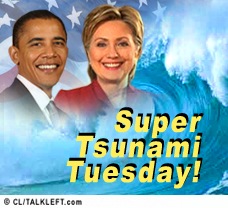 Here's a thread to vent about the media coverage of today's vote -- and to discuss the exit polls and pollsters. Are the pollsters as wrong as they were in New Hampshire or are they getting it right?
What network has the most neutral coverage? The most informative? Who are you muting today?
(188 comments) Permalink :: Comments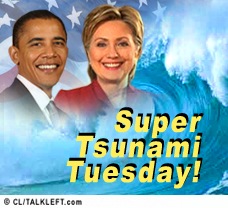 USA Today/Gallup, CBS/New York Times and McClatchey/MSNBC have new polling results. The full CBS Democratic poll is here (pdf).
Nationally, Hillary and Obama are close to being tied. CBS says Hillary is substantially ahead in the Super Tuesday states:
Among voters in those states, she leads Obama, 49 percent to 31 percent, with 16 percent still undecided.

Clinton also holds a big edge on the issue of most concern to Democratic voters: the economy. Nearly 60 percent say she would do a better job of managing the economy than Obama. However, more than two-thirds of Democratic voters see the policy differences between the two candidates as minor.
McClatchy-MSNBC polled 9 states, and found Hillary ahead in all but Georgia. (Remember the maps showing the Florida counties won by Obama? All 9 were in the most northern part of the state, 7 bordered on Georgia and 1 on Alabama.)
More...
(115 comments, 327 words in story) There's More :: Permalink :: Comments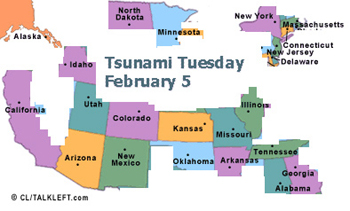 All the early voting states are now behind us. The big deal is Tsunami Tuesday, Feb. 5.
Delegates will matter. This map shows the states holding Democratic caucuses and primaries.
More than 1,500 delegates will be delivered from these states. 2,025 is the number needed to secure the nomination.
The delegate breakdown by states voting Feb. 5 is below:
(19 comments, 323 words in story) There's More :: Permalink :: Comments
The Wall St. Journal has an extensive article on where the candidates now stand in the states voting Feb. 5.
Shorter version: Despite Barack Obama's South Carolina win, Hillary is still significantly ahead in the major states.
Mr. Obama heads into the 22-state showdown as the underdog. The Illinois senator trails Sen. Hillary Clinton of New York by large margins in polls in most of the big states voting Feb. 5. And he lacks the time or resources to campaign intensively in many of those far-flung races to close the gaps.....for all of the attention Mr. Obama has garnered since his Iowa caucus victory at the beginning of the month, Mrs. Clinton has maintained her big lead in national polls -- and in polls in the big states with delegate prizes far greater than any state that has voted so far.
More...
(124 comments, 341 words in story) There's More :: Permalink :: Comments