Tag: Wildfires
Update: Sen Chris Dodd has issued a similar statment.
*****
Governor Bill Richardson makes the connecton between the California wildfires and the War in Iraq: Because our national guard is there, it isn't here responding to disasters.
George Bush, his Republican friends and the Democrats who continue to allow this war to continue have not only broken our military, they've broken our National Guard.

The news this morning had images of Americans fleeing to a huge sports arena for shelter during a natural disaster that struck a familiar chord. When Katrina struck and the floods hit two years ago, a good portion of the Louisiana National Guard was in Iraq. How many people died in the days it took to get proper personnel on the ground in New Orleans? Today, as the fires rage, California has National Guard men, women, and critical equipment thousands of miles away in Iraq. They need to come home. We need them here.
More....
(62 comments, 399 words in story) There's More :: Permalink :: Comments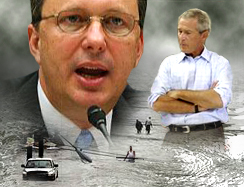 Laugh of the day....former FEMA chief "Heckuva Job, Brownie" Michael Brown has sent out a press release announcing he's available for interviews on the California wildfires.
Michael D. Brown, Former FEMA Director and Current Director of Cotton Companies, one of the leading disaster preparedness and restoration organizations in the nation, is available for comment regarding the wild fires that are devastating Southern California.

.... Mr. Brown can speak to the turmoil being caused by the California wild fires as well as to some of the new processes in disaster relief efforts that will help to restore California communities. He can offer advice to residents and businesses on proper relief and recovery efforts and provide suggestions for future disaster preparedness.
Even the Wall St. Journal was surprised.
Related: Check out the You Tube videos on the fires at Voices of San Diego.
(11 comments) Permalink :: Comments
The Southern California fires are all over the news. Every time I see hear the words "the Santa Ana winds" I start thinking about writer Joan Didion (who just happens to be my favorite author) and how she captured the phenonemon with such great imagery in Slouching Towards Bethlehem (1968), her book about Haight Ashbury during the summer of 1967.
To give you a flavor, I've tracked down some of what she wrote and quote below:
(9 comments, 1427 words in story) There's More :: Permalink :: Comments