Tag: World Series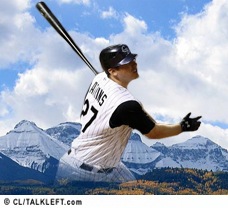 How do you stay enthusiastic after three big losses in a row? I can't. What do I conclude? The Red Sox play better baseball.
It's hard to call the Rockies 21 game winning streak a fluke. Maybe they just choked with the national attention and hoopla over their getting to the series at all. Woody Paige in the Denver Post writes:
What are you going to do? The rest of the country is amused. We must laugh, too....And the really good news: We still live in Colorado.
The game is only in the 5th inning and the Rockies could win tonight. But that might just prolong the agony. On the other hand, there's something to be said for positive thinking.
Go Rockies!
(32 comments, 173 words in story) There's More :: Permalink :: Comments
This is the front page of today's Rocky Mountain News (larger version here.)
Will the home team advantage kick in? I hope so. Game updates at the Colorado Rockies website and MLB.com
Go Rockies!
(14 comments) Permalink :: Comments