Tag: detainee
Via the Center for Constitutional Rights:
Late yesterday, a federal court judge ruled that the government did not have to disclose whether it was illegally spying on Guantanamo attorneys' conversations. The judge ruled that the National Security Agency (NSA) could not be forced to reveal information about its domestic spying program because, "confirming or denying whether plaintiffs' communication with their clients has been intercepted would reveal information about the NSA's capabilities and activities."

Plaintiffs had argued that the government cannot use the Freedom of Information Act (FOIA) to shield illegal surveillance of attorneys. In response, the court said that because of the breadth of a statute protecting the NSA's secrecy, "the Court need not address plaintiffs' substantive arguments concerning the TSP's illegality."
What it means: [More..]
(15 comments, 212 words in story) There's More :: Permalink :: Comments
The D.C. Court of Appeals today upheld the dismissal of a lawsuit for damages filed by four Britons who had been detained at Guantanamo. Shafiq Rasul, Asif Iqbal, Rhuhel Ahmed and Jamal Al-Harith had sued Donald Rumsfeld and other top military officers for ordering torture and religious abuse during the two years they spent at Guantanamo before being sent back to Britain. The trial court dismissed all of the claims except the one over religious discrimination. The appeals court dismissed that as well.
The Center for Constitutional Rights, which brought the suit on behalf of the men, reports:
More....
(10 comments, 471 words in story) There's More :: Permalink :: Comments
An accuser's motive to lie might be apparent to the accused, but what happens when the accused isn't allowed to learn the accuser's identity? Despite the administration's assurances that Guantánamo detainees will receive fair trials, Omar Ahmed Khadr will begin his trial with a significant handicap: he won't know who will be testifying against him.
Defense lawyers preparing for the war crimes trial of a 21-year-old Guantánamo detainee have been ordered by a military judge not to tell their client — or anyone else — the identity of witnesses against him, newly released documents show.
The right to confront witnesses is essential to a fair trial. How can a detainee's exercise of that right be meaningful when the detainee doesn't even know who the witness is?
Defense lawyers say the order would hamper their ability to build an adequate defense because they cannot ask their client or anyone else about prosecution witnesses, making it difficult to test the veracity of testimony.
In the administration's view, the vague fear of "terrorist retaliation" against their anonymous witnesses outweighs the accused's right to know the identity of his accuser. So much for the empty promise of fair trials for the Guantánamo detainees.
(33 comments) Permalink :: Comments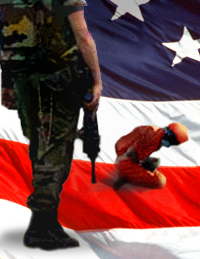 Just a few months ago, Gitmo seemed headed for closure, thanks to a bill introduced by Sen. Tom Harkin and another by Sen. Diane Feinstein.
Now, the passage of either bill is in serious doubt. Harkin's bill failed to generate co-sponsors.
The detention facility has been embraced by many Republicans as a potent political symbol in their quest to seize the terrorism issue ahead of next year's elections. GOP presidential candidates have jockeyed to demonstrate their support for the prison. One candidate has called for doubling its use. Another praised the menu and health plan offered to detainees.
Republican Senator Chuck Hagel, who supports closure, says:
(8 comments, 595 words in story) There's More :: Permalink :: Comments
Far from getting ready to close Guantanamo, the U.S. is spending big bucks there to build new courtrooms.
The U.S. military is building a mobile courtroom complex on an unused runway at the Guantanamo Bay naval base and plans to be ready by March to conduct as many as three terrorism trials at a time.

The $10 million project will add two new courtrooms to the existing one, which is being fitted with a new computer projection system to display evidence for the war crimes tribunals set up to try suspected al Qaeda operatives held at the U.S. naval base in eastern Cuba.
The Pentagon now plans to try 80 of the prisoners on war crimes and to hold up to 3 trials at a time. Called a "mobile courtroom complex" the new project appears to be made of tents:
More...
(8 comments, 234 words in story) There's More :: Permalink :: Comments
Scotus Blog reports that in a change not seen since 1968, the Supreme Court has reversed course in two Guantanamo cases. Months ago it denied the detainees' Petitions for Writ of Certiorari, refusing to accept their cases.
Today, by a ruling of at least 5 to 4, which is required for such a change, the Court reversed itself and said it will hear the appeals.
The Court's order is reprinted below:
(2 comments, 491 words in story) There's More :: Permalink :: Comments
Omar Khadr is the teenager who was captured and brought to Guantanamo at age 15. (Background here.)
His case came before the military tribunal at Guantanamo today and the Judge dismissed the charges on jurisdictional grounds.
The stunning ruling by Army Col. Peter Brownback came just minutes into Khadr's arraignment, in which he faced charges he committed murder in violation of the law of war, attempted murder in violation of the law of war, conspiracy, providing material support for terrorism and spying.

"The charges are dismissed without prejudice," Brownback pronounced as he adjourned the proceeding.
The reason:
Khadr had been classified as an "enemy combatant" by a military panel years earlier at Guantanamo Bay, but because he was not classified as an "alien unlawful enemy combatant," Brownback said he had no choice but to throw the case out.

The Military Commissions Act, signed by President George W. Bush last year after the U.S. Supreme Court threw out the previous war-crimes trial system, says specifically that only those classified as "unlawful" enemy combatants can face war trials here.
More...
(25 comments, 432 words in story) There's More :: Permalink :: Comments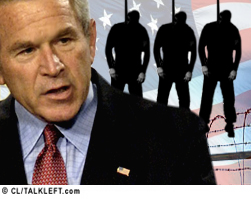 CNN is reporting a Saudi detainee has committed suicide. Some information is available here.
In other Gitmo news, 15 American lawyers are in Yemen.
Fifteen American lawyers have come to Yemen in order to reveal the truth about the situation of Yemeni detainees at the

U.S.

prison in Guantanamo Bay, Cuba, they said this week at a press conference in Sana'a. They claim that the

U.S.

government was lying when it said that Yemen has refused to accept its detainees back into the country. "The main purpose of our visit is to expose the lie that the Yemeni government does not want its citizens back," said Tina Foster, the executive director of the International Justice Network.
A few more details. The New York Times also reports, with some reactions from Guantanamo lawyers.
(4 comments) Permalink :: Comments

Image from BBC news.
The hunger strike at Guantanamo has resumed.
Force-feeding is painful.
The military's rationale for force-feeding?
"Because our policy is to preserve life."
Then why won't it take the death penalty off the table?
Another blast from the past: A special report by the Guardian on the mistreatment of detainees.
(15 comments) Permalink :: Comments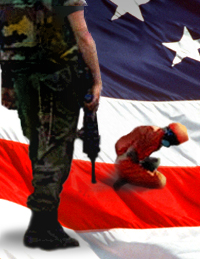 Amnesty International released a new report today, "USA: Cruel and Inhuman -- Conditions of Isolation for Detainees in Guantanamo Bay."
More than 80% of the 385 detainees are held in isolation, "a reversal of earlier moves to ease conditions and allow more socializing among detainee." While some detainees are held in solitary confinement at Camp Echo and Camp 5, conditions are worst at Camp 6, which opened in December.
Detainees are reportedly confined for 22 hours a day to individual, enclosed, steel cells where they are almost completely cut off from human contact. The cells have no windows to the outside or access to natural light or fresh air. No activities are provided, and detainees are subjected to 24- hour lighting and constant observation by guards through the narrow windows in the cell doors. They exercise alone in a high-walled yard where little sunlight filters through; detainees are often only offered exercise at night and may not see daylight for days at a time.
Many of these detainees have been held for more than five years without charges.
More...
(4 comments, 348 words in story) There's More :: Permalink :: Comments
Friday, Tony Snow dashed any hopes that Guantanamo would be closed during Bush's presidency.
It's highly unlikely that you can dispense with all those cases between now and the end of the administration," White House spokesman Tony Snow said of about 385 prisoners currently at the Guantanamo facility. Asked directly whether the prison would close before Bush leaves office in January 2009, Snow said, "I doubt it, no."
Defense Secretary Robert Gates recently advocated the closure of Guantanamo.
More....
(2 comments, 585 words in story) There's More :: Permalink :: Comments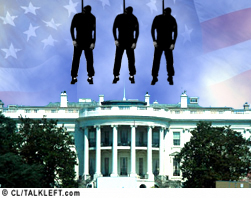 Did Mishal al-Harbi suffer brain damage at Guantanamo because he was beaten in his cell by guards or did he try to hang him himself? The Washington Post tells his story today.
From interviews with many released detainees, a portrait is painted of guards mistreating and withholding the Koran and beating prisoners.
Some of the detainees started refusing to hand over the Koran during searches and went on hunger strikes to protest its mistreatment, Azmi said. They also cursed and screamed at the guards, he said. According to Pentagon transcripts, Mishal once spit at a guard.

It was during this fraught period that Mishal was injured, several days after being transferred to isolation block India, said Hammad Ali, a former detainee from Sudan who was in the same isolation block at the time.
More...
(1 comment, 619 words in story) There's More :: Permalink :: Comments