Tag: hunger strike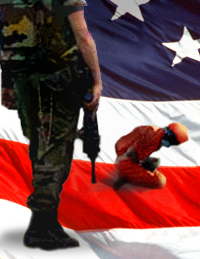 Yemeni detainee Samir Naji al Hasan Moqbel is one of the many prisoners at Guantanammo on a hunger strike. He has been held for 11 years, never been charged with a crime, and cleared for release.
He tells his story in an op-ed in the New York Times, Guantanamo is Killing me. It's very disturbing to read. You wouldn't do a dog this way.
Shame on us. The U.S. needs to send these men home.
(19 comments) Permalink :: Comments
Guards at Guantanamo this morning conducted a pre-dawn raid of Camp 6, the communal housing block where most of the inmates are on a hunger strike. The purpose was to move the hunger-striking inmates to maximum security cells.
The detainees fought back. According to Guantanamo officials:
"Some detainees resisted with improvised weapons, and in response, four less-than-lethal rounds were fired," according to a statement issued by the prison camps at the U.S. Navy base in Cuba. "There were no serious injuries to guards or detainees."

...."In order to reestablish proper observation, the guards entered the Camp 6 communal living spaces to transition detainees into single cells, remove obstructions to cameras, windows and partitions, and to assess the medical condition of each detainee," the prison said.
Yesterday, Guantanamo's prison camp Commander was replaced. [More...]
(12 comments, 648 words in story) There's More :: Permalink :: Comments
Carol Rosenberg at the Miami Herald has a graphic and disturbing update of the continuing hunger strike at Guantanamo (background here.)
By this weekend, the U.S. military had defined 26 of the 166 captives as hunger strikers. Eight were being fed nutritional shakes through a tube snaked through a shackled captive's nose to his stomach. Two were hospitalized, getting nutrition through a tube and intravenous hydration as well. Lawyers for the captives quote their clients as counting dozens more as long-term hunger strikers, who are getting weaker by the day.
Each meal is prepared, brought to the detainee, and when refused, thrown away. [More...]
(18 comments, 358 words in story) There's More :: Permalink :: Comments
There has been a mass hunger strike going on since February at Guantanamo, mostly by detainees in Camp Six, the least restrictive unit. According to a letter from more than 50 defense lawyers to Defense Secretary Chuck Hagel, available here, almost all of the 134 detainees in Camp Six are engaged in the hunger strike, and they are dropping like flies.
The Defense Department disputes the numbers, and insists only 14 are being force-fed: 9 involved in the current strike and 5 who always go on hunger strikes. The photo above is of a restraint chair used to force-feed detainees at Gitmo.[More...}
(2 comments, 972 words in story) There's More :: Permalink :: Comments
Related to my long post on Shoe Bomber Richard Reid's hunger strike at Supermax in Florence, Colorado, I see that the Canadian press is reporting that convicted terrorist Mohammed Mansour Jabarah, serving life at Supermax, is also on a hunger strike:
Mohammed Mansour Jabarah has refused to eat since mid-April and prison officials are allegedly pumping food into his stomach using a tube inserted in his nose. The convicted al-Qaeda terrorist is protesting restrictions on his mail, his lawyer said, but his father said Jabarah and other Muslim inmates also want to pray together.
The ACLU condemns force-feeding here.
(30 comments) Permalink :: Comments