Tag: immigration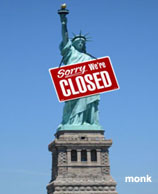 The Forward has an article titled "Why Stephen Miller Is The Most Hated Jew In America — By Fellow Jews"
How did we get stuck with him? Michael Wolff, in his book Fire and Fury, says Steve Bannon, who brought him on board, used to refer to Miller as "my typist." [More...]
(48 comments, 707 words in story) There's More :: Permalink :: Comments
Beware the person who cannot accept accountability for his own missteps. Donald Trump today issued an executive order on separating parents and children at the border. He continues to blame Congress instead of his own Executive Orders for the mess his policies created. He even has the gall to name it "Affording Congress an Opportunity to Address Family Separation."
It is unfortunate that Congress's failure to act and court orders have put the Administration in the position of separating alien families to effectively enforce the law.
No one caused these separations but the Trump Administration itself. [More...]
(48 comments, 907 words in story) There's More :: Permalink :: Comments
Four major airlines are saying no to Donald Trump's policy that separates migrant children from their parents at the border:
American, Frontier, Southwest and United airlines are refusing to fly immigrant children separated from their parents for the federal government, the latest resistance to the Trump administration's "zero tolerance" policy for undocumented border crossings.

All four airlines said they had no evidence that they have transported children under the policy yet. But they each said the policy runs counter to their corporate goals of connecting people.
(2 comments) Permalink :: Comments
Colorado Governor John Hickenlooper signed an executive order today that prevents any state agency from separating a parent and child for immigration purposes.
"The

U.S.

Department of Homeland Security's policy and practice of separating children from their parents when arriving at the southern border is offensive to our core values as Coloradans and as a country," Hickenlooper's executive order says. "The administration announced a 'zero tolerance' policy in the spring of 2018 resulting in family separations. The administration has recently stated that the purpose of the policy is to intimidate immigrants and deter crossings."
The text of the Order reads in part:
"No state agency may deprive any person of services or benefits to which he or she is legally entitled because of a person's immigration status, except as required by state or federal law.

...No state agency may use any state resources, including but not limited to moneys, equipment, or personnel, for the purpose of separating any child from his or her parent or legal guardian on the sole ground that such parent or legal guardian is present in the United States in violation of federal immigration laws."
You can read the Order here. [More...]
(34 comments, 294 words in story) There's More :: Permalink :: Comments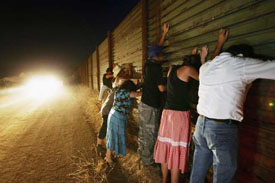 From Texas Monthly: "What's Really Happening at the Border" -- an interview with Anne Chandler, "executive director of the Houston office of the nonprofit Tahirih Justice Center, which focuses on helping immigrant women and children, she has been traveling to the border and to detention centers, listening to the parents' stories." What they do:
We run the Children's Border Project, and we work with hundreds of kids that have been released from ORR (Office of Refugee Resettlement) care. We are not a legal service provider that does work when they're in the shelters. To date, most of our work with that issue of family separation has been working with the parents in the days when they are being separated: when they're in the federal courthouse being convicted; partnering with the federal public defenders; and then in the adult detention center, as they have no idea how to communicate or speak to their children or get them back before being deported.
[More...]
(37 comments, 1480 words in story) There's More :: Permalink :: Comments
Trump remains intent on pushing everyone's buttons and causing rampant fear in our communities. Yesterday he issued two new implementation orders on immigration to effectuate his prior executive orders, which are already under attack in the courts.
His orders lack teeth and he knows it. The first order, authorizing the hiring of 5,000 more Border agents and 500 Air & Marine Agents/Officers" states such hiring is "subject to the availability of resources." [More...]
(12 comments, 759 words in story) There's More :: Permalink :: Comments
Donald Trump announced today he will deport millions of undocumented residents with criminal records first, and then he'll figure out what to do with the rest.
(15 comments) Permalink :: Comments
It's about time. The Associated Press has dropped the term "illegal immigrant" from its stylebook. It explains:
The stylebook no longer sanctions the term "illegal immigrant" or the use of "illegal" to describe a person. Instead, it tells users that "illegal" should describe only an action, such as living in or immigrating to a country illegally.

Why did we make the change? The discussions on this topic have been wide-ranging and include many people from many walks of life. (Earlier, they led us to reject descriptions such as "undocumented," despite ardent support from some quarters, because it is not precise. A person may have plenty of documents, just not the ones required for legal residence.)
[More...]
(116 comments, 836 words in story) There's More :: Permalink :: Comments
I generally believe - as the son of one immigrant and the spouse of another - that anyone who wants to come here and make a better life for themselves is welcome here. I also believe that nothing occurs in a vacuum; where there are results, there must be causes. If people are risking everything for the slim opportunity to do what amounts to scut work here in the US, then their options in their own country must be severely limited.
(912 words in story) There's More :: Permalink :: Comments
Wynona is an immigrant
from Belize, once undocumented, whose son served twice in Iraq. Wynona reminds us that many, many people serving in Iraq are native US citizens who are children of undocumented residents, or are themselves undocumented and are serving
and dying
in order to gain expedited citizenship.
Wynona is currently riding on the dream train. You can get on board too (virtually speaking).
(248 words in story) There's More :: Permalink :: Comments
American tourists with old misdemeanor records are being turned away at the Canadian border -- after a stop at secondary immigration checks.
Take the case of 55-year-old Lake Tahoe resident Greg Felsch. Stopped at the border in Vancouver this month at the start of a planned five-day ski trip, he was sent back to the United States because of a DUI conviction seven years ago. Not that he had any idea what was going on when he was told at customs: "Your next stop is immigration.''

Felsch was ushered into a room. "There must have been 75 people in line," he says. "We were there for three hours. One woman was in tears. A guy was sent back for having a medical marijuana card. I felt like a felon with an ankle bracelet.''
(37 comments, 414 words in story) There's More :: Permalink :: Comments
Last month Colorado Congressman Tom Tancredo said Miami is like a third world country. Even Jeb Bush took him to task.
But Tancredo will visit Key Biscayne Thursday to give a talk. His topic: the need for immigrants to assimilate.
Why is he going? How about attention:
Tancredo spokesman Carlos Espinosa...said Tancredo wasn't worried about whatever reception he will get in the Miami area.....ny protests or controversy will only draw more attention to the event, he said.

"It's always entertaining. It'll add to the flair of Miami," Espinosa said. "I really do hope we get some protesters. Otherwise, what else are we going for?"
(8 comments) Permalink :: Comments