Tag: indefinite detention
The Senate last night approved Sen. Diane Feinstein's Amendment to the NDAA banning military detention of U.S. citizens and green card holders arrested on U.S. soil. It passed 67 to 29. 20 Republicans joined the 46 Democrats in approving the Amendment. The Amendment states:
"An authorization to use military force, a declaration of war, or any similar authority shall not authorize the detention without charge or trial of a citizen or lawful permanent resident of the United States apprehended in the United States, unless an Act of Congress expressly authorizes such detention."
Unfortunately, the Senate also passed the Ayotte Amendment preventing the use of funds to transfer or release detainees from Guantanamo to the U.S. The vote was 51 to 44 in favor of the ban.
The ACLU says Feinstein's Amendment doesn't go far enough. Here's why: [More...]
(3 comments, 659 words in story) There's More :: Permalink :: Comments
Senators Dianne Feinstein (D-Calif.) and Mike Lee (R-Utah) today introduced an Amendment to the NDAA that would ban indefinite detention of U.S. citizens.
The language of the amendment assures that no authorization to use military force, war declaration or any similar authority would allow an American apprehended in the United States to be held without charge or trial.
Co-sponsors include Senators Paul (R-Ky.), Coons (D-Del.), Collins (R-Maine), Lautenberg (D-N.J.), Gillibrand (D-N.Y.), Kirk (D-Ill.), Tester (D-Mont.), Johnson (D-S.D.), Sanders (I-Vt.), Whitehouse (D-R.I.), Baucus (D-Mont.) and Heller (R-Nev.)
The 668 page NDAA bill for 2013 is S. 3254, available here.
(10 comments) Permalink :: Comments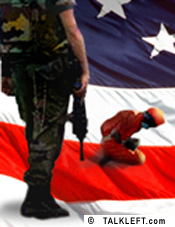 U.S. District Court Judge Katherine Forrest (SDNY) has granted a permanent injunction against the provision in the 2011 National Defense Authorization Act that allows the indefinite detention of individuals (including U.S. citizens) who substantially support Al-Qaeda, the Taliban or their "associated forces." The 112 page ruling is here.
This Court rejects the Government's suggestion that American citizens can be placed in military detention indefinitely, for acts they could not predict might subject them to detention, and have as their sole remedy a habeas petition adjudicated by a single decision-maker (a judge versus a jury), by a "preponderance of the evidence" standard. That scenario dispenses with a number of guaranteed rights.
[More...]
(5 comments, 651 words in story) There's More :: Permalink :: Comments
President Obama today signed into the National Defense Authorization Act, which contains the controversial and objectionable provisions on indefinite detention and restrictions on transfers of detainees from Guantanamo. He issued a signing statement with it that doesn't ameliorate the damage.
The ACLU says:
While President Obama issued a signing statement saying he had "serious reservations" about the provisions, the statement only applies to how his administration would use the authorities granted by the NDAA, and would not affect how the law is interpreted by subsequent administrations.
[More...]
(31 comments, 409 words in story) There's More :: Permalink :: Comments
As Guantanamo detainee Abd al-Rahim Hussein Muhammed Abdu Al-Nashiri is arraigned on capital charges of masterminding al Qaida's 2000 bombing of the U.S.S. Cole, lawyers are also arguing some important motions. Chief among them is: If al-Nashiri is acquitted, will he be released? Miami Herald Reporter Carol Rosenberg is live-tweeting the proceedings. Here's a handy twitter link to many of the reporters' live tweets in one place.
What are the possible outcomes of al-Nashiri's trial? If there are only 3, guilty and a death sentence, guilty and a sentence less than death, acquittal followed by indefinite detention, probably for life, why bother with a trial? A trial with no possibility of release is nothing but a show trial.
The defense argues that the military jury that will decide al-Nashiri's fate should be told that an acquittal means continued incarceration, if that's the case. Its motion is here. [More...]
(27 comments, 692 words in story) There's More :: Permalink :: Comments
Truthout reports the White House is drafting an Executive Order for indefinite detention of terror suspects. President Obama is expected to sign it early next year.
[t]he order establishes indefinite detention as a long-term Obama administration policy and makes clear that the White House alone will manage a review process for those it chooses to hold without charge or trial.
Sounds pretty much like the Bush White House. I'm not impressed by these mostly cosmetic changes:
If signed by President Obama, the new order will provide added review for detainees designated for long-term detention. The order, which is being drafted jointly by White House staff in the National Security council and the White House counsel, will offer detainees in this category a minimal review every six months and then a more lengthy annual review. Detainees will have access to an attorney, to some evidence against them and the ability to challenge their continued detention.
(10 comments) Permalink :: Comments
Another disaster in the making: Via the ACLU, John McCain and Joe Lieberman have introduced the Enemy Belligerent Interrogation Interrogation, Detention and Prosecution Act of 2010.
The Enemy Belligerent Interrogation, Detention and Prosecution Act of 2010, introduced by Senators John McCain (R-AZ) and Joseph Lieberman (I-CT), would also create an entirely new system of interrogation by requiring intelligence officials to be consulted about how to handle terrorism suspects after their capture. The bill was precipitated by misguided objections to the Obama administration's correct decision to charge accused Christmas Day attacker Umar Farouk Abdulmutallab in the criminal court system. The legislation would have a "high value detainee" team, made up of members of different intelligence agencies, interrogate and determine whether alleged terrorist suspects are "unprivileged enemy belligerents." If so, and if the suspect is then charged, the legislation would mandate the use of the discredited and unconstitutional military commissions.
[More...]
(19 comments, 267 words in story) There's More :: Permalink :: Comments
Who put Linsday Graham in charge of the Justice Department? Now Graham's insisting on a law authorizing indefinite military detention as a pre-requisite to closing Guantanamo.
While Graham has long favored closing Guantanamo, he said Monday that his support for doing so is contingent on a new law to govern the detention of those the government wants to keep in custody outside the criminal justice system. He also said that, with such a statute in place, he could support Obama's plan to convert a state prison in Illinois to a federal facility for former Guantanamo inmates.

"I think Thomson, Ill., in the hands of the military, could become a secure location," he said. "My view is we can start to close Guantanamo only after we reform our laws."
Marcy says Rahm Emanuel put him in charge.
Back in 2003, Lindsay Graham joined John McCain in asking then Defense Secretary Donald Rumsfeld to either try or free the detainees at Guantanamo. Per the New York Times back then: [More...]
(7 comments, 791 words in story) There's More :: Permalink :: Comments
Big Tent Democrat wrote here about the Obama Administration's position on continued detention of detainees who may be acquitted.
There were two Guantanamo-related hearings this week. One was yesterday, before the Senate Armed Services Committee. The other was today, before the House Judiciary Subcommittee on the Constitution, Civil Rights and Civil Liberties. The ACLU provided testimony at the second hearing, and reports on both. As to yesterday's hearing:
Justice Department official David Kris testified that the Due Process Clause of the Constitution should indeed apply to the commissions system. However, in other testimony, Defense Department official Jeh Johnson stated that the United States can continue to indefinitely hold detainees who have been acquitted of crimes.
[More....]
(8 comments, 784 words in story) There's More :: Permalink :: Comments
In its article today on President Obama's consideration of an executive order authorizing indefinite detention of terror suspects without charges or trial, The Washington Post quotes an unnamed Adminsitration official as saying:
"Civil liberties groups have encouraged the administration, that if a prolonged detention system were to be sought, to do it through executive order," the official said. Such an order could be rescinded and would not block later efforts to write legislation, but civil liberties groups generally oppose long-term detention, arguing that detainees should be prosecuted or released.
The civil liberties groups I'm familiar with have all issued unequivocal opposition to indefinite detention. [More...]
(26 comments, 517 words in story) There's More :: Permalink :: Comments