Tag: lethal injection
In a 5-4 opinion written by Justice Alito, the Supreme Court has upheld Oklahoma's use of midazolam in executions. The reasoning:
Alito said the prisoners failed to identify a "known and available alternative method of execution that entails a lesser risk of pain," which he said was required under the court's previous ruling upholding lethal injection. And he said plaintiffs had failed to establish that a massive dose of midazolam "entails a substantial risk of severe pain."
(11 comments) Permalink :: Comments
The Supreme Court heard oral arguments today in the case involving lethal injection drugs.
Conservative justices accused opponents of capital punishment of disingenuous delaying tactics regarding the drugs used in executions. Liberal justices suggested state officials were shading the facts to rush condemned men to the execution chamber.
The case involves the drug midazolam, which was used in the botched Oklahoma execution of Clayton Lockett. (More here.) Three death row inmates brought the case. One, Charles Warner, was since put to death using midazolam. His last words: [More...]
(10 comments, 285 words in story) There's More :: Permalink :: Comments
Records released in Arizona's botched 2 hour execution show inmate Joseph Wood was injected with 15 times the amount of lethal injection drugs called for by Arizona's death protocol.
"The Arizona execution protocol explicitly states that a prisoner will be executed using 50 milligrams of hydromorphone and 50 milligrams of midazolam," Dale A. Baich, one of the lawyers who represented Mr. Wood, said in a statement.

...Mr. Wood was injected with 750 milligrams of hydromorphone and 750 milligrams of midazolam in all.
It was expected that Wood would be dead in 10 minutes. It took almost 2 hours. [More...]
(13 comments, 266 words in story) There's More :: Permalink :: Comments
Joseph Wood was executed in Arizona yesterday. It took two hours to kill him. The execution was not halted, even though he repeatedly gasped and snorted during it.
An Associated Press reporter who witnessed the execution saw Wood start gasping shortly after a sedative and a pain killer were injected into his veins. He gasped more than 600 times over the next hour and 40 minutes.
Most disgusting comment, from a relative of the victim named Richard Brown:
Why didn't we give him Drano?
(23 comments) Permalink :: Comments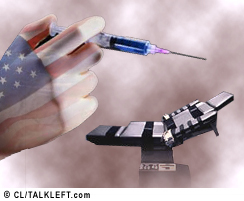 The 9th Circuit Court of Appeals has stayed the execution of Arizona inmate Joseph Wood. The Court says he has a First Amendment right to know the details of the two-drug cocktail the state intends to use in killing him and the qualifications of the personnel who will administer them.
(9 comments, 795 words in story) There's More :: Permalink :: Comments
The Georgia Supreme Court yesterday ruled its state law allowing anonymity for the makers of execution drugs, pharmacists and other personnel involved in executions is constitutional. A lower court had previously declared the law. unconstitutional.
From the opinion:
This case presents the question of whether it is unconstitutional for the State of Georgia to maintain the confidentiality of the names and other identifying information of the persons and entities involved in executions, including those who manufacture the drug or drugs to be used.

We hold that it is not, and we reverse the ruling of the Superior Court of Fulton County in which it granted an interlocutory injunction prohibiting the execution of Warren Lee Hill with a drug from a confidential source in order to consider that question.
As to why it's okay, check out this flippant statement:
"Particularly unpersuasive is Hill's expert's testimony that certain contaminants also could have the following effect: 'Their blood pressure would drop precipitously, and ultimately it's possible that they could die.'

"Such a side effect obviously would be shockingly undesirable in the practice of medicine, but it is certainly not a worry in an execution."
Who is Warren Lee Hill? A mentally deficient death row inmate who challenged the law. [More...]
(1 comment, 409 words in story) There's More :: Permalink :: Comments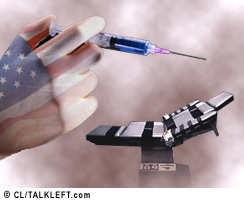 Update: The full 8th Circuit reversed the panel decision and reinstated the execution. Supreme Court Justice Samuel Alito stepped up and issued a stay pending a further order by him or the Court. His stay order is here.
Update: The 8th Circuit has stayed the execution.
Via the Atlantic: Andrew Cohen writes that Russell Bucklew, scheduled for execution in Missouri tomorrow, is likely to be the next death penalty disaster for the U.S. That's because Bucklew has serious health issues.
According to the testimony of Dr. Joel Zivot, a defense expert witness in the case, Bucklew "has a tumor growing in his face, occupying the nose, throat, and airway passages and causing him to experience constant facial pain and pressure as well as constant difficultly breathing." The congenital cavernous hemangioma, the doctor asserts, "results in a significant and dangerous compromise" of Bucklew's airways.
[More...]
(683 words in story) There's More :: Permalink :: Comments
Robert Patton, Director of Oklahoma's Department of Corrections, has written a letter (available here) to the Governor with a timeline of events in the botched execution of Robert Lockett earlier this week.
First, the executioners spent 51 minutes trying to find a suitable vein in Lockett's arm. When they couldn't, they inserted an IV tap into his groin. [More...]
(51 comments, 603 words in story) There's More :: Permalink :: Comments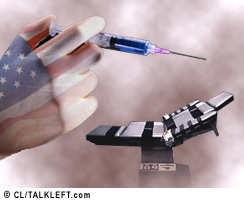 Ohio's experiment with a new execution cocktail didn't go very well:
Dennis McGuire struggled, repeatedly gasping loudly for air and making snorting and choking sounds, before succumbing to a new two-drug execution method today.

The 24-minute execution process was a "failed, agonizing experiment by the state of Ohio," said one of the killer's attorneys, Allen Bohnert, a federal public defender. "The people of the state of Ohio should be appalled by what was done in their name."
Shorter version: You wouldn't do a dog this way. More here. In 2007, Amnesty International released a report on botched U.S. executions.
This is not Ohio's first botched execution. [More...]
(50 comments, 200 words in story) There's More :: Permalink :: Comments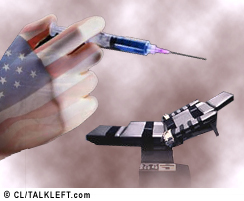 Ohio today executed Daniel Bedford with pentobarbital, a drug used to euthanize animals, that may or may not be effective in blocking pain.
Bedford's attorneys say because of dementia and mental disability, he has no memory of the crime and may not understand he is being put to death.
There apparently were problems finding a vein, requiring him to be "stuck" several times. [More...]
(6 comments, 265 words in story) There's More :: Permalink :: Comments
Hospira, which manufactures the sodium thiopental used in executions in U.S., has announced it will cease making the drug. The Washington Post reports:
The decision by Hospira of Lake Forest., Ill., was prompted by demands from Italy, which does not have capital punishment, that no sodium thiopental - which the company had planned to make at its plant outside Milan - be used for executions, officials said.

"We determined we could not prevent the drug from being diverted for use in capital punishment," said Dan Rosenberg, a Hospira spokesman. He noted that the company never condoned the drug's use for lethal injection and had hoped to continue making it for medical use.
33 of the 35 states with the death penalty use sodium thiopental, also called Pentothal, as part of a three drug cocktail: [More...]
(1 comment, 411 words in story) There's More :: Permalink :: Comments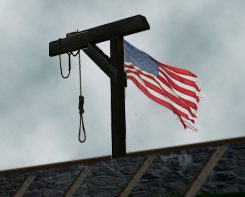 A few hours after the Supreme Court overruled a stay of execution for Jeffrey Landrigan, he was executed.
When asked for any last words, he said in a strong voice with a heavy Oklahoma accent: "Well, I'd like to say thank you to my family for being here and all my friends, and Boomer Sooner," a reference to the University of Oklahoma Sooners.
His last meal was well-done steak, fried okra, french fries, ice cream and a Dr Pepper. He spent 20 years on death row. According to records of the AZ Department of Corrections, Landrigan is a "Native Indian."
Landrigan is the second execution in Arizona since 2000. Today there are 131 inmates on Arizona's death row, and 79 defendants charged with capital crimes awaiting trial. Another 10 are either on trial or awaiting sentencing for first degree murder.
(36 comments) Permalink :: Comments