Tag: nsa surveillance
The Senate Judiciary Committee is holding a hearing this afternoon, "Continued Oversight of U.S. Government Surveillance Authorities." You can watch online here or at CSpan 3 here.
The Government's prepared statement is here. It begins:
Thank you for inviting us to continue our discussions with this Committee on our efforts to enhance public confidence in the important intelligence collection programs that have been the subject of unauthorized disclosures since earlier this year: the collection of bulk telephony metadata under the business records provision found in Section 215 of the USA PATRIOT Act, and the targeting of non-U.S. persons overseas under Section 702 of FISA.
The statement details the Government's recent efforts to increase transparency and then lists a few changes to the FISA statute it willing to endorse, and several that it opposes. [More...]
(1 comment, 252 words in story) There's More :: Permalink :: Comments
Reuters reported yesterday that several Congresspersons and Senators have written Attorney General Holder seeking answers to questions about the report that the DEA used information collected by the National Security Agency (NSA) in criminal investigations unrelated to terrorism and the collection of foreign intelligence.
It appears the first letter was from Congressman John Conyers, Jerrold Nadler and Bobby Scott on August 9. It asked these questions and requested an answer by August 26:
1. Which components of the

U.S.

Department of Justice have access to information collected by the government under the Foreign Intelligence Surveillance Act?

2. Does the Drug Enforcement Administration, or any other component of the Department of Justice, use or give to any other federal, state, or local agency foreign intelligence surveillance information collected under FISA for the purpose of criminal investigation or criminal prosecution? If so, with what frequency? Under which authorities is such information collected?
[More...]
(369 words in story) There's More :: Permalink :: Comments
The ACLU has a post today showing just how much metadata reveals about your life and associations.
Why this is important: In the attempt to justify the NSA surveillance program, the President and some in Congress resort to claims like "It's just metadata, not content."
"This is just metadata," Senate Intelligence Committee Chairwoman Dianne Feinstein assured the American people, referring to the NSA's bulk collection of Americans call records. "There is no content involved." President Obama and his national security officials have made similar assurances.
Using a program called Immersion, developed by MIT Media Lab, he reviews almost 9 years of his own emails. Immersion examines the From, To, Cc and Timestamp fields-- from a Gmail account and visualizes it.
[More...]
(27 comments, 349 words in story) There's More :: Permalink :: Comments
Update: McJoan at Daily Kos and the ACLU has just issued a press release.
The Supreme Court today declined to review a case by the ACLU and other groups and individuals, including criminal defense lawyers, over Bush's warrantless NSA wiretapping. A lower court had dismissed the case holding the ACLU and other plaintiffs hadn't established they were directly affected by the wiretapping.
The high court's action means that Bush will be able to disregard whatever legislative eavesdropping restrictions Congress adopts as there will be no meaningful judicial review, the ACLU attorneys said.
The Sixth Circuit decision in ACLU v. NSA is here (pdf). Some explanatory quotes are below:
(7 comments, 425 words in story) There's More :: Permalink :: Comments
It's not often that the Rocky Mountain News editorial board takes President Bush to task.
Today it does just that, over his complaints about the House of Representatives' balking at the extension of his warrantless wiretapping program and his threat to veto any bill that does not include retroactive immunity for telecoms who cooperated with the National Security Agency.
The Rocky does not mince words:
Earlier this week, President Bush actually suggested that al-Qaida operatives are watching the calendar, poised to plot new attacks freely with Congress absent - and

U.S.

intelligence officials will be largely powerless to stop them.

Don't insult the American public, Mr. President. You'll still have the ability to wiretap suspected terrorists - and the warrantless surveillance powers in the bill are valid until August.
It also opines that we need the lawsuits against the telecoms to go forward so the public can see whether privacy rights were trampled. [More...]
(6 comments, 470 words in story) There's More :: Permalink :: Comments
The New York Times has some new and very disturbing revelations in the NSA warrantless wiretapping controversy. The news may explain why the telecoms are fighting so hard for retroactivity immunity in the planned FISA law revision.
To detect narcotics trafficking, for example, the government has been collecting the phone records of thousands of Americans and others inside the United States who call people in Latin America, according to several government officials who spoke on the condition of anonymity because the program remains classified. But in 2004, one major phone carrier balked at turning over its customers' records. Worried about possible privacy violations or public relations problems, company executives declined to help the operation, which has not been previously disclosed.

In a separate N.S.A. project, executives at a Denver phone carrier, Qwest, refused in early 2001 to give the agency access to their most localized communications switches, which primarily carry domestic calls, according to people aware of the request, which has not been previously reported. They say the arrangement could have permitted neighborhood-by-neighborhood surveillance of phone traffic without a court order, which alarmed them.
More....
(18 comments, 816 words in story) There's More :: Permalink :: Comments
Murray Waas continues to break new ground in reporting on Justice Department investigations.
Today he reports that DOJ wanted guilty pleas from two New York Times sources over the December, 2005 article disclosing the NSA warrantless wiretapping program.
The sources refused and Murray says government investigators in the case concede the evidence against them was weak. Now comes the next step: DOJ will subpoena the Times reporters to get to the sources.
Unable to obtain guilty pleas, the federal prosecutor in charge of the leak case has now informally recommended that the Justice Department move forward to compel testimony from the Times. He has argued that it will be difficult to bring criminal charges without such testimony.

As a result, one of the first major decisions likely to be made by Attorney General-designate Michael Mukasey, if confirmed by the Senate, will be whether to subpoena reporters for the Times to testify.
My bet: He'll authorize the subpoenas. That's what top cops do.
(21 comments) Permalink :: Comments
Via Marcy at Next Hurrah and ScoutPrime at First Draft:
A Vermont law firm with overseas clients, including one at Guantanamo Bay, believes the Feds are wiretapping their telephone calls. In a letter to their clients, the firm wrote:
"Although our investigation is not complete, we are quite confident that it is the United States government that has been doing the phone tapping and computer hacking," said the letter, dated Oct. 2.
More...
(3 comments, 167 words in story) There's More :: Permalink :: Comments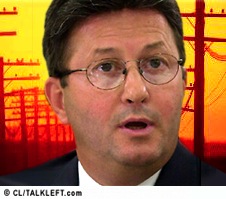 Looks like it's time for a trip to the courthouse tomorrow. The Judge in the insider trading trial of former Qwest CEO Joseph Nacchio has unsealed documents related to his classified information defense which he was not allowed to present at trial. This is coming up now because yesterday Joe Nacchio filed his appeal brief and one of the grounds alleges the Judge erred in refusing him to raise his classfied secrets defense.
The Rocky Mountain News reports:
The National Security Agency and other government agencies retaliated against Qwest because the Denver telco refused to go along with a phone spying program, documents released Wednesday suggest.

The documents indicate that likely would have been at the heart of former CEO Joe Nacchio's so-called "classified information" defense at his insider trading trial, had he been allowed to present it.
More...
(12 comments, 371 words in story) There's More :: Permalink :: Comments
Instapundit has a podcast up of an interview with Jack Goldsmith, formerly of the Office of Legal Counsel and one of those who balked at Dick Cheney, David Addington and Alberto Gonzales' attempt to stretch the NSA wiretapping program past what he and James Comey and others believed to be the legal limits.
It was Goldsmith who was responsible for withdrawing John Yoo's torture memo.
Goldsmith's new book discusses, among other things, what went on behind the scenes with Ashcroft, Gonzales and the NSA wiretapping program.
Book details are available here.
(1 comment, 114 words in story) There's More :: Permalink :: Comments
Perhaps predictably, but news nonetheless, the Bush Administration Friday filed its opposition to the ACLU's request that the FISA court release the rulings it issued since January, 2007 concerning Bush's warrantless NSA electronic surveillance program.
The opposition motion, filed in the secret FISA court, is available here (pdf)at the ACLU's website.
The ACLU responds to the Government's filing here.
(3 comments) Permalink :: Comments