Tag: prisoner reentry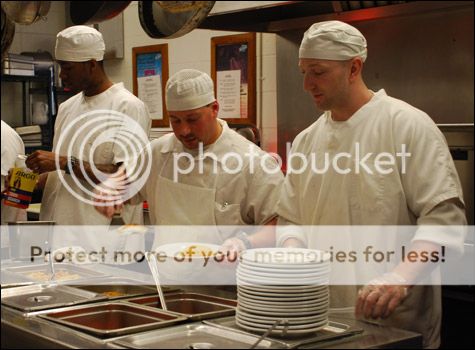 A welcome news story to wake up to: Haxtun High School, located in a farm town in Northeastern Colorado, will have its spring prom catered by inmates at the Sterling Correctional Facility.
This may be the inmates first catered prom, but the community is used to their catering other functions, including some National Honor Society banquets and town functions. At the latter, they whipped up some tasty cinnamon rolls.
The tradition is not new. This year, the inmates will be cooking around 120 meals, including chicken alfredo, vegetables, salad and cheesecake.
The cooking is not done inside the school, but behind it. Other local communities also use the inmates' catering services, "which is supported by an inmate culinary training program."
Reentry programs are a win-win for all. They teach inmates skills with which to get jobs when they are released, lowering the risk of recidivism, which makes the entire community safer.
(15 comments) Permalink :: Comments
Attorney General Eric Holder yesterday convened the inaugural meeting of the Cabinet-level "Reentry Council." Established with grant money from the Second Chance Act, the council will focus on:
making communities safer by reducing recidivism and victimization;
assisting those returning from prison and jail in becoming productive, tax paying citizens; and
saving taxpayer dollars by lowering the direct and collateral costs of incarceration.
The goals:
The Reentry Council will meet semi-annually to leverage resources across agencies to reduce recidivism and victimization; identify evidence-based practices that advance the council's mission; promote changes to federal statutes, policies and practices that focus on reducing crime; and identify federal policy opportunities and barriers to improve outcomes for the reentry community.
According to Attorney General Holder: [More...]
(21 comments, 2373 words in story) There's More :: Permalink :: Comments
Bump and Update: President Bush signed the Second Chance Act into law today. Here are his remarks.
The country was built on the belief that each human being has limitless potential and worth. Everybody matters. We believe that even those who have struggled with a dark past can find brighter days ahead. One way we act on that belief is by helping former prisoners who've paid for their crimes -- we help them build new lives as productive members of our society.

Our government has a responsibility to help prisoners to return as contributing members of their community. But this does not mean that the government has all the answers. Some of the most important work to help ex-convicts is done outside of Washington, D.C., in faith-based communities and community-based groups. It's done on streets and small town community centers. It's done in churches and synagogues and temples and mosques.

...The bill I'm signing today, the Second Chance Act of 2007, will build on work to help prisoners reclaim their lives. In other words, it basically says: We're standing with you, not against you.
[More...]
(19 comments, 720 words in story) There's More :: Permalink :: Comments