Tag: Arizona
The Supreme Court has decided to hear Arizona's appeal of court decisions holding its immigration law, SB 1070, unconstitutional.
The issue the Court will decide is one of pre-emption, whether federal immigration laws preclude Arizona from enacting the four controversial provisions ruled unconstitutional by the district and appeals court. The 9th Circuit ruling is here. Arizona's Petition for Certiorari is here. You can access the pleadings here. [More...]
(3 comments, 260 words in story) There's More :: Permalink :: Comments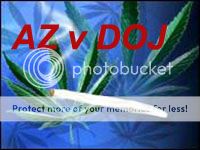 Arizona Governor Jan Brewer filed a federal declaratory action suit today against the Department of Justice, Eric Holder, U.S. Attorney Dennis Burke and some medical marijuana groups, asking the court to rule whether Arizona's medical marijuana law is valid when federal law prohibits it. The complaint is here and the exhibits with the letters from U.S. Attorneys and DOJ memos are here.
Despite the Governor's claimed and transparently false concern that Arizona's law puts state workers at risk of federal prosecution, medical marijuana advocates say the lawsuit is designed to thwart the state law. Yesterday, U.S. Attorney Dennis Burke said that despite the threat of the lawsuit, which now has been filed, medical marijuana in AZ is not at risk and Gov. Brewer is distorting the facts. [More....]
(7 comments, 289 words in story) There's More :: Permalink :: Comments
Did the efforts to boycott Arizona have some impact? The answer is yes. After passing the deplorable SB 1070, yesterday the Arizona Senate defeated five new restrictive immigration bills.
One bill would have denied citizenship to children of undocumented residents (not a chance it would have passed a judicial challenge if enacted.) The others bills would:
Require hospitals to make an effort to determine if the people they are treating are here legally.
Restrict the registration of vehicles to only legal residents.
Bar admission into state universities and community colleges to anyone who cannot prove citizenship or legal residency.
Other provisions in the bills would have required cities to evict all residents of a public housing unit if just one resident is undocumented, required parents to show proof of citizenship or lawful presence when enrolling a child in school, and made it a crime for an undocumented resident to drive in Arizona.
Republicans voting against the bill said the boycott had an effect. [More...]
(6 comments, 317 words in story) There's More :: Permalink :: Comments
The ACLU reports that the city council in Fremont, NE has suspended the enactment of its anti-immmigrant resolution that would requires prospective renters to provide the Fremont Police Department with information about their citizenship or immigration status prior to renting any home.
The ACLU filed suit (documents here.) The law passed on June 21 and was scheduled to go into effect on July 29. It's a law that, like SB 1070 in Arizona, invites discrimination against those "who look or seem foreign." [More...]
(43 comments, 402 words in story) There's More :: Permalink :: Comments
Update: Via Politico, Here is a copy of the Complaint filed today.
The Department of Justice will file its legal challenge to Arizona's immigration law, SB 1070, as early as today. It will seek an injunction to prevent the law from going into effect.
The lawsuit will rely on pre-emption (through the Supremacy Clause) but it's also expected to contain a civil rights claim.
But the filing is likely to have a civil rights component as well, arguing that the Arizona law would lead to police harassment of U.S. citizens and foreigners, said the sources, who spoke on condition of anonymity because the government has not announced its plans. President Obama has warned that the law could violate citizens' civil rights, and Attorney General Eric H. Holder Jr. has expressed concern that it could drive a wedge between police and immigrant communities.
[More...]
(74 comments, 303 words in story) There's More :: Permalink :: Comments
200 U.S. Mayors, gathered at the U.S. Conference of Mayors in Oklahoma today, passed a resolution opposing Arizona's recently passed anti-immigrant law. The resolution was sponsored by Phoenix Mayor Phil Gordon.
Arizona shows no sigh of letting up. Republicans there now want to pass a law defying the 14th Amendment and denying birth certificates to children born in Arizona if their parents are undocumented residents. Time Magazine has more here.
The 14th Amendment states "All persons, born or naturalized in the United States, and subject to the jurisdiction thereof, are citizens of the United States. No state shall make or enforce any law which shall abridge the privileges or immunities of citizens of the United States." [More...]
(161 comments, 448 words in story) There's More :: Permalink :: Comments
President Obama will meet with Arizona Governor Jan Brewer today. Brewer intends to ask Obama for more federal assistance in securing the border.
Obama should insist on immigration law reform before throwing more money at the border. Putting enforcement first is the wrong approach. [More...]
(3 comments, 165 words in story) There's More :: Permalink :: Comments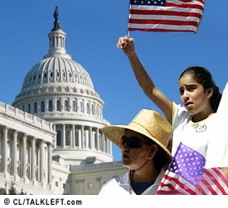 It may be a holiday weekend, but there's little to celebrate with Arizona's immigration law. Protests will be held in 60 cities across the country.
The protest in Phoenix, to include a five mile march to the state capitol, is expected to draw 50,000. I'll bet it's a lot higher. Sports fans are being asked to boycott some games.
The San Francisco Giants are also hosting a weekend series against the Arizona Diamondbacks, and activists are planning to protest outside AT&T Park Friday night and Saturday.
Today, DOJ filed a petition with the Supreme Court asking it to find that federal law trumps Arizona's Employers' Sanctions law. [More...]
(2 comments, 253 words in story) There's More :: Permalink :: Comments
The ACLU and other civil rights groups have filed a class action lawsuit challenging Arizona's immigration law.
"Arizona's law is quintessentially un-American: we are not a 'show me your papers' country, nor one that believes in subjecting people to harassment, investigation and arrest simply because others may perceive them as foreign," said Omar Jadwat, a staff attorney with the ACLU Immigrants' Rights Project. "This law violates the Constitution and interferes with federal law, and we are confident that we will prevent it from ever taking effect."
Grounds for the suit:
The lawsuit will challenge Arizona's law on the grounds that it interferes with federal authority over immigration matters, and that it invites racial profiling against people of colour in violation of equal protection guarantees enshrined in the Constitution.
More from the ACLU here. [More...]
(16 comments, 235 words in story) There's More :: Permalink :: Comments
Cheers to Boulder, Colorado. The city council has suspended official travel to Arizona in protest of its immigration law:
The city of Boulder will immediately suspend sending any employees to Arizona on business, and may take additional action against the state, in a show of opposition to its wide-reaching new immigration law.

City Manager Jane Brautigam on Wednesday morning sent a memo to all department directors ordering them to cancel any plans to travel to Arizona for conferences or other city business, even if the tickets have been paid for.

"This action is being taken to demonstrate our opposition to Arizona's new public policy, embodied in recent legislation, to require documentation for all persons who may be suspected of being in that state without official status or approval," Brautigam wrote. "Such a policy is contrary to our organization's commitment to diversity and is a violation of our core values."
And, that's not all: [More...]
(2 comments, 235 words in story) There's More :: Permalink :: Comments
I wrote last Tuesday that efforts to boycott AriZona Iced Tea were springing up on Twitter, and that they were misguided because the company is based in New York and has nothing to do with Arizona.
According to today's New York Times, the mainstream media caught it on Wednesday, the same day AriZona Iced Tea issued a statement attesting to its New York Roots.
Last year, AriZona Iced Tea participated in a tea sampling event in Arizona on May 5, to celebrate Cinco de Mayo. Sounds like their principles are in the right place.
Good thing for them they had people reading Twitter. Considering they are a privately held company, if this hadn't been caught in the bud, they could have faced some damage. Re-tweets would have spread the word to boycott like wildfire.
Bottom Line: Boycott Arizona but not AriZona.
(3 comments) Permalink :: Comments
Two lawsuits challenging SB 1070, the Arizona immigration law, were filed in federal court today.
In one of the suits filed Thursday, a Tucson police officer, Martin Escobar, 45, a 15-year veteran, claims the law, which requires officers "when practicable" to stop and check the legal status of people they reasonably suspect may be illegal immigrants, would compel him to racially profile.

Mr. Escobar argues that the law does not specify what criteria to use in deciding who might be in the country illegally, and that Tucson's heavily Hispanic population and proximity to the Mexican border would force him to question people based on their ethnicity, exposing him to civil suits.
I've uploaded the complaint here. [More...]
(5 comments, 257 words in story) There's More :: Permalink :: Comments