Tag: immigrants rights
Photo credit:
Archiwum Panstwowe w Krakowie
U.S. District Court Judge Susan Bolton has ruled that the provision in S.B. 1070, Arizona's on-hold immigration law allowing police officers to ask for proof of lawful presence in the U.S. during a valid traffic stop can go into effect. Police are expected to start enforcing it in about 10 days.
Judge Bolton has closed the door on facial attacks to the statute. The Supreme Court ruled last year that this part of the law is constitutional because it requires police to check the documentation without regard to race or ethnicity.
[More...]
(34 comments, 1013 words in story) There's More :: Permalink :: Comments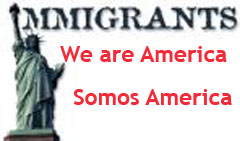 Secure Communities by the Numbers: An Analysis of Demographics and Due Process, a new report the Chief Justice Earl Warren Institute on Law and Social Policy of the University of California-Berkley, analyzes data from ICE on the Secure Communities program, received through a FOIA lawsuit and finds numerous problems. Among them:
Approximately 3,600 United States citizens have been arrested by ICE through the Secure
Communities program.
[More...]
(5 comments, 741 words in story) There's More :: Permalink :: Comments
Susana Martinez, New Mexico's new Republican Governor and a former prosecutor, campaigned on a tough-on-immigration platform.
With her support, including ads paid from leftover campaign funds, a bill to repeal a law allowing undocumented residents to get driver's licenses passed the state house.
Today, the New Mexico Senate has rejected the bill.
Some law enforcement groups opposed the repeal, saying it would result in tens of thousands of unlicensed and uninsured drivers.
Immigrant rights groups are also happy with the bill's defeat:
"This goes to show that you come in with a radical, extremist agenda, you're going to get push-back because New Mexico is not a radical extremist state," said Marcela Diaz, head of immigrants rights group Somos un Pueblo Unido.
[More...]
(8 comments, 190 words in story) There's More :: Permalink :: Comments
Did the efforts to boycott Arizona have some impact? The answer is yes. After passing the deplorable SB 1070, yesterday the Arizona Senate defeated five new restrictive immigration bills.
One bill would have denied citizenship to children of undocumented residents (not a chance it would have passed a judicial challenge if enacted.) The others bills would:
Require hospitals to make an effort to determine if the people they are treating are here legally.
Restrict the registration of vehicles to only legal residents.
Bar admission into state universities and community colleges to anyone who cannot prove citizenship or legal residency.
Other provisions in the bills would have required cities to evict all residents of a public housing unit if just one resident is undocumented, required parents to show proof of citizenship or lawful presence when enrolling a child in school, and made it a crime for an undocumented resident to drive in Arizona.
Republicans voting against the bill said the boycott had an effect. [More...]
(6 comments, 317 words in story) There's More :: Permalink :: Comments
The ACLU reports that the city council in Fremont, NE has suspended the enactment of its anti-immmigrant resolution that would requires prospective renters to provide the Fremont Police Department with information about their citizenship or immigration status prior to renting any home.
The ACLU filed suit (documents here.) The law passed on June 21 and was scheduled to go into effect on July 29. It's a law that, like SB 1070 in Arizona, invites discrimination against those "who look or seem foreign." [More...]
(43 comments, 402 words in story) There's More :: Permalink :: Comments
Two lawsuits seeking to prevent the implementation of SB 1070, the Arizona immigration law, will be heard today. In the afternoon, the court will hear argument in the suit filed by the Justice Department. In the morning, it will hear from civil rights groups, including the ACLU. The ACLU's motion for preliminary injunction is available here.
The judge still hasn't ruled on the hearing last week in the lawsuit filed by a police officer. [More...]
(3 comments, 209 words in story) There's More :: Permalink :: Comments
Update: Via Politico, Here is a copy of the Complaint filed today.
The Department of Justice will file its legal challenge to Arizona's immigration law, SB 1070, as early as today. It will seek an injunction to prevent the law from going into effect.
The lawsuit will rely on pre-emption (through the Supremacy Clause) but it's also expected to contain a civil rights claim.
But the filing is likely to have a civil rights component as well, arguing that the Arizona law would lead to police harassment of U.S. citizens and foreigners, said the sources, who spoke on condition of anonymity because the government has not announced its plans. President Obama has warned that the law could violate citizens' civil rights, and Attorney General Eric H. Holder Jr. has expressed concern that it could drive a wedge between police and immigrant communities.
[More...]
(74 comments, 303 words in story) There's More :: Permalink :: Comments
The ACLU has put out a travel alert for Arizona in advance of July 4th, warning of racial profiling stops and arrests.
American Civil Liberties Union affiliates in Arizona, New Mexico and 26 other states put out the warnings in advance of the Fourth of July weekend. The Arizona chapter has received reports that law enforcement officers are already targeting some people even though the law doesn't take effect until July 29, its executive director said. The alerts are designed to teach people about their rights if police stop and question them.
Check out the ACLU alert here. [More...]
(17 comments, 854 words in story) There's More :: Permalink :: Comments
ICE has decided not to deport Harvard student Eric Balderas after all. They are going to put him on deferred action status.
Balderas has lived here since the age of 4. He was detained and given a summons to show up for the beginning of removal proceedings when he was boarding a flight from San Antonio, where his mother lives, back to Boston.
These cases illustrate the need for comprehensive immigration reform. ICE is focused on smart, effective immigration enforcement that focuses first on criminal aliens who pose a threat to our communities while we continue to work with Congress to enact reform," ICE spokeswoman Cori Bassett said. "ICE uses its discretion on a case-by-case basis, as appropriate, and has the authority to grant a deferral of a removal action based upon the merits of an individual's case and a review of specific facts."
None of the articles say whether his mother is a citizen. I hope ICE also leaves her alone.
It's time for Congress to get busy and pass the DREAM Act.
(22 comments) Permalink :: Comments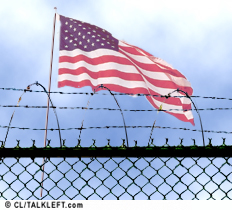 After meeting with Republicans toay, President Obama will ask Congress to fund sending 1,200 National Guard troops to secure the Mexico border in a greater effort to crack down on illegal trafficking organizations.
McCain says it's not enough. He wants 6,000 deployed.
The cost of the 1,200 troops: $500 million. What's it for?
[I]ntelligence and intelligence analysis, surveillance and reconnaissance support.
We already authorized $1.3 billion in Merida funds for the war on drugs in Mexico. Even though it hasn't been fully distributed , Obama is planning on asking for another $390 million.
Throwing more money into the failed policies of the past 40 years will do no good. The cartels will become stronger.
(125 comments) Permalink :: Comments
The boycott of Arizona hotels following the enactment of its terrible immigration law, S.B. 1070, is having an effect according to a new report.
STR data shows Arizona hotels began losing business soon after the law was signed on 23 April....The Arizona Hotel and Lodging Association reported at least 23 meetings had been cancelled throughout the state, representing an estimated US$6 million to US$10 million in lost revenue.

"The economic impact is increasing every day and every week. Groups that were considering us as an option are pulling out of Tucson and other Arizona cities," said Richard Brooks, director of sales and marketing for the Westin La Paloma in Tucson. Groups that were considering holding meetings at the hotel for 10 years or more out are not considering Arizona now, according to Brooks.
[More...]
(37 comments, 448 words in story) There's More :: Permalink :: Comments
The Denver Post has some great photos of yesterday's rally against Arizona's SB 1070.
The one that says "Stop Ignorance" got me thinking. How do we do that? Usually the answer is education. Can that work with the prejudice against immigrants? It may be too late for adults, but can we reduce their success rate in passing their bigoted views onto the next generation? Should schools include in their curriculum, starting in kindergarten, classes and presentations that extol the contributions immigrants have made to this country and promote diversity? Something has to counter-balance what kids are hearing at the dinner table from ignorant parents.
(58 comments) Permalink :: Comments