Tag: Donald Rumsfeld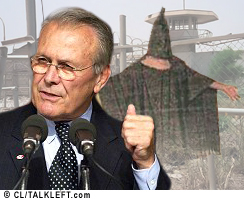 Condoleeza Rice has written a 734 page memoir of her time in the Bush Administration (first as National Security Adviser and then as Secretary of State.) The New York Times has an advance copy. It says she recounts her clashes with Dick Cheney, Alberto Gonzales and Rumsfeld. Rice describes the meeting with Cheney and Bush where Bush decided to move Khalid Sheikh Mohammed from an overseas secret prison to Guantanamo. As to Rumsfeld:
Ms. Rice writes that he tried to avoid such issues, at one point marching out of a meeting and saying, "I don't do detainees." [More...]
(16 comments, 527 words in story) There's More :: Permalink :: Comments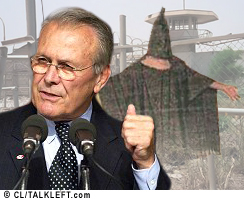 Donald Rumsfeld is back. He's embarking on a round of media appearances to promote his new book, Known and Unknown, which reportedly is filled with something called "Rumsfeld's Rules."
[H]e says "Known and Unknown" will take on the most sensitive subjects, from the detainment facility at Guantanamo Bay, Cuba, to the mistreatment of prisoners at Abu Ghraib in Iraq.

"I brought in people who were involved and outside advisers to discuss the legal decisions that were made. And in the book, I present them in a direct way," he says.
Here's a media event in D.C. that's taking invitations.
(3 comments) Permalink :: Comments
The CIA wasn't the only agency involved in torture of detainees. A newly declassified report by the Senate Armed Services Committee shows that high level Bush officials approved the brutal interrogation techniques used by the military at overseas prisons. So now there's confirmation that the military, not just the CIA CIA were involved, and that Rumsfeld's denials were full of it.
The Senate report documented how some of the techniques used by the military at prisons in Afghanistan and at the naval base in Guantánamo Bay, Cuba, as well as in Iraq — stripping detainees, placing them in "stress positions" or depriving them of sleep — originated in a military program known as Survival Evasion Resistance and Escape, or SERE, intended to train American troops to resist abusive enemy interrogations. [More...]
(18 comments, 337 words in story) There's More :: Permalink :: Comments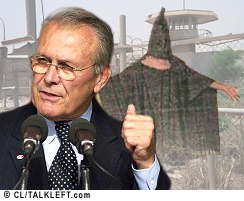 Lynndie England, the poster woman for the torture at Abu Ghraib, finished her three year jail sentence a year ago after serving 1 1/2 years. (It wasn't easy time.) She's just given a long interview to the German magazine, Der Stern, which has an English version up.
The headline: Rumsfeld knew.
[England] tells the magazine that when her unit arrived at the prison outside Baghdad in September, the prisoners were already naked, were forced to wear women's underwear, and were being put in stress positions. "The company that we relieved was doing the exact same stuff," she is quoted as saying. "We just took over from them."
I wonder if he also knew non-medical personnel were performing amputations at Abu Ghraib?
(9 comments) Permalink :: Comments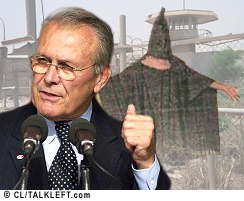 The Center for Constitutional Rights and other human rights groups filed a complaint in Paris against Donald Rumsfeld last night alleging he ordered and authorized torture.
Rumsfeld is in Paris to give a talk on foreign policy.
"The filing of this French case against Rumsfeld demonstrates that we will not rest until those U.S. officials involved in the torture program are brought to justice. Rumsfeld must understand that he has no place to hide. A torturer is an enemy of all humankind," said CCR President Michael Ratner.

"France is under the obligation to investigate and prosecute Rumsfeld's accountability for crimes of torture in Guantanamo and Iraq. France has no choice but to open an investigation if an alleged torturer is on its territory. I hope that the fight against impunity will not be sacrificed in the name of politics. We call on France to refuse to be a safe haven for criminals." said FIDH President Souhayr Belhassen.
More....
(16 comments, 364 words in story) There's More :: Permalink :: Comments
Defense Secretary Donald Rumsfeld got a big Pentagon send-off today.
Combative to the last, Rumsfeld took a slap at advocates of withdrawing U.S. troops from the war, now in its fourth year with more than 2,900 Americans dead.

"It may well be comforting to some to consider graceful exits from the agonies and, indeed, the ugliness of combat," Rumsfeld said, choking up slightly as he capped a roster of speakers at his pomp-filled goodbye ceremony. "But the enemy thinks differently."
Memo to Mr. Rumsfeld: Don't let the door hit you on the way out.
(5 comments) Permalink :: Comments