Tag: Lynndie England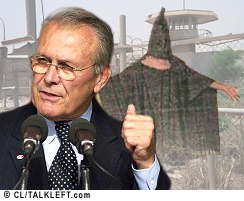 Lynndie England, the poster woman for the torture at Abu Ghraib, finished her three year jail sentence a year ago after serving 1 1/2 years. (It wasn't easy time.) She's just given a long interview to the German magazine, Der Stern, which has an English version up.
The headline: Rumsfeld knew.
[England] tells the magazine that when her unit arrived at the prison outside Baghdad in September, the prisoners were already naked, were forced to wear women's underwear, and were being put in stress positions. "The company that we relieved was doing the exact same stuff," she is quoted as saying. "We just took over from them."
I wonder if he also knew non-medical personnel were performing amputations at Abu Ghraib?
(9 comments) Permalink :: Comments