Tag: FBI
A few weeks ago I wrote about the DEA and FBI recently catching flak for some of its deceitful investigation techniques. One instance was the FBI's remote installation of spyware on the computer of a teen suspected of making bomb threats to his school in 2007. The purpose was to track the location of the teen and his computer. To pull it off, the FBI wrote a fake AP news article about the suspect and sent it to his my space account. When the teen clicked on it, the spyware was unleashed, allowing the FBI to locate his computer and get a search warrant for his house. The teen confessed and ultimately pleaded guilty. The matter came to light as the result of a reporter's FOIA Request.
[More...]
(1951 words in story) There's More :: Permalink :: Comments
Congress has authorized 2,000 new hires for the FBI, and the FBI will be filling many of the positions with computer programmers and hackers in its fight against cybercrime. The problem, according to FBI Director James Comey, speaking yesterday at a white collar crime conference:
"I have to hire a great work force to compete with those cyber criminals and some of those kids want to smoke weed on the way to the interview," Mr. Comey said.
Up until now, the FBI has asked applicants whether they have used marijuana within the past three years. Comey says the agency is changing "its mindset and the way we do business" and working more outside the box:
One conference goer asked Mr. Comey about a friend who had shied away from applying because of the policy. "He should go ahead and apply," despite the marijuana use, Mr. Comey said.
(3 comments) Permalink :: Comments
The FBI's $1 billion Next Generation Identification (NGI) programme is proceeding on schedule and should be fully launched by 2014. It's already in use in several states as test pilots, including Michigan, Hawaii, Maryland, and possibly Oregon.
NGI

expands the

FBI

's

IAFIS

criminal and civil fingerprint database to include multimodal biometric identifiers such as iris scans, palm prints, face-recognition-ready photos, and voice data, and makes that data available to other agencies at the state and federal levels.
The FBI page for the program is here. Here is a handy powerpoint on it from the 2010 Biometrics Conference. Here are the uses the FBI envisions for it: [More...]
(14 comments, 281 words in story) There's More :: Permalink :: Comments
FBI Director Robert Mueller delivered this speech yesterday at the RSA conference in San Francisco. Highlights:
Cyberattacks will replace terrorism as America's number one threat
Terrorism remains the FBI's top priority. But in the not too distant future, we anticipate that the cyber threat will pose the number one threat to our country.
Stings and more electronic surveillance are coming, including on social networks and wireless technologies: [More...]
(8 comments, 196 words in story) There's More :: Permalink :: Comments
One would hope that FBI agents are familiar with guidelines for conducting surveillance and opening files on people without evidence they have committed a crime. Apparently, that's in doubt. The Inspector General is investigating whether hundreds of FBI agents cheated on a test about the guidelines.
FBI Director Robert Mueller told Congress on Wednesday that he does not know how many of his agents cheated on an important exam on the bureau's policies, an embarrassing revelation that raises questions about whether the FBI knows its own rules for conducting surveillance on Americans.
Even Mueller got tripped up on the rules today. [More...]
(45 comments, 465 words in story) There's More :: Permalink :: Comments
In one of the seminal acts of anti-abortion terrorism, the Emma Goldman Clinic for Women in Iowa City was firebombed.
The Carter Justice Dept. ordered the local
FBI
station to drop everything else and solve the crime, an order which did not sit well with the Resident Agent, himself an anti-abortion zealot.
He came up with a theory which would justify his continuing surveillance of the local lefties, that the bombing had either been a ploy for fundraising, or the result of a lovers' spat, theories which he kept planting in the local press.
He proceeded to stalk my friend Steve Wilson (later changed his name to Jackson Clubb, who posted at kos as MadCityRag until his death a month ago) grilling his neighbors, etc. Jackson at the time was dating an employee of the clinic.
The firebombing was never officially solved. No charges were filed against Jack, probably because the US Attorney wasn't buying the FBI agent's crap.
(1 comment, 192 words in story) There's More :: Permalink :: Comments
The L.A. Times reports that the Obama Administration is giving the FBI a bigger role in fighting terrorism.
Bureau agents will gather evidence to ensure that criminal prosecutions of alleged terrorists are an option. The move is a reversal of the Bush administration's emphasis on covert CIA actions.

Under the "global justice" initiative, which has been in the works for several months, FBI agents will have a central role in overseas counter-terrorism cases. They will expand their questioning of suspects and evidence-gathering to try to ensure that criminal prosecutions are an option, officials familiar with the effort said.
Here's the Government's page on the Global Justice Initiative. Its mission: "the efficient sharing of data among justice entities." [More....]
(1 comment, 584 words in story) There's More :: Permalink :: Comments
The FBI is publishing the top ten stories of the week. Here's the list for the week ending Dec. 5.
Of the ten stories, five pertain to crimes by allegedly crooked cops and politicians; two to white collar bigshots; one to a little white collar guy; and one to a crime by a former government employee.
There's no murders, no big drug dealers or gun offenders other than cops, no child p*rn, cybercrimes or terrorism (other than a reference to the resentencing of a terror suspect for a crime committed years ago.)
There's a message here, I'm just not sure what it is. [More...]
(6 comments, 332 words in story) There's More :: Permalink :: Comments
Barack Obama's Transition Chief John Podesta says stem cell research and drilling are among the top George W. Bush-issued executive orders he will reverse when taking over the White House.
Grits for Breakfast has one they'd like see Obama take action on: the new FBI snitch/snooping guidelines approved last month. You can read them here (pdf) or a summary here.
Seems like a good time to start a list. What executive orders or other Bush-authorized decisions would you add to that list?
(34 comments) Permalink :: Comments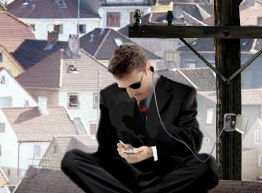 The New York Times reports some members of Congress were briefed earlier this month on a Department of Justice proposal for new FBI guidelines that loosen surveillance restrictions and that a few Senators lodged objections.
The senators said the new guidelines would allow the F.B.I. to open an investigation of an American, conduct surveillance, pry into private records and take other investigative steps "without any basis for suspicion."

The plan "might permit an innocent American to be subjected to such intrusive surveillance based in part on race, ethnicity, national origin, religion, or on protected First Amendment activities," the letter said. It was signed by Russ Feingold of Wisconsin, Richard J. Durbin of Illinois, Edward M. Kennedy of Massachusetts and Sheldon Whitehouse of Rhode Island.
Attorney General Michael Mukasey gave this unreassuring description of the plan: [More...]
(9 comments, 532 words in story) There's More :: Permalink :: Comments
The FBI is up to new tricks:
The FBI has recently adopted a novel investigative technique: posting hyperlinks that purport to be illegal videos of minors having sex, and then raiding the homes of anyone willing to click on them.

Undercover FBI agents used this hyperlink-enticement technique, which directed Internet users to a clandestine government server, to stage armed raids of homes in Pennsylvania, New York, and Nevada last year. The supposed video files actually were gibberish and contained no illegal images.
Today it's kiddie links, what will it be tomorrow? Links to sites offering information on growing pot? Links to sites offering prescription medicaton? Links to sites critical of the Government?
Be careful where you click, you may be next. [Hat tip to Blawg Review.]
(36 comments) Permalink :: Comments