Tag: Immigrants' Rights
Donald Trump occupies the oval office but he cannot erase the Constitution. The Constitution protects everyone, including the undocumented and non-citizens.
If you are not a citizen, here are your most basic rights, according to the National Immigration Law Center, which joined with the ACLU and other groups yesterday to hand Donald Trump his first judicial defeat over his outrageous executive order discriminating against Muslims and refugees according to country of origin:
Officers from any law enforcement agency, including

ICE

and the Border Patrol, must show you their ID if you ask for it. You have the right to ask them to show you an identity document.
You have the right to remain silent. You are not required to answer any questions or sign any papers about where you're from or what your immigration status is.
You have the right to call and speak with an attorney. Be prepared. Look up the phone number of a lawyer or organization that provides legal help to immigrants. Then memorize their phone number, or write it down and carry it with you wherever you go.
[More...]
(13 comments, 344 words in story) There's More :: Permalink :: Comments
The investigation into abuse of immigrants by the East Haven, CT police force has taken years.
Today, the Department of Justice charged four officers, Dennis Spaulding, David Cari, Jason Zullo and Sgt. John Miller, with conspiracy, deprivation of rights and obstruction of justice. Miller is the head of the local police union.
The Indictment is here. The officers were arrested by the FBI. One agent said of the misconduct, "They behaved like bullies." [More...]
(2 comments, 214 words in story) There's More :: Permalink :: Comments
ICE has announced the resumption of deportations to Haiti. The Center for Constitutional Rights reports:
On a conference call this morning, U.S. officials confirmed that they have received no assurances that the 19 individuals who were deported will be treated humanely upon their arrival in Haiti.
CCR says those being deported are likely to face jail and death. From a statement released by the Center for Constitutional Rights, University of Miami School of Law Human Rights Clinic and Immigration Clinic, FANM/Haitian Women of Miami, Alternative Chance, and Florida Immigrant Advocacy Center:
This morning, the United States deported a second group of Haitian men to face jail and death in post-earthquake Haiti. In January, a 34-year-old man, Wildrick Guerrier, died only 9 days after being deported to Haiti. Guerrier and 26 other men were jailed without being provided with clean water or food and were held in a cell covered with human feces and vomit. Guerrier and other men fell ill, exhibiting cholera-like symptoms, and were refused medical care.
[More...]
(2 comments, 555 words in story) There's More :: Permalink :: Comments
Fox News Latino could not have made a more misinformed choice to make a point about "anchor babies." Penelope Cruz is not an undocumented resident. Her presence in this country is entirely lawful. She moved to California at the age of 25. She also lived in New York for a number of years. She owns real estate in the U.S.
Penelope Cruz owns a number of homes including a Balinese residence in the Hollywood Hills, a home in Madrid, Spain, and a newer property Cruz and new husband Javier Bardem enhabit in Coldwater Canyon, Los Angeles.
Among her American made films are "Blow," "Vanilla Sky" and "Nine." "Blow" grossed $53 million in the U.S. Its production budget was $53 million. Not only did it generate income and jobs, it also generated U.S. tax revenue. She was also in Sex and the City II. The lifetime gross of all the films she's been is exceeds $500 million. One can only imagine how much money the upcoming Pirates of the Carribean: On Stranger Tides will generate in the U.S.
Even Republican Latinos are outraged: [More...]
(9 comments, 366 words in story) There's More :: Permalink :: Comments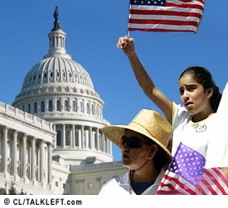 It may be a holiday weekend, but there's little to celebrate with Arizona's immigration law. Protests will be held in 60 cities across the country.
The protest in Phoenix, to include a five mile march to the state capitol, is expected to draw 50,000. I'll bet it's a lot higher. Sports fans are being asked to boycott some games.
The San Francisco Giants are also hosting a weekend series against the Arizona Diamondbacks, and activists are planning to protest outside AT&T Park Friday night and Saturday.
Today, DOJ filed a petition with the Supreme Court asking it to find that federal law trumps Arizona's Employers' Sanctions law. [More...]
(2 comments, 253 words in story) There's More :: Permalink :: Comments