Tag: executions
Andrew Chan and Myuran Sukumaran, the two members of the Bali 9 facing the death penalty, were officially notified Thursday they are scheduled for execution this month. They will be taken from Kerobokan prison in Bali, flown to Jogjakarta, and after a 5 hour drive, arrive at the central prison on Nusa Kambangan Island near Central Java. From there, they and 8 to 10 other drug traffickers from Brazil, France, Ghana, Nigeria and the Philippines, will be driven to a shooting field in the dead of night, tied to wooden crosses and executed by firing squad.
A Catholic priest present at the 2008 execution of three Nigerian drug traffickers described the agonizing deaths.[More...]
(2 comments, 1319 words in story) There's More :: Permalink :: Comments
There are 720 inmates awaiting execution on San Quentin's death row. U.S. District Court Judge Jeremy Fogel, who placed executions on hold in 2006 due to concerns that the chamber was antiquated and did not ensure a humane death, toured the new $900,000 death chamber today.
Judge Fogel didn't indicate whether his concerns have been satisfied, and will issue rulings later. He toured the old facility in 2006. Here's how the old procedure worked, according to San Quentin Operational Procedure No. 770. The 2007 revised protocol is here, but that too was declared invalid Then the state enacted Cal. Code Regs. tit. 15 3349 et seq. Here is Judge Fogel's September, 2010 ruling after the 9th Circuit remanded his decision on that.
(8 comments) Permalink :: Comments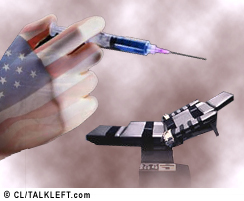 Last week we wrote about the impending Arizona execution of Jeffrey Landrigan. Landrigan alleged that the sodium thiopental Arizona planned to inject into Landrigan was not made by Hospira, Inc., the one U.S. company authorized to manufacture it. In other words, it came from a foreign source. He sought a stay and an order compelling the state to disclose the origin of the drug. The Arizona Supreme Court denied both requests.
With only 18 hours left before the execution, a federal judge today granted Landrigan a stay and ordered Arizona to immediately disclose the source of the drug. The court's 19 page ruling is here.
According to the Arizona Republic, the drug came comes from Great Britain. [More...]
(1 comment, 604 words in story) There's More :: Permalink :: Comments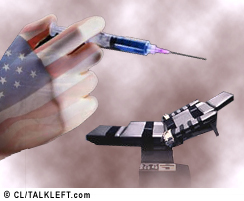 Update: The Arizona Supreme Court has denied the requests for a stay of execution and to produce information about the drug's origin. The ruling is here.
At a court hearing in Arizona today to stay the execution of Jeffrey Landrigan set for next Tuesday, the Arizona Attorney General admitted that the sodium thiopental it planned to inject into Landrigan was not made by Hospira, Inc., the one U.S. company authorized to manufacture it. In other words, it came from a foreign source.
His lawyers argue that using the drug sodium thiopental that has expired or was obtained from an unreliable source may not work correctly, potentially subjecting Landrigan to cruel and unusual punishment through death by suffocation.

They want the Supreme Court to order the state to disclose the source of the drug..... prosecutors said they can't identify the source because state law requires confidentiality for those involved with executions.
But, the prosecutor did acknowledge it didn't come from Hospira, which isn't currently producing the drug. And no other U.S. company is authorized to manufacture it. [More...]
(3 comments, 306 words in story) There's More :: Permalink :: Comments
Mitsunobu Akano, age 65, of Japan was caught with 1.5 kilos of meth in China. He was executed yesterday. Under Chinese law, offenses involving more than 50 grams of heroin or meth carry the death penalty.
When caught, Akano was attempting to bring the drugs from China to Japan. China plans to execute three more Japanese citizens this week:
Beijing told Japan last week that it plans to execute three more Japanese drug smugglers this week - Teruo Takeda, 67, from Nagoya city; Hironori Ukai, 48, from Gifu prefecture; and Katsuo Mori, 67, of Fukushima prefecture.
Why are the Japanese going to China to get meth? One has to assume Chinese law enforcement forced the Japanese to give up their sources before killing them. Did China track down the meth producers and kill them too? Probably. (Unless they caught the producers first, who then ratted out their Japanese purchasers.) There's really no way to know. [More...]
(12 comments, 233 words in story) There's More :: Permalink :: Comments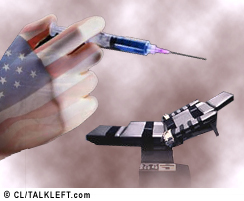 Ohio announced today it will switch from the three drug cocktail for lethal injections to administering a single drug, thiopental sodium.
Thiopental sodium, an anesthetic, is used to euthanize animals. "Ohio will be the first state in the U.S. to use the one-drug procedure," which was recommended by Dr. Mark Dershwitz, a professor of anesthesiology at the U. Mass Medical Center. In 205, Dr. Dershwitz recommended a single dose of pentobarbital. The problem, he said, was that it could take up to a half-hour for the heart to stop. [More...]
(3 comments, 171 words in story) There's More :: Permalink :: Comments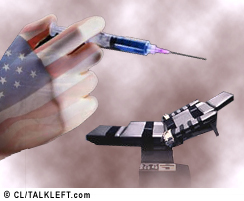 Texas has 12 executions scheduled for the next six weeks.
Two were executed the week of Oct. 13. Two were scheduled for this week. And two more the week after that. Then six more in November, adding to Texas' standing as the nation's most active death penalty state.
[Hat tip Sentencing Law and Policy.]
(2 comments) Permalink :: Comments
Twenty Texas lawyers have filed a formal judicial complaint against Presiding Judge Sharon Keller for closing the courthouse at 5:00 pm the day of a scheduled execution. (Background here.)
The complaint to the State Commission on Judicial Conduct says Keller improperly cut off appeals that led to the execution of Michael Richard on Sept. 25 despite the fact the U.S. Supreme Court earlier in the day had accepted a case on the propriety of lethal injection, which had direct implications for Richard's execution.

"Judge Keller's actions denied Michael Richard two constitutional rights, access to the courts and due process, which led to his execution," the complaint states. "Her actions also brought the integrity of the Texas judiciary and of her court into disrepute and was a source of scandal to the citizens of the state."
Jim Harrington of the Texas Civil Rights Project which is representing the lawyers, says:
Keller's actions were "morally callous, shocking and unconscionable for an appellate judge."
(24 comments) Permalink :: Comments
Death sentences dropped last year to the lowest number since the death penalty was reinstated by the Supreme Court 30 years ago.
Executions dropped to the lowest level in a decade.
"The death penalty is on the defensive," said Richard Dieter, director of the Death Penalty Information Center, a Washington organization that looks at problems with the capital punishment system.

Death sentences fell in 2006 to 114 or fewer, according to an estimate from the group. That is down from 128 in 2005, and even lower than the 137 sentences the year after the U.S. Supreme Court reinstated the death penalty in 1976. It is also down sharply from the high of 317 in 1996.

A total of 53 executions were carried out in 2006, down from 60 in 2005. Executions over the past three decades peaked at 98 in 1999.
Fear of executing an innocent person, more state laws allowing life without parole as an option, decreases in violent crime and the high cost of prosecuting a death case are believed to be contributing factors.
We need one more factor to make a critical difference: moral opposition to the death penalty. We're not quite there:
(30 comments, 280 words in story) There's More :: Permalink :: Comments