Tag: Gaza
Update
:
Israel has concluded
the soldier it believed to be captured by Hamas, Lt. Hadar Goldin, was killed in battle in Gaza on Friday. A special committee
reviewed pathological evidence
at the scene and other information and made the determination.
Israeli Prime Minister Benjamin Netanyahu today announced that Israel's tunnel operation is almost complete and by tomorrow, all known tunnels will have been destroyed. It is pulling back some troops from Gaza, but Netanyahu made it clear Israel is not ending its ground war. He said Hamas will have a heavy price to pay if it continues to attack Israel. More from his announcement:
"Every option is on the table to ensure long-term quiet to the residents of Israel," he said. "I won't say when we'll finish and where we'll go. We have no obligation outside of our security concerns."
Hamas responds: [More...]
(4 comments, 228 words in story) There's More :: Permalink :: Comments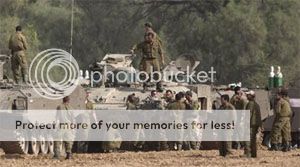 Israel has called up 75,000 reservists and struck Hamas Government buildings. Hamas has claimed credit for firing rockets at Tel Aviv and Jerusalem.
The Israeli military said some 150 rockets fired from Gaza had hit Israel since Friday and at least 83 more were intercepted by its Iron Dome anti-missile system.
Gaza is a small place with a lot of people, and there have been at least 38 civilian casualties, some of them children. Israel says it is acting in self-defense, and the rockets Hamas is firing at them come from Gaza.
This morning, Hamas fired 20 rockets at Israel. Israel says Operation Pilar Defense will continue. [more...]
(10 comments, 295 words in story) There's More :: Permalink :: Comments
President Elect Barack Obama's support for Israel grew during the course of the campaign. This weekend he received briefings from Bush's Secretary of State, Condoleeza Rice. In three weeks, he will be President and shortly thereafter, Hillary Clinton will be Secretary of State.
David Axlerod, on Face the Nation today, was asked what Obama's response to the crisis would be. He waffled a bit, noting that it would inappropriate for Obama to take a strong position while Bush was still President, but repeated what Obama had said when visiting Israel this summer:
"If somebody was sending rockets into my house, where my two daughters sleep at night, I'm going to do everything in my power to stop that," he told reporters in Sderot, a small city on the edge of Gaza that has been hit repeatedly by rocket fire. "And I would expect Israelis to do the same thing."
So, what will Obama do once he is President? The New York Times lays out two options: [More...]
(66 comments, 392 words in story) There's More :: Permalink :: Comments