Tag: Israel
From the State Department on the International Court announcement it will open open an inquiry into possible war crimes in the Palestinian territories, beginning with actions of Israel and Hamas militants last summer.
We strongly disagree with the ICC Prosecutor's action today. As we have said repeatedly, we do not believe that Palestine is a state and therefore we do not believe that it is eligible to join the ICC. It is a tragic irony that Israel, which has withstood thousands of terrorist rockets fired at its civilians and its neighborhoods, is now being scrutinized by the ICC. The place to resolve the differences between the parties is through direct negotiations, not unilateral actions by either side. We will continue to oppose actions against Israel at the ICC as counterproductive to the cause of peace.
Reuters reports:
This allows the court to delve into the war between Israel and Hamas militants in Gaza in July-August 2014.
Please keep your comments civil. Opinions on both sides are fine, so long as they are expressed without venomous attacks on Israelis or the Palestinians, and without ridicule of other commenters who don't share your view.
(12 comments) Permalink :: Comments
Update
:
Israel has concluded
the soldier it believed to be captured by Hamas, Lt. Hadar Goldin, was killed in battle in Gaza on Friday. A special committee
reviewed pathological evidence
at the scene and other information and made the determination.
Israeli Prime Minister Benjamin Netanyahu today announced that Israel's tunnel operation is almost complete and by tomorrow, all known tunnels will have been destroyed. It is pulling back some troops from Gaza, but Netanyahu made it clear Israel is not ending its ground war. He said Hamas will have a heavy price to pay if it continues to attack Israel. More from his announcement:
"Every option is on the table to ensure long-term quiet to the residents of Israel," he said. "I won't say when we'll finish and where we'll go. We have no obligation outside of our security concerns."
Hamas responds: [More...]
(4 comments, 228 words in story) There's More :: Permalink :: Comments
Update: Hamas' military wing, al Qassam Brigades, has released this statement:
"The Ezzedine al-Qassam Brigades has no information on this soldier. We have lost contact with one of our combatant groups, which was fighting in the sector where the soldier went missing and it is possible that our fighters and this soldier were killed," the group said in a statement
They also say
:
"We have no idea about where the Israeli soldier is or what is the situation. "We lost contact with the group who made the suicide mission near Rafah after it was done. "We believe everyone in this group was killed by an Israeli air strike including the Israeli soldier who the Israelis are talking about having disappeared."
[More...]
(43 comments, 751 words in story) There's More :: Permalink :: Comments
Update: since writing the post below, the Israeli Defense Forces have posted on Twitter that they are trying to "identify" (not locate) the 7th soldier. Nor do they describe him as "missing."
A vehicle carrying 7 soldiers was attacked July 20. We have identified 6 of their bodies. Efforts to identify the 7th soldier are ongoing.
***********
On Sunday, Israel's ambassador to the U.N., Ron Prossor, denied Hamas had captured an Israeli soldier.
Yet, today the Israeli Army says the fate of the one of the seven soldiers in an armored vehicle in Shujaiyeh, Gaza that was attacked by Hamas is "unclear." He is classified as "missing" but presumed dead. [More...]
(287 words in story) There's More :: Permalink :: Comments
Earlier today, Al Qassam Brigades, the military wing of Hamas, claimed it captured an Israeli soldier, Shaul Aron. Israel's ambassador to the U.N., Ron Prossor, now denies the claim.
"There's no kidnapped Israeli soldier and those rumours are untrue," said Israel's UN ambassador Ron Prosor.
It appears the soldier, whose name is Oron Shaul, was one of 13 Israeli soldiers killed yesterday, but was not captured alive. Hamas may have found his identification, or it may have taken his name from this leaked list of the 13 soldiers who were killed. The list is not from an official source.
Prior to the official denial, many reporters and analysts on Twitter doubted the claim. Here's why. [More...]
(413 words in story) There's More :: Permalink :: Comments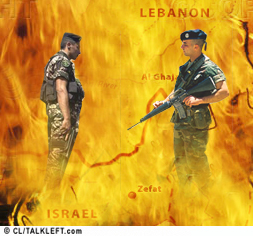 Egypt proposed a cease-fire plan for Israel and Hamas. Israeli Prime Minister Benjamin Netanyahu has accepted it and will bring it to a vote before the Israeli Security Cabinet in the morning. (Added: The Israeli Security Cabinet has now approved it.) cabinet has approved it.)
Hamas has rejected it.
Hamas spokesman Sami Abu Zuhri already rejected the proposal late Monday night on the grounds that "we are still under occupation and resistance is the right of our people."
Here is the text of Egypt's proposal.
(23 comments) Permalink :: Comments
Israel's Defense Minister, Moshe Ya'alon, today said the alleged kidnappers and killers of Palestinian teen, Muhammed Abu Khdeir, believed to be Jewish extremists, will be treated as harshly as Arab terrorists. Six are under arrest for the murder.
"These debased murderers don't represent the Jewish people or its values, and they must be treated as terrorists," the defense minister said. "We will not allow Jewish terrorists from our midst to disrupt the fabric of the many different communities in the state of Israel, and to harm innocents just because they are Arabs." ..."We must battle the perpetrators [of such actions], and those who deploy them, with an iron fist."

If a Jew kills they will be put to the court like any other criminal. There is no privilege, the law is equal to all and all are equal before the law. On that there is no compromise. We do not distinguish between blood and blood. The murder of a child is reprehensible, regardless of the religion or nationality of the child. It is our responsibility to secure life and to punish those who take it away from others."
Israeli President Shimon Press said:[More...]
(26 comments, 603 words in story) There's More :: Permalink :: Comments
Israel has not yet officially confirmed the news, but everyone else, from the BBC to Al Jazeera to the New York Times, is reporting that Israel launched an airstrike in Syria. An Israeli spokesman says:
"Israel is determined to prevent the transfer of chemical weapons or other game-changing weaponry by the Syrian regime to terrorists, specially to Hezbollah in Lebanon."
U.S. officials on the other hand say:
US officials say the Israeli air strike happened overnight Thursday into Friday, but the aircraft did not enter Syrian airspace. [More...]
(6 comments, 192 words in story) There's More :: Permalink :: Comments
Update: Reuters reports a ceasefire has been agreed to.
Yesterday a truce between Israel and Hamas seemed very close. Hillary Clinton traveled from Israel to Egypt for further truce talks. Today, a truce seems less likely. As to what's changed?
Hamas has stepped up its rocket launches into Israel, firing 80 missles into southern Israel in the past 24 hours. 20 were intercepted, in Ashkelon, Beersheba, Be'er Tuviya, Hof Ashkelon and Ashdod.
A package bomb was placed on a bus in Tel Aviv today (no deaths, several injured, seems to be the work of amateur terrorists). On al Aqsa (Hamas) TV: "G-d willing, we will soon see black body bags."
In Gaza yesterday, a Hamas gunman executed 6 people believed to be Israeli collaborators. The bodies were then tied to a motorcyle and dragged through the streets. Photos here, video here. [More...]
(7 comments, 435 words in story) There's More :: Permalink :: Comments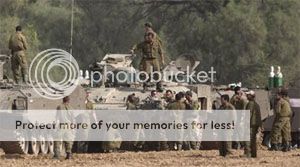 Israel has called up 75,000 reservists and struck Hamas Government buildings. Hamas has claimed credit for firing rockets at Tel Aviv and Jerusalem.
The Israeli military said some 150 rockets fired from Gaza had hit Israel since Friday and at least 83 more were intercepted by its Iron Dome anti-missile system.
Gaza is a small place with a lot of people, and there have been at least 38 civilian casualties, some of them children. Israel says it is acting in self-defense, and the rockets Hamas is firing at them come from Gaza.
This morning, Hamas fired 20 rockets at Israel. Israel says Operation Pilar Defense will continue. [more...]
(10 comments, 295 words in story) There's More :: Permalink :: Comments
If you have not seen Sixty Minutes correspondent Bob Simon's piece "Time Running out for a Two-State Solution" stop everything you are doing and watch it
now
.
It is that good. And it is that heroic. In the piece, Simon boldly lays out the truth about what Israel's encroachment on Palestinian land -- and what the lack of a peace deal -- means for the future of the country:
"Without a separate Palestinian state the Israelis would have three options, none of them good. They could try ethnic cleansing, drive the Palestinians out of the West Bank, or they could give the Palestinians the vote. That would be the democratic option but it would mean the end of the Jewish state. Or they could try apartheid - have the minority Israelis rule the majority Palestinians, but apartheid regimes don't have a very long life."
[More...]
(68 comments, 352 words in story) There's More :: Permalink :: Comments