Tag: Hamas
From the State Department on the International Court announcement it will open open an inquiry into possible war crimes in the Palestinian territories, beginning with actions of Israel and Hamas militants last summer.
We strongly disagree with the ICC Prosecutor's action today. As we have said repeatedly, we do not believe that Palestine is a state and therefore we do not believe that it is eligible to join the ICC. It is a tragic irony that Israel, which has withstood thousands of terrorist rockets fired at its civilians and its neighborhoods, is now being scrutinized by the ICC. The place to resolve the differences between the parties is through direct negotiations, not unilateral actions by either side. We will continue to oppose actions against Israel at the ICC as counterproductive to the cause of peace.
Reuters reports:
This allows the court to delve into the war between Israel and Hamas militants in Gaza in July-August 2014.
Please keep your comments civil. Opinions on both sides are fine, so long as they are expressed without venomous attacks on Israelis or the Palestinians, and without ridicule of other commenters who don't share your view.
(12 comments) Permalink :: Comments
Update
:
Israel has concluded
the soldier it believed to be captured by Hamas, Lt. Hadar Goldin, was killed in battle in Gaza on Friday. A special committee
reviewed pathological evidence
at the scene and other information and made the determination.
Israeli Prime Minister Benjamin Netanyahu today announced that Israel's tunnel operation is almost complete and by tomorrow, all known tunnels will have been destroyed. It is pulling back some troops from Gaza, but Netanyahu made it clear Israel is not ending its ground war. He said Hamas will have a heavy price to pay if it continues to attack Israel. More from his announcement:
"Every option is on the table to ensure long-term quiet to the residents of Israel," he said. "I won't say when we'll finish and where we'll go. We have no obligation outside of our security concerns."
Hamas responds: [More...]
(4 comments, 228 words in story) There's More :: Permalink :: Comments
Update: Hamas' military wing, al Qassam Brigades, has released this statement:
"The Ezzedine al-Qassam Brigades has no information on this soldier. We have lost contact with one of our combatant groups, which was fighting in the sector where the soldier went missing and it is possible that our fighters and this soldier were killed," the group said in a statement
They also say
:
"We have no idea about where the Israeli soldier is or what is the situation. "We lost contact with the group who made the suicide mission near Rafah after it was done. "We believe everyone in this group was killed by an Israeli air strike including the Israeli soldier who the Israelis are talking about having disappeared."
[More...]
(43 comments, 751 words in story) There's More :: Permalink :: Comments
Update: since writing the post below, the Israeli Defense Forces have posted on Twitter that they are trying to "identify" (not locate) the 7th soldier. Nor do they describe him as "missing."
A vehicle carrying 7 soldiers was attacked July 20. We have identified 6 of their bodies. Efforts to identify the 7th soldier are ongoing.
***********
On Sunday, Israel's ambassador to the U.N., Ron Prossor, denied Hamas had captured an Israeli soldier.
Yet, today the Israeli Army says the fate of the one of the seven soldiers in an armored vehicle in Shujaiyeh, Gaza that was attacked by Hamas is "unclear." He is classified as "missing" but presumed dead. [More...]
(287 words in story) There's More :: Permalink :: Comments
Earlier today, Al Qassam Brigades, the military wing of Hamas, claimed it captured an Israeli soldier, Shaul Aron. Israel's ambassador to the U.N., Ron Prossor, now denies the claim.
"There's no kidnapped Israeli soldier and those rumours are untrue," said Israel's UN ambassador Ron Prosor.
It appears the soldier, whose name is Oron Shaul, was one of 13 Israeli soldiers killed yesterday, but was not captured alive. Hamas may have found his identification, or it may have taken his name from this leaked list of the 13 soldiers who were killed. The list is not from an official source.
Prior to the official denial, many reporters and analysts on Twitter doubted the claim. Here's why. [More...]
(413 words in story) There's More :: Permalink :: Comments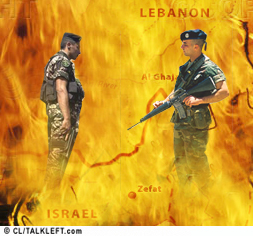 Egypt proposed a cease-fire plan for Israel and Hamas. Israeli Prime Minister Benjamin Netanyahu has accepted it and will bring it to a vote before the Israeli Security Cabinet in the morning. (Added: The Israeli Security Cabinet has now approved it.) cabinet has approved it.)
Hamas has rejected it.
Hamas spokesman Sami Abu Zuhri already rejected the proposal late Monday night on the grounds that "we are still under occupation and resistance is the right of our people."
Here is the text of Egypt's proposal.
(23 comments) Permalink :: Comments
Update: Reuters reports a ceasefire has been agreed to.
Yesterday a truce between Israel and Hamas seemed very close. Hillary Clinton traveled from Israel to Egypt for further truce talks. Today, a truce seems less likely. As to what's changed?
Hamas has stepped up its rocket launches into Israel, firing 80 missles into southern Israel in the past 24 hours. 20 were intercepted, in Ashkelon, Beersheba, Be'er Tuviya, Hof Ashkelon and Ashdod.
A package bomb was placed on a bus in Tel Aviv today (no deaths, several injured, seems to be the work of amateur terrorists). On al Aqsa (Hamas) TV: "G-d willing, we will soon see black body bags."
In Gaza yesterday, a Hamas gunman executed 6 people believed to be Israeli collaborators. The bodies were then tied to a motorcyle and dragged through the streets. Photos here, video here. [More...]
(7 comments, 435 words in story) There's More :: Permalink :: Comments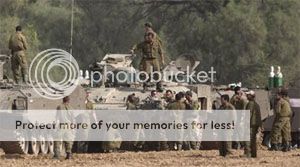 Israel has called up 75,000 reservists and struck Hamas Government buildings. Hamas has claimed credit for firing rockets at Tel Aviv and Jerusalem.
The Israeli military said some 150 rockets fired from Gaza had hit Israel since Friday and at least 83 more were intercepted by its Iron Dome anti-missile system.
Gaza is a small place with a lot of people, and there have been at least 38 civilian casualties, some of them children. Israel says it is acting in self-defense, and the rockets Hamas is firing at them come from Gaza.
This morning, Hamas fired 20 rockets at Israel. Israel says Operation Pilar Defense will continue. [more...]
(10 comments, 295 words in story) There's More :: Permalink :: Comments
Israel has declared a ceasefire in Gaza.
Troops would remain in Gaza for the time being and if Hamas held fire, the military would "consider pulling out of Gaza at a time that befits us". If militant rocket fire into Israel continued, Israel would respond with force, the Israeli leader added.
Hamas isn't pleased:
Israel must withdraw completely, lift its economic blockade of Gaza and open border crossings, the spokesman said.
(25 comments) Permalink :: Comments
President Elect Barack Obama's support for Israel grew during the course of the campaign. This weekend he received briefings from Bush's Secretary of State, Condoleeza Rice. In three weeks, he will be President and shortly thereafter, Hillary Clinton will be Secretary of State.
David Axlerod, on Face the Nation today, was asked what Obama's response to the crisis would be. He waffled a bit, noting that it would inappropriate for Obama to take a strong position while Bush was still President, but repeated what Obama had said when visiting Israel this summer:
"If somebody was sending rockets into my house, where my two daughters sleep at night, I'm going to do everything in my power to stop that," he told reporters in Sderot, a small city on the edge of Gaza that has been hit repeatedly by rocket fire. "And I would expect Israelis to do the same thing."
So, what will Obama do once he is President? The New York Times lays out two options: [More...]
(66 comments, 392 words in story) There's More :: Permalink :: Comments
From what I gather in the news about Israel's air strikes against Hamas in the Gaza Strip:
There was a cease fire but it ended earlier this month.
Most of the 225 killed were militant Hamas policemen, since a principal target was Hamas police headquarters, although hundreds were injured and there were some civilians and children who died. Most of the strikes were on security compounds and militant bases.
Israel had been planning the attacks for some time due to Hamas's refusal to stop sending rockets into Israel
The Bush Administration blames Hamas. Condoleeza Rice blames Hamas because it kept sending rockets into Israel

"We strongly condemn the repeated rocket and mortar attacks against Israel and hold Hamas responsible for breaking the ceasefire and for the renewal of violence there. The ceasefire must be restored immediately and fully respected."

This can't be good news for Obama, who will take office with Iraq, Afghanistan and Pakistan already on the front burners. And neither he, nor any American president, may have much control over what goes on between Israel and Hamas.
Daniel Levy at Huffpo adds his perspective. Your Thoughts?
(116 comments) Permalink :: Comments
The L.A. Times reports:
When the Bush administration shut down the nation's largest Muslim charity five years ago, officials of the Dallas-based foundation denied allegations it was linked to terrorists and insisted that a number of accusations were fabricated by the government. Now, attorneys for the Holy Land Foundation for Relief and Development say the government's own documents provide evidence of that claim.

In recent court filings, defense lawyers disclosed striking discrepancies between an official summary and the verbatim transcripts of an FBI-wiretapped conversation in 1996 involving Holy Land officials.
The FBI summaries of the wiretapped calls contain anti-semitic comments not found in the transcripts.
More...
(1 comment, 564 words in story) There's More :: Permalink :: Comments